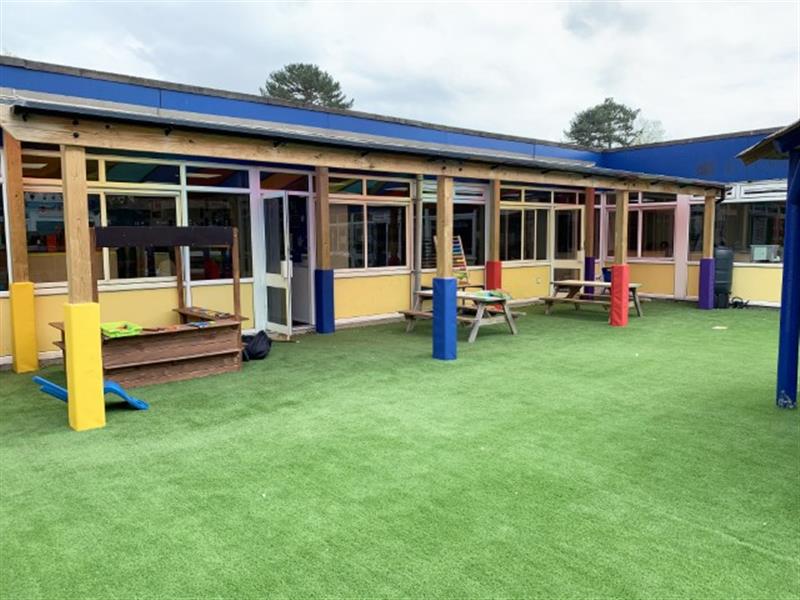 A Creative Outdoor Provision for KS1 and KS2 Pupils
We were delighted to work with Stamford Green Primary School to complete a stunning playground development.
Our playground consultant, Donella Felton, loved working with Jo Lee, the school's business leader, as she was very enthusiastic about what Pentagon could offer them.
Jo wanted to transform the area from a tired-looking playground into a vibrant, creative play area and that is just what we did!
The Amphitheatre is now open!
It was a challenge to try and put a design together due to the small space, but Donella worked her magic to adapt our current products to suit the school's needs.
The Amphitheatre needed slightly adjusting in height, so the view of the area was clear from the corridor windows, for visitors and the children to look out at their wonderful new play area.
The amount of possibilities are endless with our amazing bespoke Amphitheatre, from re-enacting a movie to outdoor lessons, the bright Blue Saferturf makes the area seem bigger and much more appealing.
Impressive Impact absorbing surfacing
Our sleek Artificial Grass is great for the risk-taking children as it is impact absorbing with a soft touch.
The school wanted to keep the gazebo with benches that was already in the playground, however the artificial grass complements this and makes it seem new again!
A remarkable rainbow canopy
Against the building, our Coloured Roof Canopy creates a magical scene when the sun glares through the roof.
The canopy makes the area more intriguing to children due to its bright colours, they can also start to use this are a lot more as it provides shelter and shade.
We included shock pads to the timber beams, to prevent any children from running into them when they are playing and running in the new area.
Our team can transform any playground into an exciting and vibrant area. Contact us here to begin your journey with Pentagon Play.
View all our wonderful playground developments in the Surrey area on our dedicated Surrey Playground Porjects Page Here.