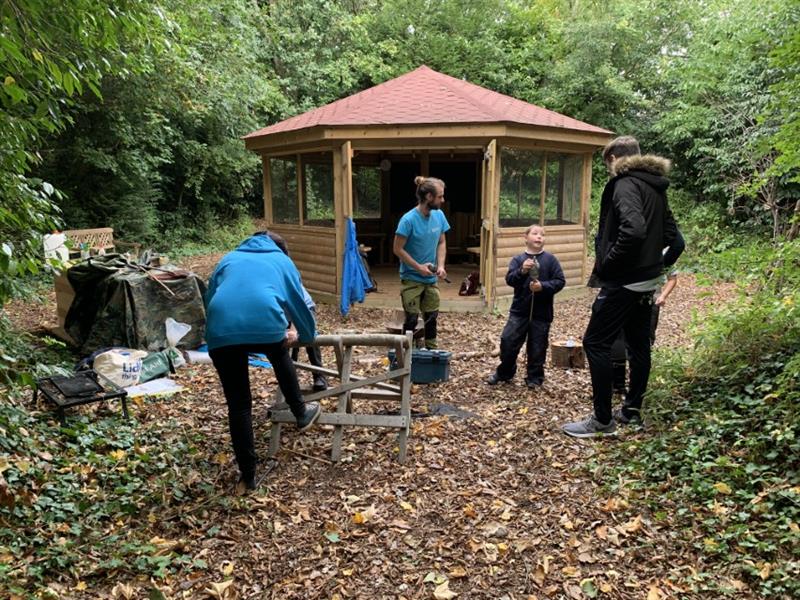 An Outdoor Classroom hidden amongst the woodlands
The Headteacher and his team at Swaythling Primary School in Southampton had a real vision for turning an unloved, overgrown and disused urban woodland area into a truly magical enclave for storytelling, literature and language development, and much more besides.
Pentagon Play's Playground Consultant, Donella Felton, worked with Swaythling Primary School to bring nature to life in this fairytale environment with the addition of a truly magnificent outdoor classroom.
Harnessing all the advantages of the natural woodland, we created a fabulous learning zone in which children can enjoy daily learning activities surrounded by the magic and mystery of the outdoor world.
In a clearing in the woods, we installed a beautiful 6M Wooden Gazebo complete with a hardy decked floor, stunning natural cladding, plenty of durable glazing to allow the natural light in and keep cold winds out, and lockable double doors to keep everything safely contained when the Gazebo is not in use (which is rare!).
The attractive pyramid style roof, with wooden beams on the underside and natural looking hexagonal tiles on the top, really compliments the surrounding environment and the changing colours of the leaves.
It's completely weather proof to ensure that the Gazebo can be enjoyed by pupils at Swaythling year-round, no matter what the weather brings.
This fascinating area is approached by a secret cleared pathway through the woods. This adds a real element of intrigue, mystery and excitement as the children make their way through, refreshed, switched on and ready to learn whatever is in store for then.
View our magnificent range of outdoor gazebos for schools here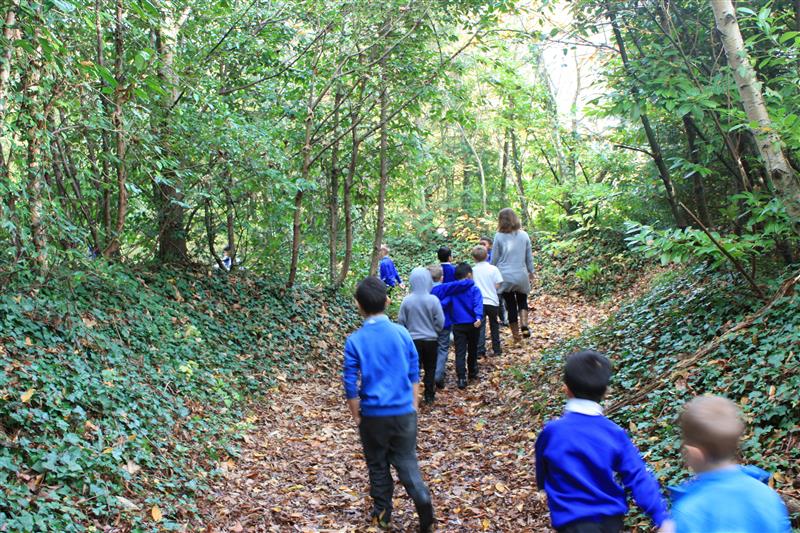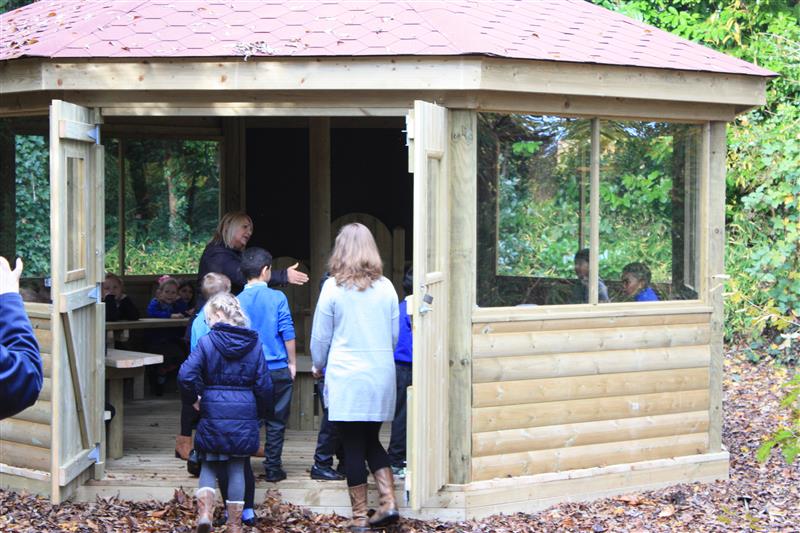 Such a wondrous and winding point of access of course presented its challenges when it came to delivering materials and installing the Gazebo, but it was nothing that our experienced installers couldn't handle!
Once inside their outdoor classroom, children are immediately captivated by the fantastic feature piece - an Integrated Storyteller Chair.
It's a beautiful wooden throne seat, with space to fit up to three storytellers, or perhaps even The Three Bears when the children have left the woods and gone home for the day!
Bench seats and workstations all the way around the inside walls of the Gazebo mean that there is plenty of space for the whole to class (50 children capacity) to sit down comfortably and face the centrepiece.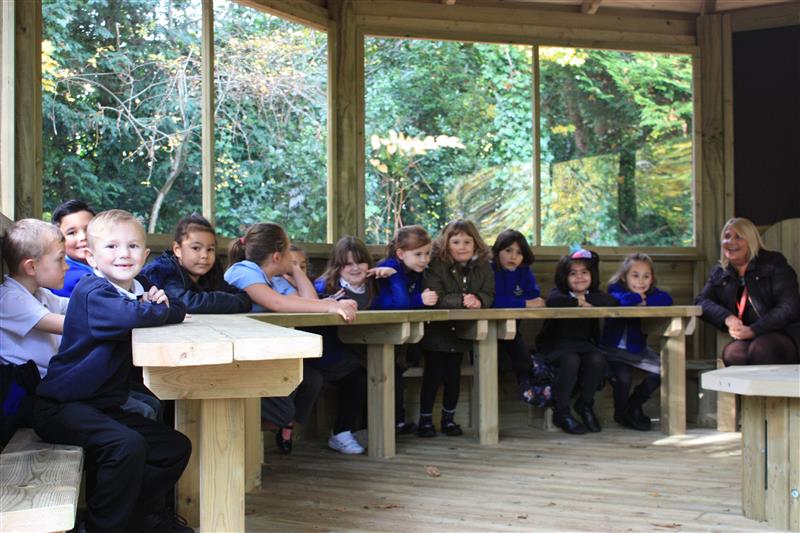 It's a friendly and intimate environment which really encourages and facilitates open discussion, as well as an easy forum for teachers to move around, observe every pupil and encourage good listening.
We installed a large Chalkboard behind the Storytelling Chair for practical lessons and demonstrations.
It's a great spot for observing and exploring wildlife, truly connecting children to nature as they learn about the natural world around them.
It inspires and motivates children to learn, to see through a different pair of eyes and to set their imaginations alight.
For its grand opening, the school hired a brilliant professional storyteller, Michael O'Leary, for an enthralling day of storytelling in this outdoor classroom.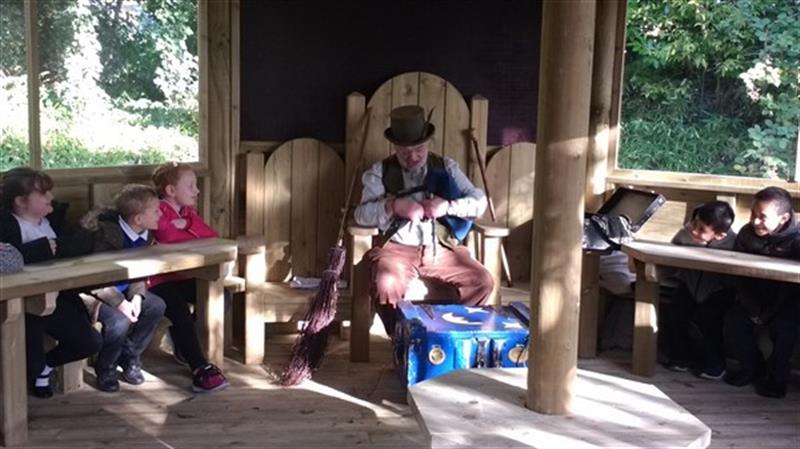 Watching wide-eyed, and inspired to explore outdoor reading themselves, this project has brought a whole new dimension to literature and the depths of language development for the pupils at Swaythling Primary School.
After school clubs are now using the Gazebo for activities and University students are even using the Gazebo for debating sessions. Inspired by the new development, the school's music teachers are beginning to host a music club within the Gazebo.
The Headteacher, John Draper, had this to say about working with Pentagon Play:
"The team were excellent and just set themselves up and got on with the work. They were no bother to the school at all even though during term time."
You can view our huge range of Outdoor Classrooms here.
If you're looking for new and inspiring ideas for your outdoor learning environment, complete our Online Form and we will be in touch to arrange a free consultation, site visit and design presentation. Alternatively, you can call us on 01625 890 330 (North Office) or 0117 379 0899 (South Office).
Click here to visit the Swaythling Primary School website to see what they had to say about their new Outdoor Classroom.