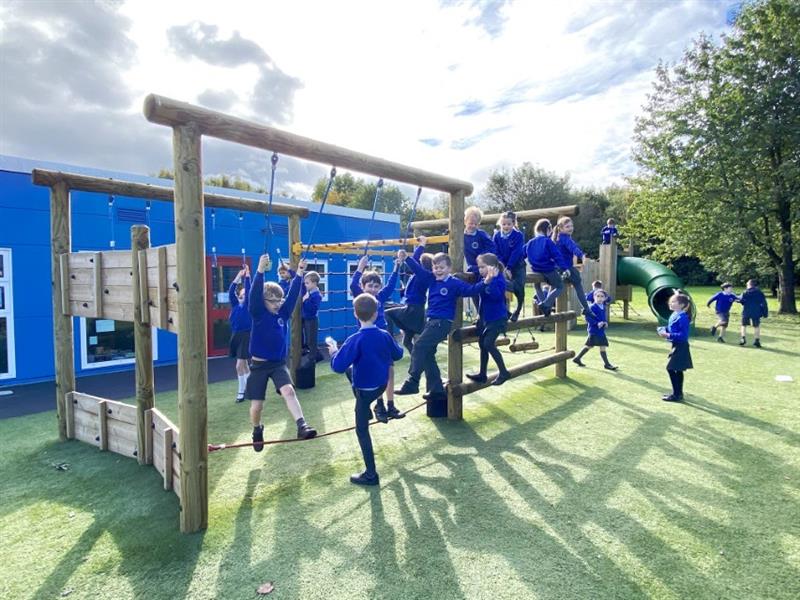 An Adventure Play Space Created To Present More Exciting Creative Play Opportunities
After working alongside Tarvin Primary School to install a Multi Use Games Area at the end of 2018, the Cheshire based school got back in touch with a new vision for active and imaginative play in their outdoor area.
Our expert outdoor learning consultant, Ian Wood, worked in collaboration with the school and their children to install a space that presents more exciting creative play opportunities in the playground.
A Playground Castle Fit For Little Kings and Queens
To provide Tarvin's little kings and queens with a space to call their own, we installed our huge Langley Play Tower!
The tower is the perfect cross-over between active play and imaginative play as it inspires a new dimension of exciting games.
The climbing ramp, climbing net, fireman's pole and slide are perfect for contributing towards improving children's key physical skills.
Children can transport themselves back in time to the medieval ages as they participate in historical imaginative games, using the climbing ramp to scale the castle wall and the bubble windows to watch the knights below.
Moreover, as the new tower features such a large deck, teachers can make full use of the space to provide a new setting for story time or bring history lessons to life!
Swing, Climb and Traverse Through Eight Varied Challenges
Flying down the slide, the children come out next to a Space Explorer Climbing Frame and set of our Roll Over Bars.
Featuring eight varied challenges, the children can swing, traverse and climb through the frame, testing and improving their upper and lower body strength, gross motor skills, fine motor skills while calculating risks and taking safe risks.
The children love hanging from the monkey bars like primates in the jungle or scaling the huge climbing net, competing to see who can reach the top first.
It is a fantastic addition for improving climbing confidence!
We wanted to ensure that the children would be safe whilst using the area and were able to fully enjoy their new space throughout the seasons.
This is why we've surfaced the space with our free draining, impact absorbing, all-weather Artificial Grass Playground Surfacing.
The new space truly presents the children with plenty of active and imaginative play opportunities, while developing their key physical skills through play.
Most importantly, the children adore their new space and cannot wait to get outside to play every day!
Take a closer look at the MUGA we installed at Tarvin Primary School Here.
Does your outdoor play area need more physical play opportunities? Take a closer look at our full Active Play Range Here and Begin Your Wish List Today.
To begin your journey with Pentagon Play, Contact Us Here and one of our expert outdoor learning consultants will be in touch to arrange a free, no obligation quotation.
If you would like to view more examples of our playground projects in Cheshire, visit our Cheshire page here.