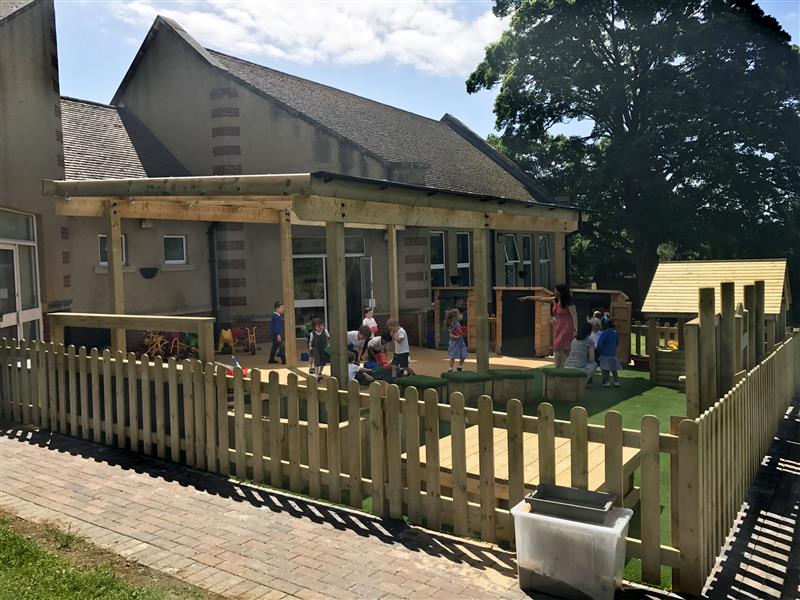 A free-flowing early years play environment
Our MD, James Collis-Pritchard worked in partnership with The Meadows Primary School to re-develop their EYFS outdoor learning environment. Originally, the school had an outdoor space that was uninspiring with very few resources for the children to engage with. There was very little to encourage the children to explore, investigate and play creatively with one another.
The area was only separated and zoned by individual posts, meaning the children had to constantly be monitored to ensure they wouldn't move beyond the posts. They had some play equipment but none that could be directly linked to the curriculum or worked alongside lesson plans.
James worked closely with the school to design and create a plan that would work for both the children and the teaching staff with the idea of creating an enclosed all-weather learning environment that would work in sync with the classroom.
We wanted to give the EYFS teachers the perfect platform to take the children outside as part of their lessons and really use the resources provided to enhance the learning opportunities offered to the children.
Messy play and investigative learning
To get the children thinking creatively and investigating, we installed a vast range of messy play equipment which included our Mud Kitchen. Here the children can transform themselves into little chefs and create mud pies and smelly perfume concoctions.
Alongside the Mud Kitchen, we installed a Mud Box to ensure the young chefs never run out of ingredients. For further messy play opportunities, we added a Sand Box to the zone to encourage children to explore and work with sand and build fine muscle control through digging.
Imaginative play products for literacy, role play and den-making
We created an inclusive zone for literacy, mark making and group activities. The area included a Story Telling Chair, Chalkboard, Whiteboard and Moveable Seats. This is the perfect space for story telling and writing activities. While one child reads a book, another could use the mark making boards to illustrate and write specific parts of the story down.
A Giant Playhouse was installed nearby to encourage role play, communication and den-building. This open-ended resource can be transformed into anything the children's imaginations muster up on any given day. One day it might be a bakery while on another day, it might get turned into a post office.
Beneath all of these resources, we installed our Deluxe Playturf which is a maintenance free artificial grass that offers a natural and realistic feel and appearance. It can be accessed in any weather and looks fantastic all year round.
A freestanding canopy for sheltered play
We installed freestanding canopy near the centre of the playground to offer protection from the elements and ensure play can take place all year round with minimal disruption. It will work as shelter from the rain and provide shade from sunnier weather.
Underneath the canopy leading up to the classroom, we installed Wet Pour Safety Surfacing to reduce incidents and protect children against falls as they cross between the classroom and the outdoor space.
The Bow Top Timber Fencing is one of the most important aspects of this development. This will help keep the children protected and ensures their outdoor classroom is separated from the rest of the school. It also helps bring everything within the environment closer together and organised.
If you are interested in any of the products installed at The Meadows or would like to contact us about developing your own outdoor environment, then feel free to contact us by submitting our Online Form or call us on 01625 890 330 (Northern Office) or 0117 379 0899 (South Office).