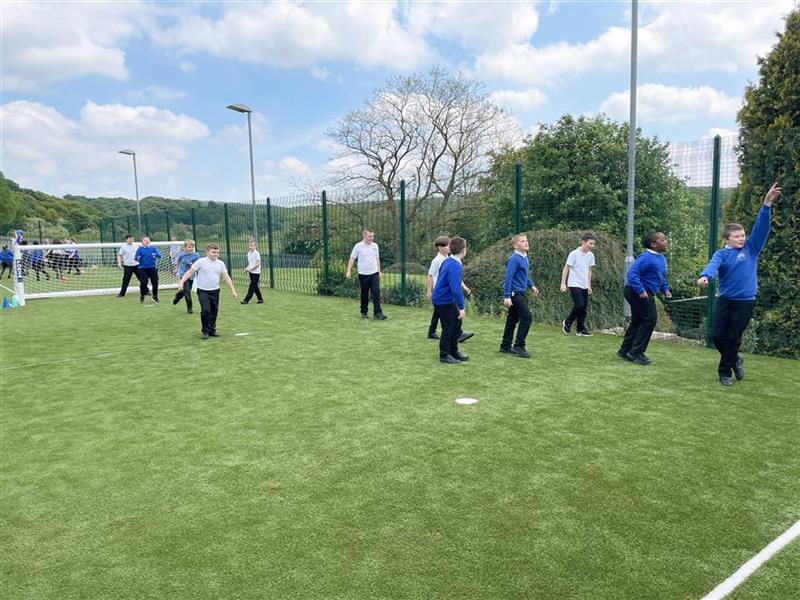 Adventurous Play Games and Competitive Sporting Activities for KS1 and KS2 Children
After completing the EYFS children's captivating outdoor learning and play environment at the end of 2020, Thrybergh Primary Academy in Rotherham decided it was the KS1 and KS2 children's turn to have their outdoor play areas revitalised.
Our playground consultant, Dan Young, was delighted to work alongside both the school and the trusts head of Estates and Facilities, Lee Rushford, to improve the physical play provision for the older children with an energising active play area and incredible sporting space.
Adventurous Playtimes with a Grizedale Forest Circuit
One of our biggest and best climbing frames to date… the Grizedale Forest Circuit has landed in Thrybergh Primary Academy's playground!
Featuring dozens of crossing and traversing points, there is a multitude of ways for children to swing, climb and balance when tacking this immense playground challenge.
Using every part of their bodies to develop fine and gross motor skills, improve their balance, proprioception, strength and core stability as they navigate the series of pathways featured at different levels.
The entire challenge is completely flexible and open-ended, ensuring that children will safely learn to manage risk, test their own boundaries and climb to their own limits.
The KS1 and KS2 children at Thrybergh are fully enjoying stepping and balancing, reaching and stretching, gripping and grasping, pulling and pushing, hanging and swinging, climbing and jumping.
Installed onto impact absorbing Artificial Grass, the area blends in well with its natural surroundings and beautiful views of woodland behind the new area – what a wonderful focal point for imaginative play games.
A Dedicated Sporting Space for Ball Games
At the front of the school, our talented team transformed an old concrete square into a fabulous sporting space.
Laying down our sport-certified artificial grass, with in-laid white lines to create dedicated pitches, the new space is perfect for numerous competitive ball games and sporting activities. Football, basketball, hockey… the possibilities are endless!
The young athletes of Thrybergh cannot wait to head onto the pitches to participate in competitive games as they develop and improve their overall physical fitness, teamwork, fundamental movement and sporting skills!
However, this installation didn't quite go to plan when our installers discovered a war-time air raid shelter underneath the area!
Our clever installers adapted to this interesting find, ensuring an engaging sporting space could still be created even with this unique discovery underneath the area.
Switching the fixed goal ends for freestanding football and basketball goals, this fantastic project was able to come to life and create a dedicated sporting area for the children.
The KS1 and KS2 children are delighted with their brand new play areas and have commented how much fun the spaces have brought to playtimes and after school clubs.
Would you like to create an adventurous play area or dedicated sporting space for your KS1 and KS2 children? Contact Us Here to begin your journey with Pentagon Play today!
Alternatively, you can view all of the stunning playground projects completed for Rotherham based primary schools and nurseries on our dedicated Rotherham Projects Page Here.