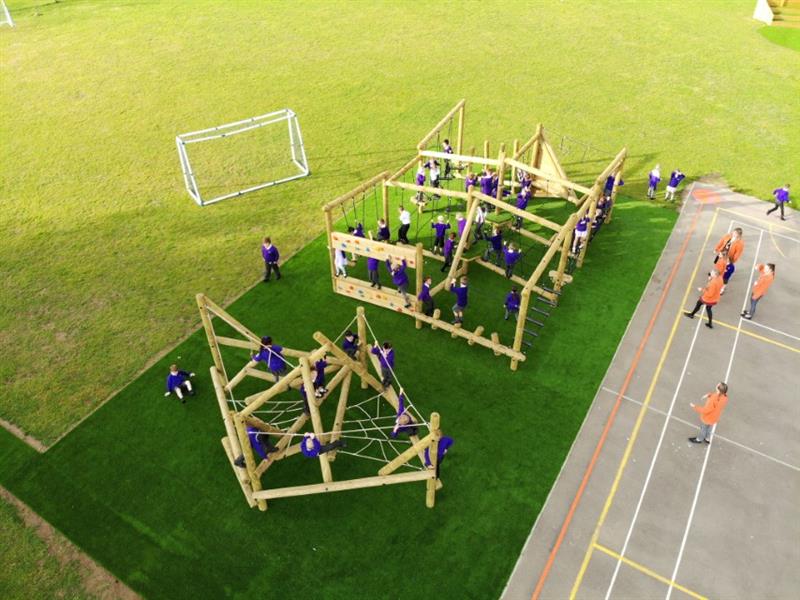 A Magnificent Playground Transformation
The staff and children at Tiger Primary School in Maidstone, Kent, simply couldn't wait to get going with their HUGE new climbing area. We heard that Mrs King and Mr Purser had great fun testing it out before welcoming all the children back to school!
Improving active play and outdoor learning in the school grounds was a key focus this year for the Kent primary school. The existing playground was a vast open space, which offered plenty of opportunity for the children to run around and enjoy the fresh air. With nothing there to challenge or inspire them, this could often lead to boredom and behaviour issues.
The school was keen to tackle this issue and to make the most of what the beautiful green, open space could potentially offer their pupils.
What a transformation!
An exciting active play zone featuring our Grizedale Forest Circuit and Tryfan Climber
With all the space that we had to work with, we were able to create different zones for the whole school to use, offering the children choice and allowing them to focus their attention on a range of different activities during their time outdoors.
The new Active Play Area features our biggest climbing challenge yet - the Grizedale Forest Circuit. It's a mega-climber!
Featuring tons of crossing points and climbing challenges, it has been designed with a treetop adventure feel to excite and test children as they navigate the different obstacles and swing through the 'trees' onto the next platform.
Standing next to the Grizedale Forest Circuit is our ever popular Tryfan Climber. It provides a fabulous base for imaginative play and a completely open-ended climbing challenge, with the benefit of handy, natural den spaces underneath to extend imaginative play and games.
We installed our Playturf Artificial Grass across the whole active play area for all-weather enjoyment. Our Artificial Grass has proven to be a favourite amongst children - one reason being its lovely, soft texture that provides a gentle landing.
It's clean and self-draining, so they can even enjoy sitting on it to play. It brightens up the space with a beautiful, deep green colour, whilst being sympathetic to the natural surroundings of the school field. It's durable too and will certainly withstand the relentless footfall of children running around on it for many years to come.
A themed play area for Key Stage 1
For KS1 children, we installed our super-fun Play Ship to inspire creative thinking and imaginative play at all times!
The children love peeping through the portholes and making up their own sea-faring adventures in the playground.
We positioned the active play area directly off the existing tarmac playground, with new thermoplastic markings for sport, to provide lots more all-weather space.
Two lengths of our daily mile track lead from the active play area across the school field to two separate zones - an outdoor classroom area and an outdoor performance area. The children can get a good run along these tracks to burn off steam, whatever the weather!
A functional base for structured and unstructured learning
The Outdoor Classroom area features a beautiful hexagonal gazebo with decked base and a whiteboard for mark-making and written displays. We located this close to the boundary fence, so that it is further away from Tiger Primary's more active areas and can act as a quiet zone if needed and a place for calmer outdoor learning.
A place for children to express themselves
The new Performance Area features a fantastic open-air Amphitheatre with Grass Topped Seats, with a large stage area formed with our Playturf Artificial Grass. It's large enough to accommodate a whole class and is a wonderful cross-curricular facility, particularly as a forum for outdoor English and Drama lessons.
To finish off the project, we installed a beautiful bespoke Tree Seat for the children at Tiger Primary to enjoy relaxing, reading and chatting to friends in their lovely new surroundings.
The staff at Tiger Primary have told us how much of a difference the development has made to children coming back to school after the summer. It made them excited to come back and negated some of the nerves and anxiety, particularly after a long lockdown, which was really good to hear.
There is now lots of choice for them to be active at break and lunch times, which we are sure will greatly help with managing behavior and improving attendance, too.
Would you like to improve outdoor play and learning facilities at your school? View our huge range of school playground equipment here and create your wish list.
We are very much open and we have developed new ways to conduct playground consultations safely in these difficult times. Please do Contact Us Here for more information.
If you would like to view more examples of our playground projects in Kent, visit our Kent page here.