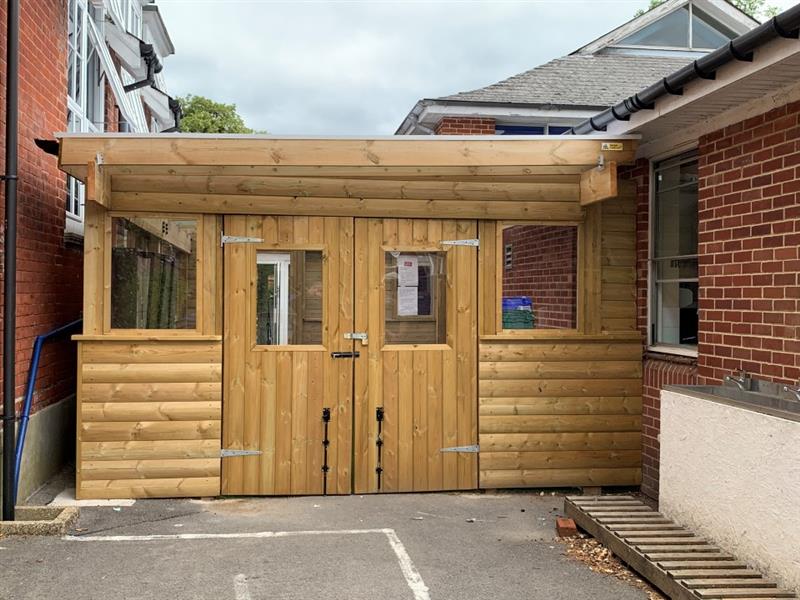 A Timber Canopy with a Purpose!
A primary school built with the motto 'Be Thoughtful' and with an avid interest in charity work, Pentagon Play was honoured to work with Swaythling Primary School on the building of a space for their Food Bank.
Cherishing the same values as Pentagon Play such as Teamwork, Innovation and Kindness, our playground consultant, Donella Felton was thrilled to work with Swaythling Primary to use their empty space to create a great new area!
Embodying these ethics fully, Swaythling Primary School utilised their available space to its full potential by turning it into a food bank, accessible to friends, families and passersby who may be struggling throughout the pandemic.
This kind and thoughtful gesture shows the incredible kindness of the staff and pupils at this Hampshire Primary School.
Making Use of the Space
We all have that one area of space that we can't seem to find a good use for. Nothing seems to fit, and we have no idea what to do with it!
Well, Swaythling Primary School had this exact issue and decided to do something beneficial with it.
Contacting Pentagon Play, Swaythling Primary worked with us to ensure that their space was used to its full potential.
"It fit so well that it looked like it had always been there!"
For the rainy days
Fully equipped with a Polycarbonate Roof and a fully functioning Rainwater System, our 7m x 4m Timber Canopy is perfect for daily use all year round.
Built with the intention of being used as a food bank, it is certain that this canopy will be in use consistently throughout the year and therefore, needs to be weather-proof!
This canopy gives people a safe and dry place to give back and we all feel a little bit better when we're helping others!
A room with a view
This project featured two doors; one double and one single, both adorned with a bright, clear window to add light to the room.
Positivity is key when we're working together to make a better world for those in need and light and brightness boosts everyone's mood!
Having an open view into the canopy is also beneficial as people can walk by and feel inspired by the kind donations of their peers.
Making it feel like home
Swaythling Primary School also prioritised the installation of 28m of our Playturf Artificial Grass to cover the tarmac.
Giving the canopy a more comfortable and homely feel, the artificial grass carpets the floor and creates a safe and soft environment for the children to be involved in the donations!
Not only does the grass create a plush base for tumbles and trips, but it also adds a fresh and aesthetically pleasing aspect to your environment.
Being able to make use of every inch of the space that you have available is a specialty of Pentagon Play and we work alongside our client to ensure that not only is the space used, but that it is used effectively and creatively to make the most of the space for your children!
Every Pentagon Play Environment is built with children in mind so they're filled with bright colours, soft surfaces and bundles of fun and enjoyment for everyone to interact with!
Filling your open and available space with a food bank is such an amazing idea and we were thrilled to be a part of it! Contact Us Here if you would like to make the most of your space also!
Or, if you'd like to read about some more of our amazing Hampshire Projects, then do so, Here