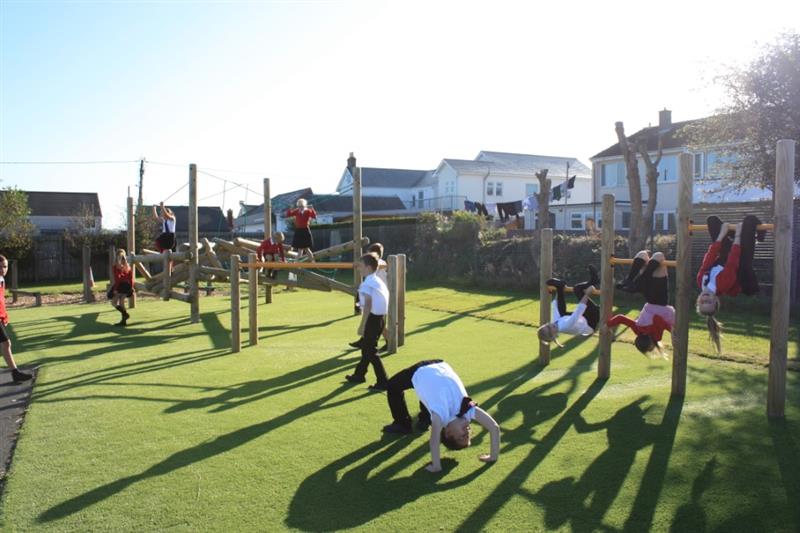 Encouraging Healthy, Active Playtimes With Outdoor Play Equipment
Working closely with Treloweth Community Primary School, we have created a stimulating active play area for the KS1 and KS2 children attending the school!
Our playground consultant, Becky Hazell, assisted the school to design and install a variety of outdoor equipment to target physical development and encourage active, healthy playtimes. We installed the Cornwall primary school's new equipment in a selection of zones to improve supervision and create dedicated spaces for the active resources.
The new zones consist of:
Challenging Active Play Equipment
Providing the children with an active challenge, which gets progressively harder, is an energising trim trail.
The new Trim Trail includes a selection of equipment, arranged in such a way that it gets progressively harder as the children traverse through the obstacles. Moving from an introductory balancing challenge using the Stepping Logs to our Trapeze Swings, where children have to hang on and swing to the other side, then finishing with a colourful traversing wall.
They now have an exciting trim trail to challenge their physical skills on!
Next to the challenging trim trail, we installed one of our excellent climbers, the Skiddaw! The humongous climbing frame provides children with an open-ended, tree-like challenge as they swing through the ropes and logs to reach the other side!
Used as a focal point for imaginative play, the children have been creating their own creative games as they pretend they're monkeys swinging through the trees like Tarzan, using the ropes as vines and the logs as branches of the tallest trees in the forest.
Overall, the children's balance, coordination, upper and lower body strength, fine and gross motor skills and core stability are all being developed in this exciting area.
In addition, their climbing confidence, determination and communication, language and socialise skills are also being targeted within this exciting, outdoor physical play area.
A Healthy Outdoor Gym
As part of the outdoor project, the school wanted to ensure that the children's cardiovascular fitness was being developed in order to combat childhood obesity and provide their children with the knowledge and skills to lead a healthy lifestyle. With this in mind, we installed a healthy outdoor gym.
The new gym space is made up of a selection of Outdoor Gym Equipment and trim trail equipment to further target physical development and cardiovascular fitness.
Children at the school have been getting fit and healthy on the equipment as they challenge one another to see how many pull ups they can do on the Pull Up Bars or how many reps they can complete on the Seated Leg Press.
Playground Surfacing
Ensuring the children would be able to use their new active play and sports equipment all-year round, we installed our excellent Artificial Grass Playground Surfacing.
Impact absorbing and free draining, it was the perfect option for the school! It not only prevents serious injuries from occurring as the children exercise and take safe risks, it also allows rainwater to penetrate the surface - preventing the area from becoming waterlogged.
The staff at the school are so pleased with their new area, that they are looking to use us again to develop other areas of the school to further benefit their children!
If you would like to create a stimulating active play area for your primary school children, please feel free to Contact Us. We'd love to help improve your children's fitness with a selection of Active Play Equipment or Sport Equipment!