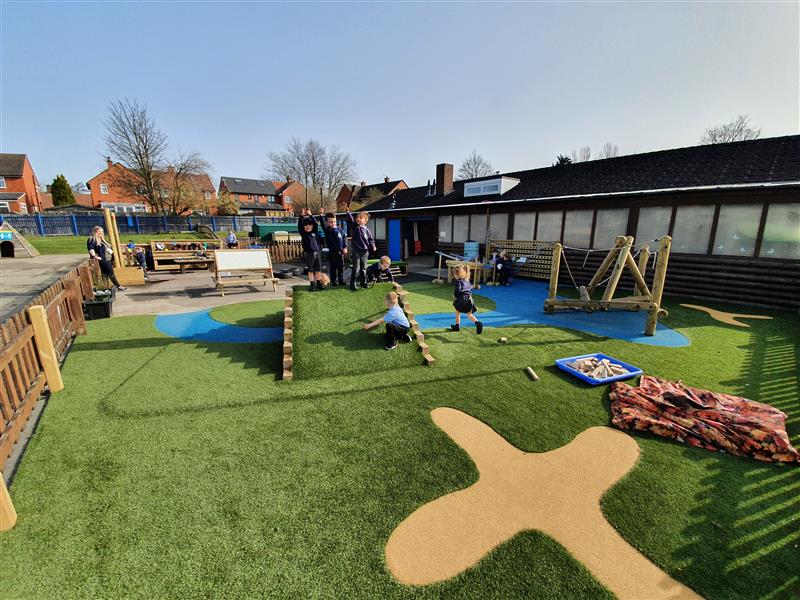 An EYFS Playground full of Possibilities for the littlest learners of Washacre Primary
Our playground consultant, Tom Benson, was excited to work with early years staff at Washacre Primary School in Bolton to completely redevelop their outdoor play and learning space for the youngest pupils.
Before we began the installation, we removed an existing seating area, gazebo, storage and panels.
We were then ready to lay our natural feel, Artificial Grass Surfacing over the existing tarmac, to brighten the development and give a natural appearance.
An Active Play Space for Children to Climb, Roll, Stretch and Scramble
The large playground area, situated just outside the classrooms, was split into two designated zones. On one side we built our Climb Through Tunnel Hill and Pinnacle Hill Climber.
We created the ideal spot for young adventurers to climb, roll, stretch and scramble.
Our climber allows multiple children to work together to develop gross motor skills and balance as they take their first steps to develop climbing confidence.
The Adventure Awaits In The Splash Zone
The children can then journey across their blue Wetpour Pathway, which resembles a river, leading the way to their own 'Splash Zone.'
Our Water Wall and Damming Package has proved very popular with the children at Washacre Primary as they develop hand/eye co-ordination by filling and emptying containers of different sizes.
The area offers many opportunities for problem solving as children work together to stop the flow of water.
An easel table is a great spot to sit down and relax when creating masterpieces with friends. Perhaps the children of Washacre Primary can take orders or write some price lists for their friends, working in the mud kitchen nearby.
Our Mud Kitchens encourage children to learn about the world through their senses and to enjoy tactile experiences.
If more materials are needed the children can load up our unique pulley system. This is a great introduction to mechanisms for young children and offers opportunities to explore trial and error.
No Problem For Storage!
Storge solutions have been carefully thought about when designing this outdoor environment.
A Mud Box ensures your main cooking ingredient is always at hand! Our small store encourages children to independently choose their equipment.
A Welly Rack guarantees that boots are easy to grab, so children can use their amazing space whatever the weather!
A Real-Life Roadway to Reinforce Road Safety
Through the fence, on the other side of the space, we created a roadway complete with a zebra crossing and lane dividers which mimics real life for the children and reinforces road safety.
Pupils have enjoyed using their trikes to race around, learning how to navigate bends, tackle speed bumps and stop safely.
Endless opportunities for balancing, stepping and jumping
Washacre chose our ever popular Get Set, Go! Blocks – The Cheviot Set, which is our biggest set in this range.
The blocks can be moved easily between the two areas, creating endless opportunities for balancing, stepping and jumping across a course that has been designed by the children themselves!
We have provided the children at Washacre Primary with a fantastic head start to their journey through primary school.
Their outstanding outdoor space offers a host of opportunities to explore the seven key areas of learning and development.
Does your school lack the resources and equipment for your children to participate in fun, educational play? Contact us here to begin your journey with Pentagon Play and find out how we can help get the spark back to your playgrounds.
You can also view all of our exciting EYFS transformation projects on our Projects Page Here.