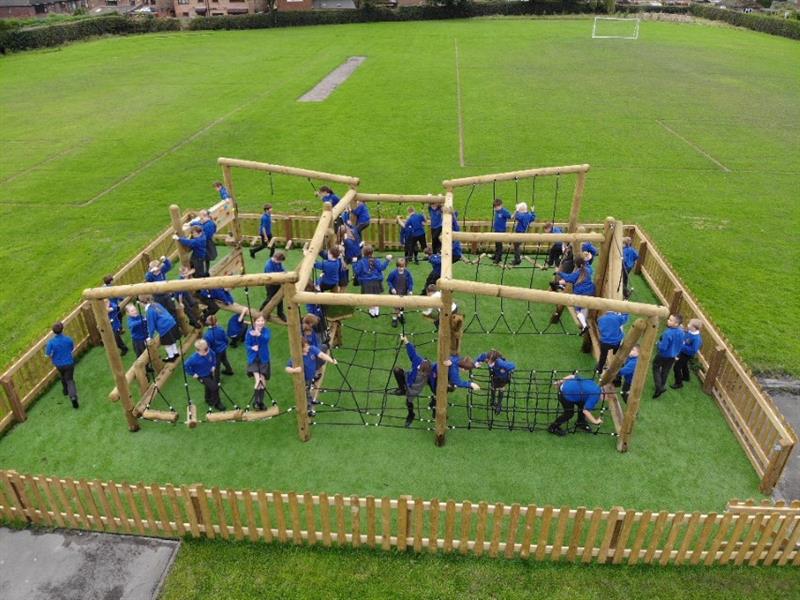 An Energising Climbing Frame For KS2 Children
Phil MCLauchlan, the headteacher at Werrington Primary School, contacted us as he had exciting ideas that he wanted to implement in his KS2 playground.
Our playground consultant, Dan Young, worked closely with the Staffordshire Primary School to discuss the KS2 prospects and create an excellent design that would bring Phil's playground dreams into reality.
This realistic playground design included our exclusive Grizedale Forest Circuit on top of a vibrant Artificial Grass Playground Surfacing and enclosed with natural-looking Bowtop Timber Fencing and Phil loved it!
Once we had completed the new area, you couldn't tell the difference between a photo of the environment and the design…
The Grizedale Forest Circuit
The exciting addition to the KS2 playground features our excellent Grizedale Forest Circuit – a unique, one of a kind climbing frame!
With a vast array of challenges, hosting 15 different activities that raise children's enthusiasm and excitement levels, the exclusive forest circuit targets each and every area of physical development as the children take on the challenging obstacles.
As the structure features a series of pathways for children to navigate at different levels, it is truly open-ended. They can step on or jump off wherever they like as they climb as high as they feel comfortable with - perfect for developing climbing confidence.
Featuring two artificial grass covered platforms in the centre of the structure, imaginary play has been enhanced as the children pretend they're hiding from Big Foot in the forest or simply use the platform to take a quick rest stop away from active play.
The whole of KS2 have had hours of fun on our biggest Forest Circuit so far, developing their physical skills including upper and lower body strength, fine and gross motor skills, balance, core stability and proprioception. They are using every part of their bodies to step, balance, reach, stretch, grip, grasp, hang, swing, climb and jump!
This extraordinary climbing frame truly has it all.
Playground Surfacing
Underneath the new equipment, we surfaced the space with our vibrant Artificial Grass Playground Surfacing, which is impact-absorbing.
As the children explore the obstacles and take on the forest challenge, they can safely practise taking safe risks as the surfacing prevents serious injury if they were to fall, slip or trip.
Along with the safety aspect of the playground surfacing, it also enables the space to be used throughout all-weathers since it is free-draining, allowing rainwater to penetrate through the surface.
No longer will children spend their days to stay off the equipment or fake grass due to a little bit of drizzle and a fear of muddy, slippery natural grass!
Playground Fencing
As Phil wanted his KS2 children to have a dedicated active play zone to get active and improve their physical fitness, we surrounded the new active area with our Bow Top Timber Fencing. As it is a natural-looking fencing, it blends in with the surrounding grass and area to ensure the space doesn't look out of place.
Phil and the children attending Werrington Primary School, are delighted with their new outdoor active play area! The children cannot wait to take on the exciting challenge every day…
If you would like to extend the physical play opportunities at your school with a magnificent Climbing Frame, please feel free to Contact Us for a free, no-obligation quotation. We'd love to transform your playground dreams into a reality, too!