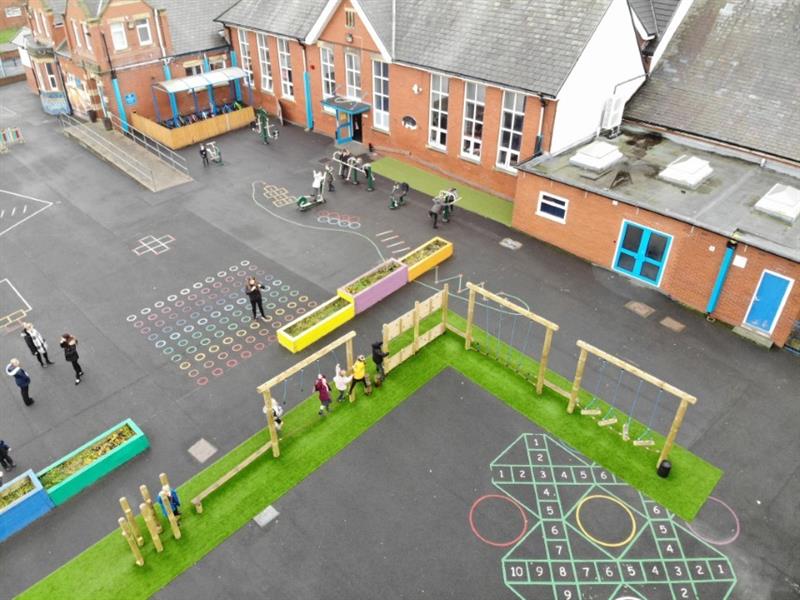 A Playground Development that Focuses on Improving Children's Health and Fitness
Westminster Primary Academy in Blackpool wanted to renovate their playground. Their main aim was to provide their KS1 and KS2 children with a space that focuses on improving the children's health and physical fitness.
Our sport and fitness enthusiast playground consultant, Tom Benson, worked alongside the passionate outdoor lead, Kim Leathley, to design and install two inspiring, active spaces. They created a sporting space that enhances the physical education provision and a multi-obstacle trim trail challenge.
"Working with Pentagon Play has been fantastic; they were nothing but professional and helpful. They were able to advise us on the best use of the land we have, and the completed project is absolutely amazing!" says Jenny Campbel, the Assistant Head.
Outdoor Gym Equipment to Enhance the Sporting Provision
The school wanted to achieve a space where the children could be active and experience a wide variety of exercises that they don't get outside of school, whilst enhancing their existing sporting provision.
With these objectives in mind, Tom designed a healthy outdoor gym made up of six pieces of Outdoor Gym Equipment, including:
Arm and Pedal Bike
Elliptical Cross Trainer
Row and Ride
Seated Leg Press
Double Air Walker
Double Cross-Country Skier
This mixed selection of equipment encourages children to lead a healthy and active lifestyle whilst improving upper body strength, lower body strength, core stability, cardiovascular fitness and social skills.
The area has enabled the children to develop their social skills in terms of their ability to take turns, support each other, encourage and motivate each other to take risks and be more active.
"I love all the gym equipment because it feels good to exercise, which makes me feel happy. I play lots of games, but the gym is the most amazing thing on the playground," says Richard, a pupil attending Westminster Primary Academy.
A Challenging Trim Trail for Exciting Active Play Games
Parallel to the healthy gym space, we've provided the children with some fun active challenges to conquer together!
Nine varied challenges arranged in an L shape provides a new dimension to playtime games as the children swing, climb and balance from obstacle to obstacle, whilst offering a new way for the children to travel across the playground.
Encouraging physical activity in a fun and engaging way, this fantastic variety of Trim Trail Equipment provides physical challenges that develop balance, hand to eye co-ordination, climbing confidence, upper and lower body strength, core stability and gross motor skills.
But more than this, it aids the development of a vivid and creative imagination within their children.
"My favourite playground equipment is the trim trail because it is fun to swing on the ropes. It makes me feel happy because it is big enough that I can still have my own space even when others are on it!" explains Briony, a pupil attending Westminster Primary Academy.
Playground Surfacing to Ensure Calculated Risks are Safe
Underneath the trim trail, we installed our Artificial Grass Playground Surfacing to ensure the children are safe to take calculated risks, even when the inventible slip, trip and fall occurs.
Moreover, this vibrant surfacing injects some colour into the tarmac playground and ensures the new equipment can be used no matter what the 'great' British weather may bring.
"Working with Pentagon Play has been a pleasant experience"
Kim explained how she felt working with us on these fantastic playground projects:
"Working with Pentagon Play has been a pleasant experience. Despite difficulties with lockdown in March, Pentagon Play did everything they could to ensure we could have our playground installed and ready for use before the children came back. It was an amazing surprise for the pupils. Communication has always been clear and speedy. I would definitely recommend Pentagon Play to other schools"
Awena Wells, the Year 4 Teacher, explained how the new equipment has benefited the children:
"Since the installation of the playground equipment I have seen a lot more co-operation and teamwork with the children. The children love to challenge themselves and others on all the equipment."
Would you like to enhance your sporting provision or simply encourage your children to be more active during playtimes and lunchtimes? Contact Us Here to begin your journey with Pentagon Play.
Explore all of the spectacular playground designs we've installed for primary schools and nurseries in Blackpool on our dedicated Blackpool page here.