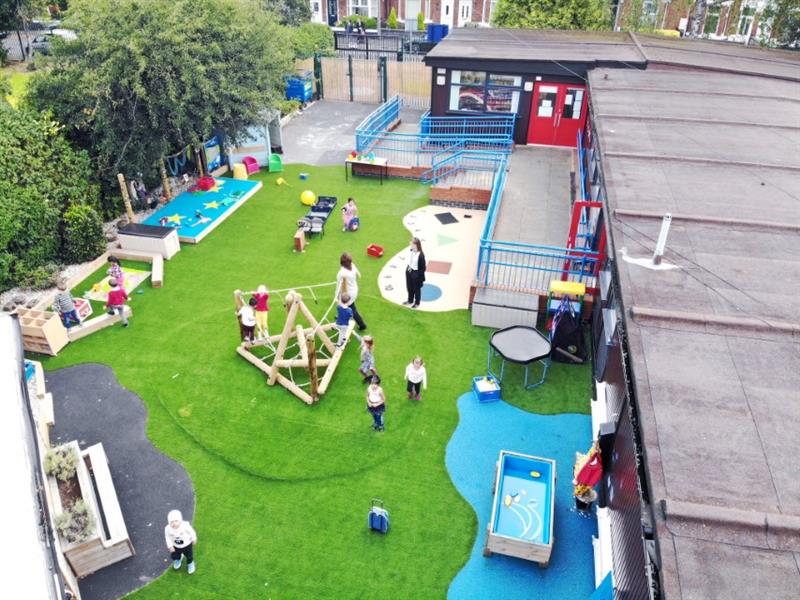 A Stimulating Nursery Garden to Enhance School Readiness
Our playground consultant, Ian Wood, worked closely with Westminster Nursery School to create an all-weather garden, which provided plenty of activities to enhance the young children's school readiness.
Beforehand, the children had a plain tarmac space that included a selection of loose play parts and resources, which did not truly enhance learning through play and took plenty of time for the practitioners to set up.
Additionally, the tarmac surface could become slippery and sometimes caused hazards and injuries.
Small World Play Area
Construction and small world play activities are ideal for young children to develop skills such as problem skills, teamwork and their understanding of the world. The nursery was determined to enable these stimulating activities to take place outdoors.
As a result, we have created a dedicated small world and construction play area.
Practitioners can now set up activities for the children to gravitate towards within this area, which will target areas of the early years' curriculum. Whether they're racing toy cars around the track or building their own racetracks, the small world play area is perfect for all kinds of activities for the children!
Energetic Physical Activities
Since one of the main aims of the playground development was to enhance school readiness, we installed our low-level Pinnacle Hill Climber, which is perfect for nursery children.
The Pinnacle Hill Climber has been specifically designed nursery children with rounded logs and smaller width ropes to enable smaller hands to climb. Children can grip and grasp, step and balance, hang and climb as they explore another level and work together to reach the top of the tree!
We have created a dedicated space for physical development as the children develop their fine and gross motor skills, upper and lower body strength balance and coordination!
They love the new climbing frame and it has created an excellent focal point for physical development.
Bespoke Performance Stage
As a key part of being school ready is being able to communicate and socialise with one another, we have installed an exciting bespoke Outdoor Performance Stage with Den Making Posts.
The imaginative area enables the young children to perform nursery rhymes and create their own bands as they participate in role play; enhancing their communication, language and social skills. They love creating their own bands, singing, dancing and playing musical instruments together!
Through the inclusion of den making posts to the rear of the vibrant stage, the children can thread and weave materials through the den making holes to create their own backdrops and dens within the area, too.
Through small motor actions of threading and pushing materials through the holes, the children's fine motor and gross motor skills develop further, along with their teamwork skills as they work in collaboration to create their den.
Vibrant Playground Surfacing
Westminster Nursery wanted to ensure that the play area could be used throughout all-weathers, so we installed a mixture of our excellent playground surfacing.
We surfaced the space with a combination of Wet Pour and Artificial Grass surfacing since it is free draining, which means that the water won't pool on the top of the surface but will soak through the porous base.
As we wanted to ensure the surface also provided educational play value, we installed a Tan Wet Pour in one corner of the play space with number and shape playground markings to aid number and shape recognition outdoors.
Through the installation of different Playground Surfaces, the space is now bright, colourful and educational for the children to play! Additionally, it is also impact absorbing, meaning it is soft on little hands and knees when the investible slip, trip and fall happens.
We loved working with Westminster Nursery School to enhance their garden to improve school readiness and other key skills. If you'd like to transform your nursery garden, Contact Us for a free, no-obligation quotation. Alternatively, you can view our fully range of specialised Outdoor Play Equipment For Nursery.