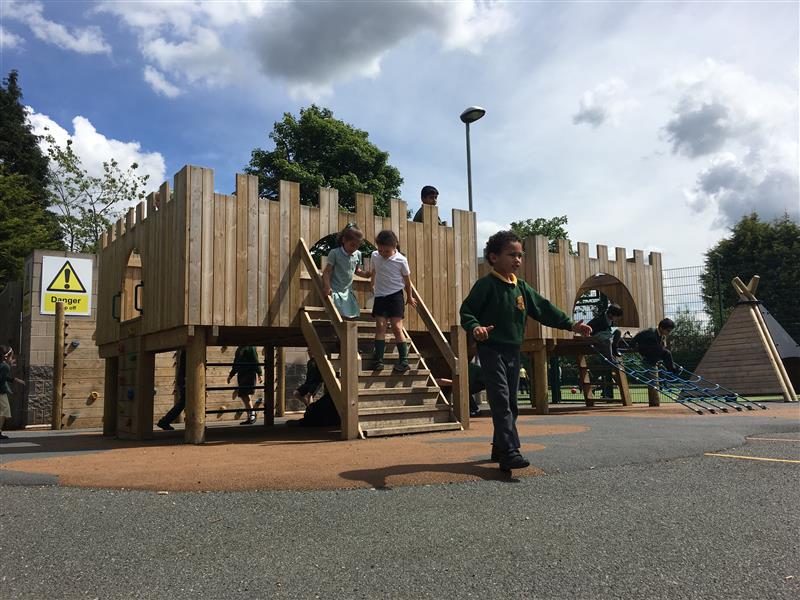 Read about our biggest playground development in Birmingham
We worked in partnership with Wheelers Lane Primary School in Birmingham to develop 7 key zones across the school's entire playground environment.
Each area targeted specific areas of learning with a focus on continual development from EYFS through to Key Stage 2.
The Physical Development Zone
To create a zone that would encourage physical activity and wellbeing, we installed our wonderful Web Explorer alongside additional obstacles for the children to overcome.
The Web Explorer is a timber play frame featuring 6 different challenges which will develop upper and lower body strength, core stability and fine motor skills. The combination of equipment creates a group challenge, encouraging cooperation, competition, and imaginative play.
Following on from the Web Explorer, the children also have access to our Log Labyrinth, Climbing Poles and Rope Tunnel. These challenges are designed to build children's climbing confidence and improve their hand-eye coordination, balance and core stability.
We made the area safe for risk taking with a blend of green and blue Wet Pour safety surfacing.
Active and Creative Development Zone
To inspire both active and imaginative play, we installed a magnificent Bespoke Play Castle over natural coloured Wet Pour surfacing.
The castle includes bubble windows, climbing walls, net climbers and ladder climbers.
There is space on top of the castle for child-led games and storytelling and space underneath for quiet time and den building. The castle has multiple access points and will test and develop children's gross motor skills.
Moreover, it provides a fantastic lookout point across the rest of the outdoor learning environment.
View the new design of our castle here.
A Huge MUGA Extension
We extended the school's existing MUGA to create a large dedicated space for sports and P.E. activities.
A 1M high fence was installed to divide the huge MUGA into two areas to allow two different activities or sport matches to take place at the same time without disrupting each other.
The four recessed goals are incorporated with basketball posts to ensure the sports area can be used for multiple sports. Furthermore, we resurfaced the entire area with artificial grass to create a safe, durable and very attractive sports surface.
You can view our huge range of MUGAs and Sport Surfacing here
An Interview with the Deputy Headteacher of Wheelers Lane Primary School
Quiet Play Zone
We designed a variety of areas to encourage calm, thoughtful and creative play.
This included an outdoor classroom which creates a functional base for structured learning, socialising, reading and relaxation. The roof is fully waterproof and provides the perfect shade and shelter from the sun and wet weather conditions.
To encourage expression, creative thinking and role play, we installed a wonderful Performance Stage. This is a fantastic resource which will help develop children's voice projection, posture and spoken language.
We also installed our Imagination Station to promote communication and den-building. This open-ended resource encourages children to collaborate and use their language skills while working on tasks such as building a den.
For further den-making and open-ended play, we installed some Wigwams to provide an exciting alternative to a Playhouse. The whole area has been surfaced with artificial grass to create a pleasant atmosphere and ensure the area is safe and accessible in all weathers.
Early Years Free Flow Environment
Working with the early years team, we transformed their outdoor learning environment with the addition of some exciting resources.
For messy play, we installed our Water Wall, Mud Kitchen and Large Covered Sand Box. These resources are all inclusive and ideal for investigative learning and nature-rich messy play.
Will the children choose to discover science on the Water Wall or will they choose to become little chefs on the Mud Kitchen – the opportunities are endless.
To offer a storage solution, we installed Our Walk-In Store with Chalkboard and Whiteboard. This is an excellent store for gardening and nature based learning equipment.
We also created a Bespoke Freestanding Canopy to create a sheltered area for learning, construction and child-led play.
The Nursery Outdoor Learning Environment
To meet the needs of the curriculum, we transformed the school's Nursery playground to encourage interactive play.
For early literacy and numeracy, we installed some colourful playground markings which included an A-Z Snake.
Moreover, we added a Mud Kitchen and Sand Box for messy play and a Giant Playhouse for role play, social interaction and den-building.
This was our biggest playground development in Birmingham and one of our favourite projects to work on. We thoroughly enjoyed revisiting the school to see the impact that the playground equipment has made since installation.
The children spoke about their outdoor area admiralty with the bespoke castle being a favourite amongst them.
It was a pleasure to work with such a fantastic school and we hope to together in the future on another exciting project.
Are you looking to re-develop your outdoor learning environment? Contact Us to arrange a free consultation, site visit and design presentation or call us on 01625 890 330 (North Office) or 0117 379 0899 (South Office).