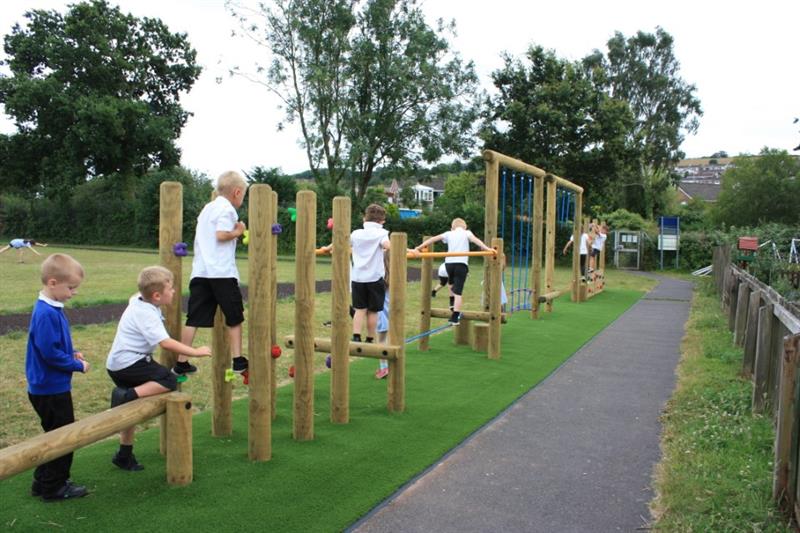 An Energising Trim Trail For KS2
Our playground consultant, Nicole Fairman, worked closely with Wilcombe Primary School endeavouring to design and install an energising Trim Trail, which was suitable and challenging for their KS2 children.
The school wanted to ensure that their new trim trail was progressively challenging, appropriate for both lower and upper KS2 and would focus on developing their children's core stability, upper body strength and co-ordination. Additionally, they wanted to allow the children to use the equipment throughout all weather.
Nicole worked with them to meet the objectives they had set out.
The Trim Trail
As they wanted their new equipment to challenge and become progressively as the children moved across the trail, we installed our suitable Junior Trim Trail 2.
The energising trim trail is made up of nine different challenges, which have been specifically selected to challenge and stimulate children in Key Stage 2.
It begins with the easier trim trail items, like the Balance Beam and Climbing Poles, before becoming increasingly more challenging and complex as the children move across the equipment, getting closer to the end challenge of the Timber Climbing Wall.
A favourite challenge between the children is the tightrope bridge as they pretend they're crossing a rushing river with only a tree log to balance on. Imaginative play is truly sparked through this active playground addition.
Through this exciting Adventure Trail, the children's balance, lower and upper body strength, fine motor skills, core stability, co-ordination and gross motor skills are being targeted and developed during play: exceeding the physical development needs of the project.
Furthermore, the Trim Trail is a group challenge where the children are encouraged to motivate one another to cross the obstacles as they cooperate and compete with each other through exciting active play activities.
The older children have been heard motivating and encouraging the younger pupils to cross challenges they're not yet confident with - a lovely conversation to hear between students!
Wilcombe school wanted to ensure that the area could be used come rain or shine and as a result of this, we have surfaced the new active space with our wonderful Artificial Grass.
As the new playground surfacing is free draining (meaning that water doesn't pool on the surface) the children can use the space throughout all weathers, without the slippery, muddy mess that comes with natural grass.
The children absolutely love their new challenge! And within the playground, it has been noted that the atmosphere is overall positive and full of encouragement, challenge and adventure play, with less behaviour incidents, as children are entertained and occupied.
If you would like to create an active, emerging outdoor play area for your children, please Contact Us for expert advice and guidance. We have a huge selection of Trim Trail Equipment suitable for children in nursery, EYFS, KS1 and KS2!