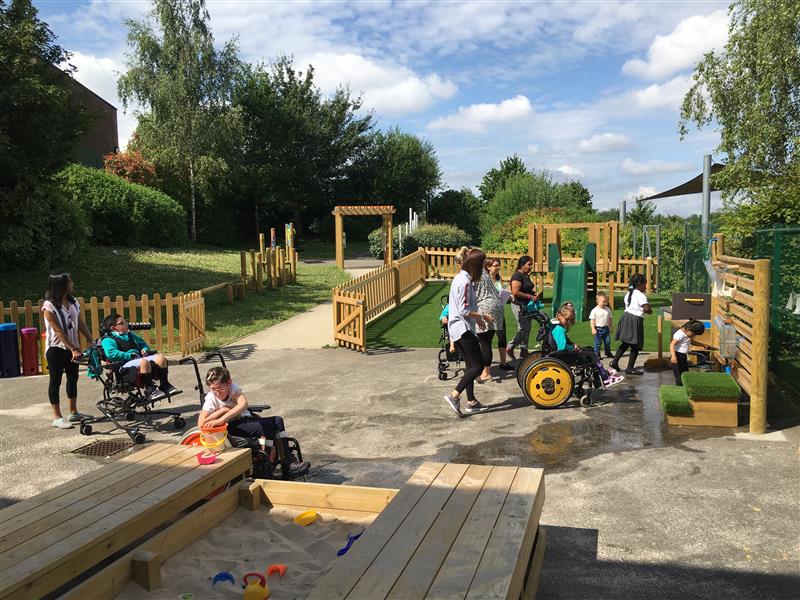 An Engaging, Inclusive and Inspiring Outdoor Learning Environment For Children with SEN
Woodlands School is a Special Educational Needs School, in Harrow, which caters for children aged 3-11 years old with a wide range of complex and profound learning difficulties.
They wanted to provide an engaging, inclusive and inspiring outdoor learning environment for learning through play. Our playground consultant, Luke Banner, worked alongside Lauren Gregory, the project manager, to understand their playground vision and design a space, which included everything they were looking for in the space.
As the space was huge, and could sometimes cause issues with supervision due to a lack of physical boundaries, Luke decided to segment the outdoor area with our Bow Top Timber Fencing and Gates, before creating a range of outdoor learning zones.
Messy Play Area
To create an engaging, inclusive and inspiring area for learning through play, messy play equipment was necessary!
So that all children, with very different needs, could come together to join in a shared activity, we installed one of our best sellers: the Water Wall. Even though some of the children participating in the activity might usually find it difficult to engage in an activity with others, the water wall has been a truly inclusive activity.
The children have been having great fun manipulating the channels to guide the water flow, spinning the water wheel or simply watching the enchanting, clear water flow down the wall – improving their concentration and problem-solving skills.
In another area of the playground, we installed our Large Covered Sand Box, which enables children to explore the different textures of wet sand or dry sand. As it is big enough for the children to sit in, they can imagine they're on a beach, building sandcastles and listening to the waves crash against the shore.
The new messy play equipment has added wonderful sensory activities to encourage the children to join in on activities as they learn through play.
Outdoor Music
Luke wanted to ensure that the children had an area to make as much noise as they like in the playground as they explore mathematics with audio stimulation.
A huge range of Outdoor Musical Instruments, that are accessible for all of the children, allows them to explore music and sound as they hit the drums or the tuned playground chimes, pretending they're on a stage performing for their parents, friends and family.
The children can make as much noise as they like and explore rhythm and beats – creating a wonderful tune together.
Physical Development
Within another area of the previous large, empty space, we installed our wonderful Restormel Play Tower to create an engaging active play area for the children.
The new tower is perfect for children with SEN as it creates a calming atmosphere and improves their concentration when back in the classroom due to the repetitive movement from climbing up then sliding down, over and over again.
It has also improved their climbing confidence, upper and lower body strength and fine motor skills through the colourful climbing holds.
Not only has the new tower improved the physical play opportunities presented to the children, it is has also enhanced imaginative play. The children are able to look at the playground from a different height and perspective as they imagine they are on top of the world!
Sensory Play
A magical pathway, which transports children into a wonderland of audio and visual stimulation, has been created with our Sensory arbour.
Children take a journey through coloured polycarbonate windows as different rays of light are created inside the arbour, noises are made with the musical instrument and textures are felt with the sensory panel aspects: the perfect resource for any SEN playground.
As it has been designed to be fully inclusive, wheelchair users, those with walkers and staff members have plenty of room to accompany each other through the wonderland as they explore everything it has to offer.
The school love the new playground development and had this to say about working with us:
"When originally looking at the project we gained three quotes from different companies, we decided to work with Pentagon Play as they listened to the brief, fully understood our vision and captured everything that we were looking for in the space. We have a learning space used for outdoor learning, fenced off from the play equipment in the rest of the space."
If you'd like to create a fully inclusive, fun and engaging playground designed to enable children with SEN to learn through play, please view our full range of Playground Equipment for SEN children and Contact Us for a free, no-obligation quotation from one of our expert, nationwide playground consultants.