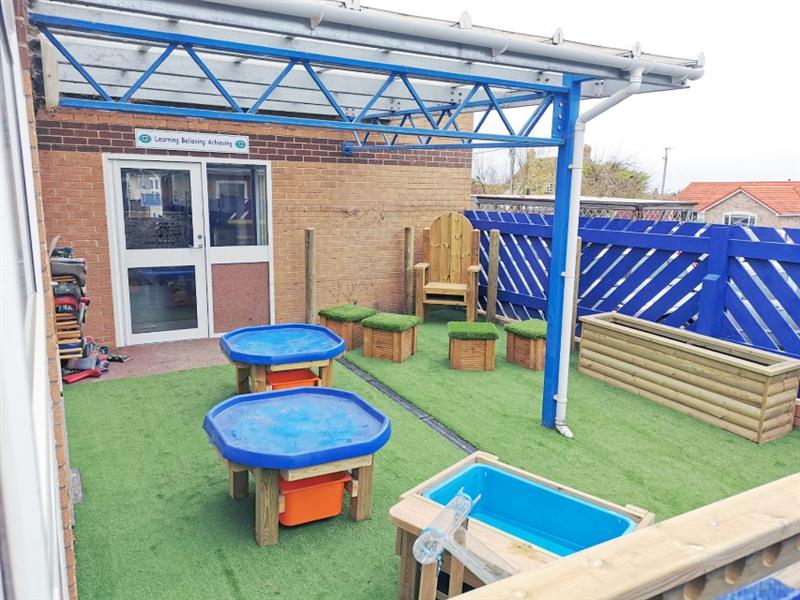 An Open-Ended Outdoor Learning and Play Space For KS1
Woolavington Village Primary School, situated in Somerset, had exciting plans in mind to enhance their Year 1 and Year 2's outdoor learning environment, continuing the provision from EYFS.
As a result, they contacted our expert playground consultant, Nicole Fairman, to help draw up their ideas; transforming their designs into reality.
In all, the objectives of the project were to:
Create specific learning zones
Provide KS1 with an open-ended, flexible outdoor learning space
Support higher level thinking and problem solving
Ensure the space could be used throughout all-weathers
Outdoor Literacy Space
In one corner of the KS1 outdoor learning environment, we have created a fantastic outdoor literacy space, which can be utilised during both adult-led activities and child-led play.
Made up of a Giant Storytelling Chair, Giant Whiteboard, Giant Chalkboard and Moveable Seats, the Communication and Language Zone includes everything children need for mark making and storytelling in the outdoor environment.
The mark making panels have been installed at a child-friendly height, which means the children can independently draw, scribble and write. They love presenting artistic masterpieces or using them as a focal point for their games. A fun activity for improving children's handwriting and fine motor skills outdoors.
A favourite activity of the children is collaborating to play teacher with one child sat in the giant chair as another writes and draws out supporting images and words to the lesson being taught - literacy learning, communication and language skills are truly being enhanced.
Science Zone
Since the school wanted to ensure that they were supporting higher level thinking and problem solving in the playground, we installed a wonderful selection of playground resources to boost scientific learning and problem solving outdoors.
A fantastic Water Wall with Water Play Package encourages the children's inquisitive minds as they work in a team to manipulate the flow of the water, creating different routes for it to roll down into the water table.
As the little engineers explore the amazing water play zone, they investigate numerous scientific and mathematical concepts through play. Alongside this, the water wall promotes collaborative play, which further improves communication, teamwork, language and problem solving skills.
Can they get the water to flow from the spout, into the channels, into the water wheel and the rain cloud before it hits the water table?
To further support investigative learning outdoors, we also installed Playground Planters along the fence line.
Introducing the children to the plant lifecycle, insects and other amazing scientific concepts, creates curiosity around the natural world. After planting a number of different seeds, the children can record how big their plants are growing and how many days it has taken them get that big!
In addition, children learn what plants need to flourish and explore the creepy crawlies attracted to the flowers they have in their playground.
School Playground Surfacing
Because the school don't want to prevent the children from using their new outdoor learning and play environment when the poor weather comes, we surfaced the space with our vibrant Artificial Grass.
As a porous playground surfacing solution, the new grass allows rainwater to soak through while creating an inviting area with its aesthetically-pleasing, natural look.
Not only does it enable children to access their outdoor space, with appropriate outerwear on of course, it also creates a comfortable space to sit, relax and socialise while outdoors!
The entire space is a free-flow environment, which allows the children to flow from one activity to another as they move their learning about the plant life cycle from the planter onto the water wall, discussing where water comes from and how it helps plants.
The KS1 children are absolutely thrilled with their new outdoor area and cannot wait to be let loose to learn outdoors during the school day.
If you'd like to improve your children's playground with a wonderful selection of educational KS1 Playground Equipment, please Contact Us! We'd love to help transform your exciting outdoor ideas into a reality.