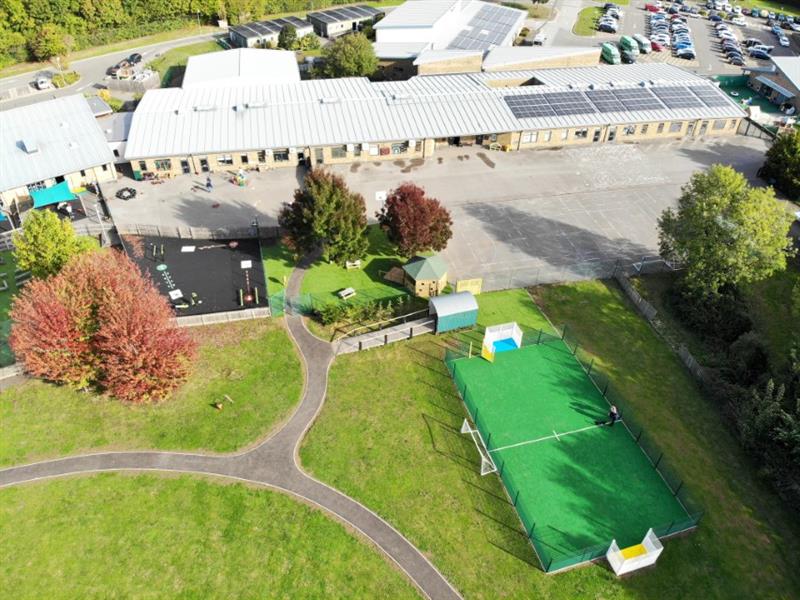 A Practical, Multi-Use and Inclusive Outdoor Learning Space For Pupils From 3 - 19 Years
We have enjoyed every moment of our time spent helping The Wyvern School in Kent to deliver their fabulous new outdoor learning project.
The Wyvern School is a special school for children with severe, profound and complex needs. It's a dynamic school that caters for young learners from 3-19 years and it's surrounded by beautiful woodland areas that were a joy to build our creative play and learning spaces around.
For this particular part of the project, we installed a much needed, all-weather Multi-Use Games Area on what was once an unused, inaccessible area of the school's field.
We transformed a muddy seating area into an all-weather Sensory Garden to provide a quiet place for the children to sit and enjoy their surroundings and a sheltered space for outdoor learning.
Our outdoor learning consultant, Rachel Westbury, worked with The Wyvern School's business manager, Tina Button, to bring their ideas for the outdoor areas to life.
Tina said:
"From the initial meeting with Rachel to discuss potential plans, and her subsequent visits to make sure our projects were exactly what we needed, we felt fully supported. Rachel had some lovely ideas which have worked out really well and the children and staff love them."
An Accessible and Practical Sporting Space
Our Multi Use Games Areas provide children with the perfect space to enjoy all kinds of sports and develop their fundamental movement skills.
They make such a difference to a school like the Wyvern School, where they have a lot of outdoor space potentially available, but it's not necessarily accessible to everyone or practical to use all throughout the year due to the weather and unsuitable ground conditions.
We installed the MUGA at the Wyvern School out on the field, where the ground was muddy and significantly underused. We excavated and laid baseworks to create a self-draining space before laying our beautiful Autumn Green Multisport Surfacing.
We surrounded the sports pitch with our 2m high green double mesh rebound fencing, with goal recesses and a distinguishable bright yellow access gate. This has created a large, secure space for all different kinds of physical activity and ball games that can be enjoyed safely, separately from other outdoor learning and play activities.
We added vibrant yellow and blue multisport surfacing in the recessed goal ends and a white centre line court marking, to support team games and to help the children differentiate between the two ends.
Following the installation, we reinstated the grass surrounding the new MUGA for a clean finish, so the children can still play on the field area or stand and cheer on their friends playing sports on the MUGA!
A Calm and Quiet Sensory Classroom
Nestled between two beautiful trees on the edge of the field, we updated the playground for secondary age pupils at The Wyvern School by creating a Sensory Garden, featuring a magnificent Sensory Gazebo and a relaxing seating area for social interactions.
It's a delightful space for children to spread out under the trees and enjoy their surroundings: it's a calming space that is ideal for interventions where it's better for them to take place outdoors in the fresh air.
The Sensory Gazebo has an access ramp and handrails to make it a fully inclusive facility. It has fun, colourful portholes, bench seating around the internal edges and a chalkboard internal wall for individual and class work.
The open aspect to the front allows the children to look out over their garden, while full-length timber cladding to the rear offers protection from the elements.
Visual, Auditory and Tactile Stimulation in The Playground
We resurfaced the lawn area with our Playturf Artificial Grass.
It has a natural appearance and a wonderfully soft texture, making it a super-sensory tactile surface for children to relax on and because it's an all-weather surface, the children can enjoy it all throughout the year.
We added a pair of Sensory Spinners which provide visual, auditory and tactile interest for children who seek out these types of stimulating and self-regulatory activities.
Two Picnic Tables with Gametops under the trees are a great facilitator for fun games and ice-breakers as well as a lovely place for a snack with friends.
Tina told us that during the first few weeks of the autumn term as schools returned from lockdown, this space was even used as a meeting room with plenty of fresh air - versatility at its best!
"The Installation Was Trouble Free…"
How did The Wyvern School find their experience of working with us?
"The installation was trouble free and we had constant communication from both the contractors on site and the wider team at Pentagon," said Tina. "I would thoroughly recommend them."
Can we help with your outdoor learning spaces? We have been creating incredible playground designs for schools and nurseries since 1998.
You can view our full range of products, including our specialist range of Playground Equipment For Children with Special Education Needs, Here.
Please do Contact Us to arrange a free consultation with one of our education experts.
View all of the wonderful playground designs we've installed for schools in Kent Here.