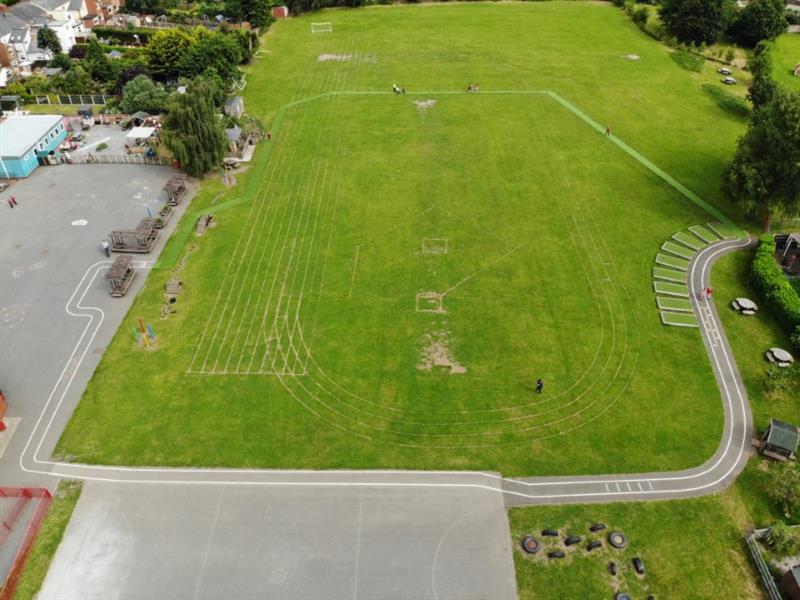 Promoting Daily Exercise Throughout Every Season With A Daily Mile Track
Our Playground Consultant, Ian Wood, worked with Ysgol Estyn Community Primary School in Wrexham, to enable the school to promote physical fitness and exercise throughout every season.
The headteacher, Gareth Jones, is very enthusiastic about improving the children's health and fitness and ensuring they have every opportunity possible to participate in exercise and learn to lead a healthy lifestyle.
With this enthusiasm and inspiration, Ian and Gareth began designing and planning a magnificent Daily Mile Track around the school grounds to enable the children to participate in daily exercise throughout every season.
This also promotes heath, physical fitness and exercise as the children learn what they need to do to lead healthy lifestyle.
Gareth decided that he didn't want a plain track encompassing the school field. Instead, he wanted something more exciting and fun that would challenge the children each and every day that they used the track.
Because of this, they decided to install the track around the school's field leading back onto the tarmac playground. The track is made up of two different surfaces: Thermoplastic Playground Markings and Artificial Grass Surfacing.
The exciting and fun challenges are featured along the playground: made up of a selection of markings that encourage the children to hop, skip, step and jump.
With the track leading onto the schools field, we secured the artificial grass surfacing onto grit sand, compacted stone and a textile membrane to allow rain water to filter into the earth - preventing flooding and water pooling on the surface once it has become too saturated as natural grass does.
This ensures the young children attending the school can run, walk, skip or jog their mile a day without the weather halting them in their tracks.
This healthy initiative is a simple, effective way to encourage young children to participate in physical exercise for at least 15 minutes a day. More than 3,600 schools in around 30 countries around the world are participating the Daily Mile; research has found children who are completing a mile a day are significantly healthier than those who don't.
By involving young children in daily exercise, they learn and begin to understand the benefits of physical activity in terms of physical development and the importance of exercise on their overall health and wellbeing: teaching them what is needed to live a healthy lifestyle.
Theory lessons and healthy lunch boxes can only take healthy lifestyle teaching so far, they need to be physically involved and moving to reap the benefits of what a healthy lifestyle entails.
The school have noticed a great impact on the children - not only in their fitness but also their concentration levels, attainment, mood, behaviour and general health and wellbeing. After completing a mile, the children are much more focused and ready to learn.
If you want to enable your children to participate in the daily mile all year round, please take a look at our fantastic selection of Daily Mile Tracks and Contact Us for a free, no obligation quotation.