Lesson Ideas and Activities
We suggest some fun-filled festive play ideas that can be enjoyed with your school playground equipment
With Christmas being an extremely popular period for both children and teachers, we have come up with some activities that can be easily utilised with the right outdoor playground equipment… even better if a group of enthusiastic and festive Little Helpers are involved.
Outdoor learning and play is a vital factor in every child's early development but some children can sometimes find it difficult to be fully involved and to express themselves.
That's why sprinkling some festive cheer on their outdoor lessons will engage them further as the aura and excitement surrounding Christmas, means they'll be excited to participate.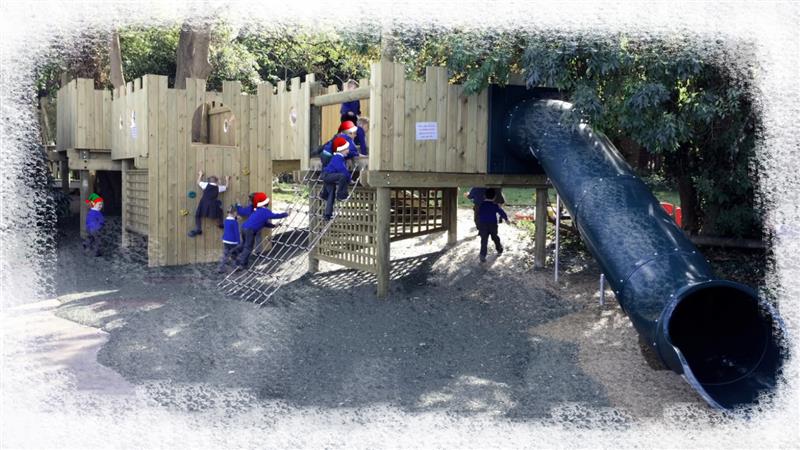 Water Wall - Quick the reindeers are thirsty...
Some fantastic festive ideas that will incorporate the Water Wall!
Quick, Quick, Quick, Rudolph and the rest of the reindeers are running low on water and are thirsty, get some water pumped!
Turn the children into elves who working at the North Pole for Santa. You could provide reindeer hats or get the children to make their own in a previous creative activity. Think of tasks that Santa might ask of his elves, for example, there has been an extra order of festive Christmas juice, and Santa needs the little helper to find the quickest route for the water to travel to the bottom. The children will be able to ask questions and work with the provided teacher to problem solve the best route.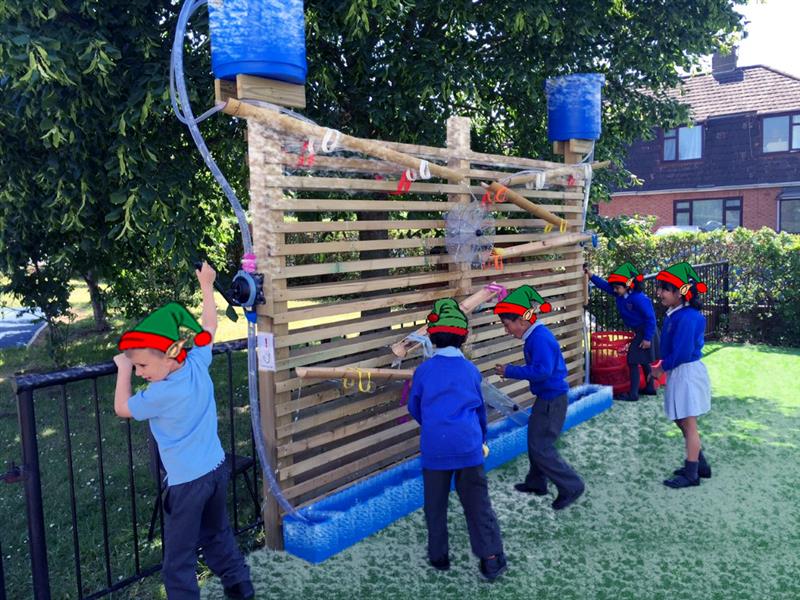 Mud Kitchen – Santa and his reindeer need some Christmas Puddings and Mud Mince Pies
Let's get messy, but not just any type of messy! Christmas Messy.
One fantastic sensory activity for your Mud Kitchen, is to create treats for both Santa and his Reindeer!
Children love getting messy and making Mud pies at the best of times, but they will enjoy nothing more than switching from Mud Pies to Christmas Puddings and Mud Mince Pie for Santa and his Reindeer.
Mud Toy Making Department
Place the children in the setting of Santa's workshop. The children are now a part of the toy making department and the elves are in need of some help to create some new mud toys.
The children will most likely create the Mud representations of the toys in which they would like to receive for Christmas, which will spark conversation and excitement between the children during this activity.
These are two fun and relaxing activities that will get the children involved in an aspect to Christmas they might not have experienced before (Christmas food Preparation).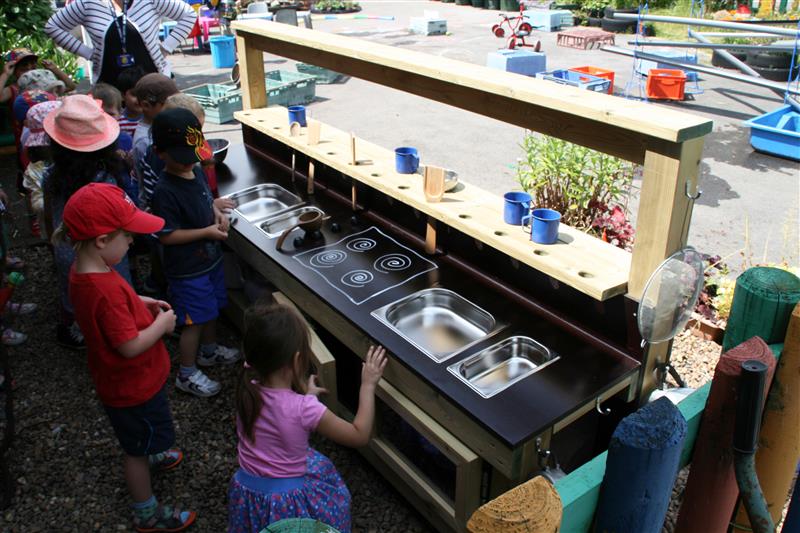 Jingle all the way with outdoor musical play equipment
You will be able to get your children jingling all the way to Christmas through the use of outdoor Outdoor Musical Equipment.
Some of the best types of activities that involve music are the ones carried out as a group. Provide your children with musical instruments and Christmas songs that are easily recognisable.
By doing this, you will give them a better chance of understanding musical notes, beats and how to use instruments to suit these Christmas songs. It will also provide a better opportunity for them to enjoy and learn about music, as they will be able to work in harmony with their friends to produce festive music outside in the fresh air.
Perhaps run a friendly competition between groups for the best sounding Christmas song!
With the help from some Christmas carollers, you will have the perfect combination of music instrumentalists and Christmas cheer to reach the Christmas number 1!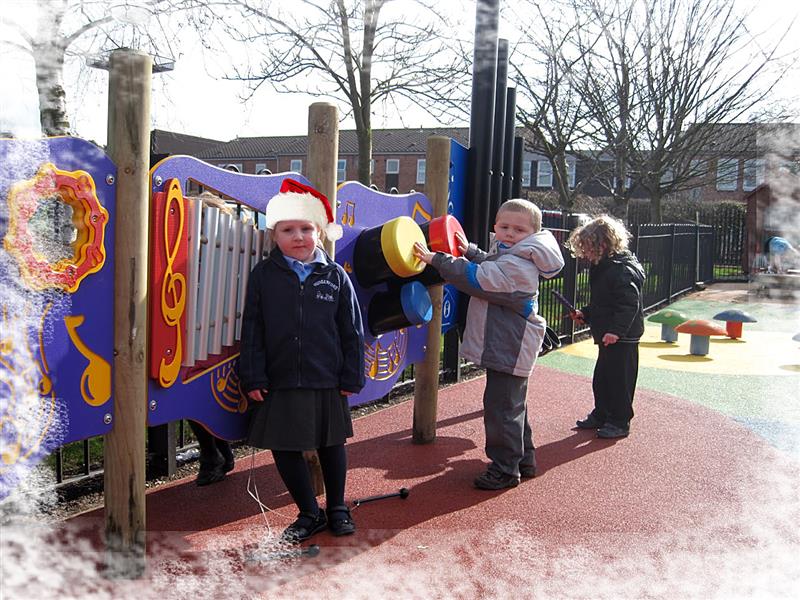 A Play Ship or Santa's sleigh?
If you are fortunate to have a Play Ship or a resource similar, there are endless creative possibilities that can be incorporated so that your children are provided with fun outdoor Christmas activities they will enjoy and benefit from.
Santa's Sleigh has broken down… a new source of transport is needed. But don't worry, he has recruited his latest range of little helpers to work alongside his other elves to help with the festive work load.
The fantastic thing about our Play Ship is that it's open ended! Everyone aboard and lets set sale to the North Pole in your new festive Sleigh.
This would fantastically work alongside Geography and map reading – Santa has lost some presents around the playground. Get the children to work together to find the Hidden presents and return them to the ship for collection by Santa and his crew.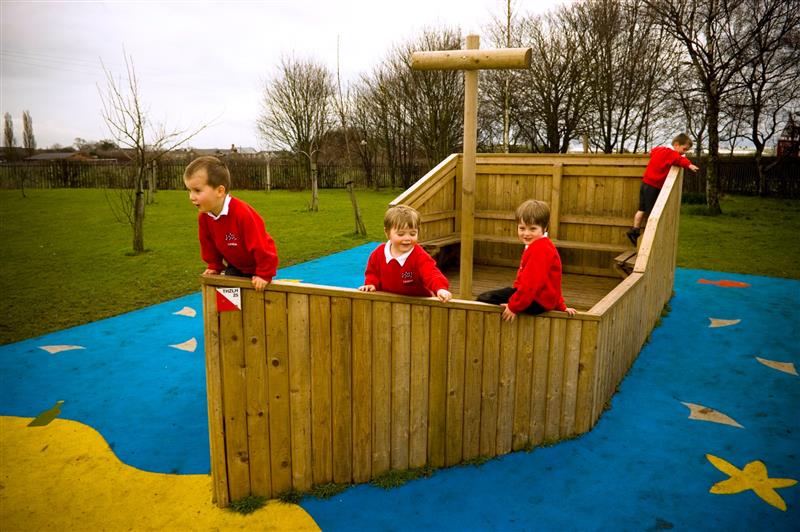 Trim Trails are handy for transporting presents in Santa's Workshop
Turn your schools Trim Trail into a key feature for Santa's workshop!
The children have been called up to work together and help the rest of the elves to transport presents from one side of the Trail to the other.
This is a fun festive activity that the children will love, while it helps to keep them fit and active at the same time. A time trial event could be an activity set up to find the quickest groups of elves, split the class into small groups and see who can transport the present along the Trim Trail the fastest – Each Elf has a different section to complete.
Teamwork and communication will be the key.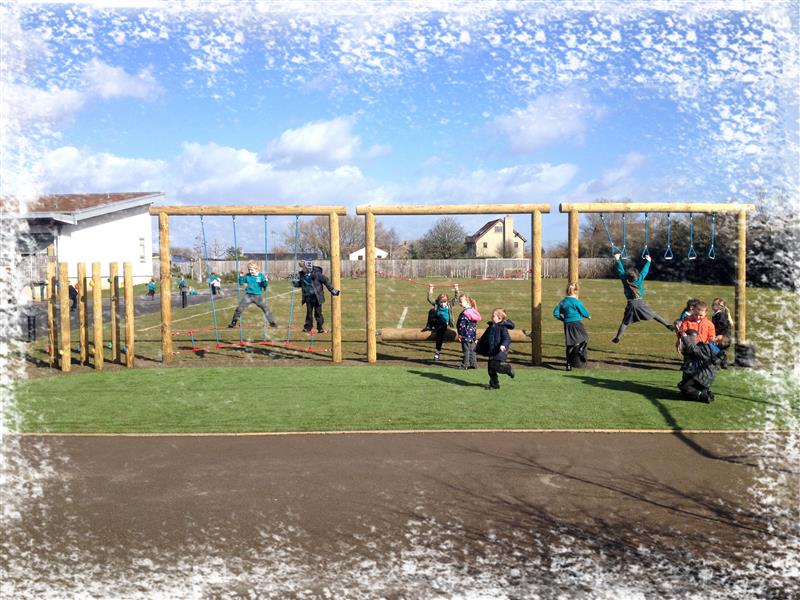 An Outdoor Classroom or a Christmas Grotto?
If you have an Outdoor Classroom, Gazebo or even Timber Canopy, then you have your own Christmas Grotto. All you need is a sprinkling of festive spirit and creative children to help decorate your chosen area to turn it into the perfect Christmas zone.
This, when completed, will be the ideal area to complete creative drawing/ painting activities that could be given to friends and family as presents. As well as preparing for any of the outdoor activities discussed above, or just used as a fun festive area to play
Why not keep this area secret and cut off until the last day of term where Christmas games, activities and event could take place.
This would be a fantastic idea to really excite the children and provide them with an area in which would totally remove them from the school classroom environment and transport them into the Christmas grotto of the North Pole.
These are only some of the possible Christmas ideas that could take place with these outdoor resources, the activity ideas are almost endless when a bit of Christmas imagination is involved.
If you are interested in adding any of these equipment spoken about or any other equipment please do not hesitate in contacting us on the chosen number - 01625 890 330 (North Office), 0117 379 0899 (Southern Office) or Contact Us through our website to speak to one of our specialist consultants.
Please share your ideas with us on Twitter and Facebook, we'd love to hear them.... We'd also just like to say, MERRY CHRISTMAS :-)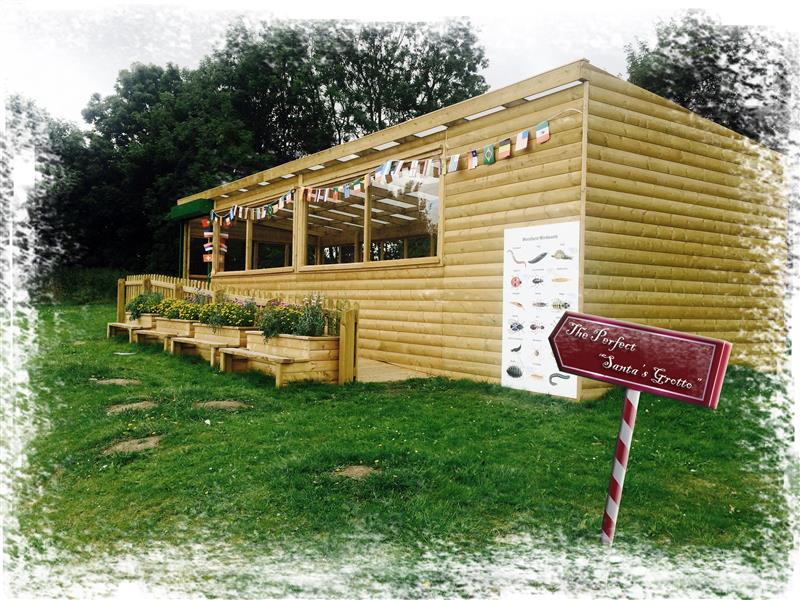 Here's some other great outdoor lesson ideas you may like:
School Christmas Activities for your Outdoor Performance Stage