Create Exciting Christmas Related Activities With An Outdoor Performance Stage To Get Children Excited And Engaged In Learning During The Festive Period
We know that schools are fantastic at recognising the special place that Christmas has in the hearts of our children, hence the extraordinary effort that school communities put into organizing festive activities that centre on the Christmas story. All the planning that is required means it's usually not very long after the start of the new academic year, that teachers begin to put together ideas to ensure an exciting build up to Christmas.
Schools today are doing a great job in promoting the use of performing arts in order to develop the child as a whole and acknowledge the value of stimulating children's imaginations. To this end, we have seen a rise in the number of schools placing emphasis on facilitating children's creativity and setting aside funds for the development of outdoor performance areas. We know that children become more intellectually engaged when there is a physical element to their learning so, to help with all the preparatory Christmas planning, we have put together a few simple ideas on how to use your outdoor performance area so as to incorporate a wide range of subjects.
Here are some intriguing ideas to engage children in curricular topics with a Christmas theme:
Let's Talk School Nativity Plays – Religious Studies
It is often leading up to Christmas when children are familiarised with the Nativity story. Splitting the class into smaller units, take the children outside where you will read only one particular section of the story before asking a little group to come onto the stage to act the scene out – with every section that you read, another group will embark on acting it out for all to see. Once the whole story has been re-enacted, in accordance to the version that you've just read, allow time for the teams to write their own dialogue before acting out their interpretations of how the events unfolded. This is not only tremendous fun but a great way to promote teamwork while also developing verbal communication skills.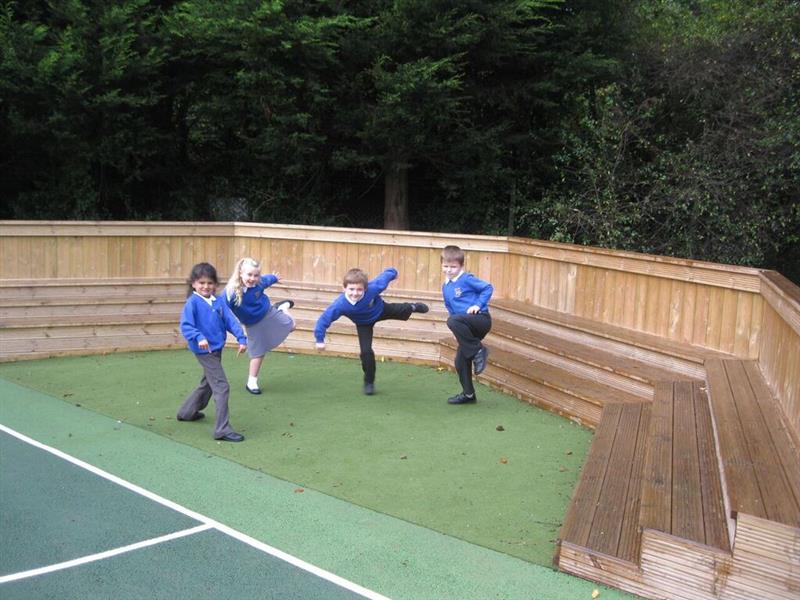 Create Your Own Young Backdrop Designers – Art
Upon announcing which play the children will be performing as part of the Christmas festivities, ask one of the year groups to draw their ideas for a suitable backdrop on A4 sized paper; these, in turn, can be displayed along the back of the outdoor stage. Take advantage of this opportunity to introduce the idea of democracy, asking the children to cast a vote as to which backdrop suggestion they think should be used for the final performance. After the teacher has reproduced the winning design onto a large scale canvas backdrop, the children may each take turns to paint a particular section of the scenery, which they can then proudly display at the back of the performance area.
Let's Go Caroling – Music
What would Christmas be without the obligatory singing of festive tunes? School halls are in high demand at this time of year, with each class needing rehearsal time for the various seasonal functions; the perfect solution is to take the children's music lesson outdoors - the cool fresh air alone will leave them more awake and engaged. Split the class into two groups so that the children may alternate between getting the experience of being watched and acting as constructive theatre critics. There is also great scope to add a percussion accompaniment; simply get the spectator group to tap along to the songs on their perch benches – you may just wish the younger children to tap on the first beat of each bar of the songs while getting the older children to tap out a complimentary rhythm to further challenge their musical abilities. Our Musical Stage would add even more creativity and fun to this excellent outdoor music lesson.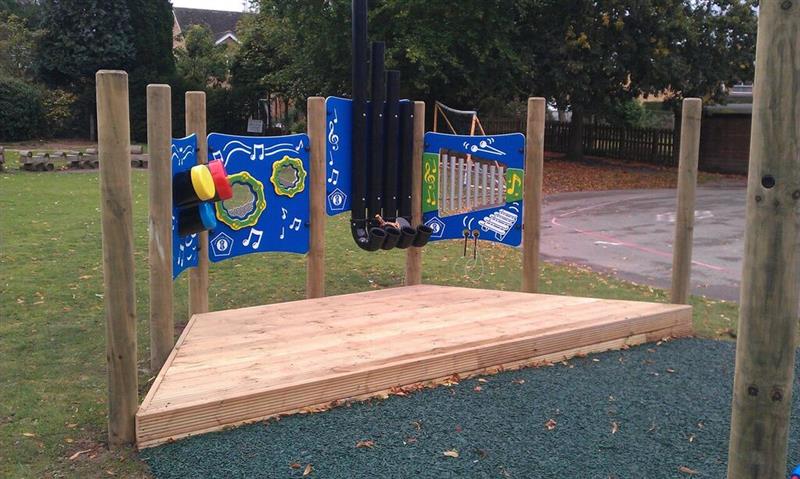 Do We Have Any Christmas Groovers? – Physical Education
There are various stages throughout the children's school life when they will be introduced to simple dance elements, as is required by the P.E curriculum. Christmas, of course, is the perfect time to cover this part of the physical education programme; it could even coincide with the Nativity story that will be touched upon as we lead up to the festive season. It's frequently noted that children feel less inhibited when out in the open, away from the confines of a traditional classroom structure – the outdoor performance area will serve you well in this instance. Take the class outside and arrange them in the relevant clusters i.e. angels, camels and stars. After discussing the elements that their dance moves need to contain, including a variety of levels and changes in direction, to name a few, let them work out a choreographed routine that they can then perform on the stage. It's a brilliant way to make your Christmas play more dynamic!
Time For An Elf Count – Mathematics
We all know that teachers are good sports, so, for a bit of extra fun, don your Santa hat and take your class out to the performance area for maths – believe me, the children are going to love subtraction and division now! Before embarking on this game, do a recap on geometric shapes, concluding with the children creating 3D cones and 2D semi-circles out of paper or felt; as you may have guessed, the end product is an entire class of elves wearing wonderful mathematical hats.
Subtraction:
Once outside, arrange all the elves on the raised platform, getting them to acknowledge how many there are as a starting figure. Santa (the teacher) announces that a certain number of elves are required in the workshop, after which the children then shout out the equation e.g. 30 elves – 5 elves = 25 elves. The number will diminish, as Santa continues to announce how many more elves are needed in the workshop, until the stage is empty.
Division:
With all the elves in the workshop, there is a lot more fun to be had when Santa divides them into smaller groups around particular toy stations (perch benches). As Santa declares how many elves are to be at each station when making a certain toy, the elves arrange themselves before shouting out the equation e.g. "We're making model plans – we need 10 elves per work station please." 30elves ÷ groups of 10 = 3 stations.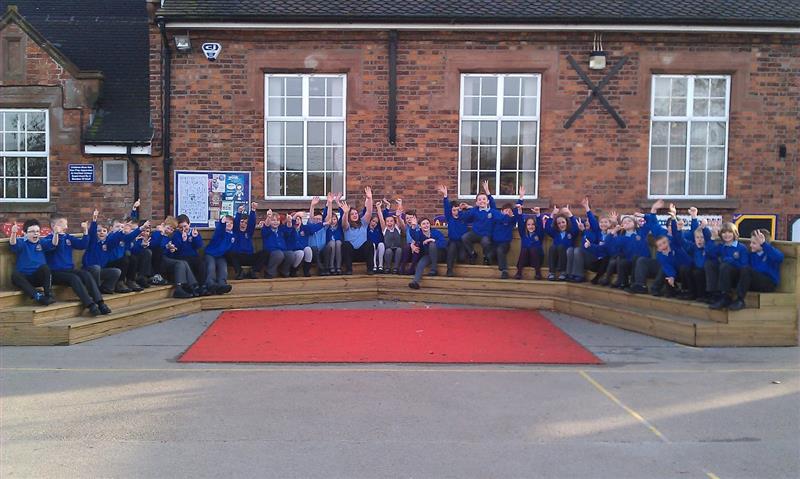 These ideas are sure to spark children's imaginations and get them excited for Christmas. Our outdoor school Performance Stages provide the perfect springboard to implement ideas like the ones described and can really get children engaged and excited about learning through expressive arts. If you would like to know how we can help improve your school playground with areas for performance, Contact Us though the website.
You May Also Like: