Pentagon Play's Playground Equipment In Birmingham
As a trusted provider amongst primary schools and nursery settings in England, Wales and Scotland, we have built up our reputation through the improvement of outdoor learning environments nationwide.
Across the UK, we've worked with over 3,000 school and nursery settings to date, which is why we thought we'd summarise some of our most recent and biggest projects across the Birmingham area.
Within the Birmingham area, we have worked with over 65 primary schools and nurseries to enhance their outdoor play area, improving their young learners educational play experience.
From magnificent Multi Use Games Areas to vibrant environments for Early Years, we have designed and installed it all in Birmingham.
Birmingham's dedicated playground consultant, Greg Rossiter, has over five years' experience in the playground industry and finds seeing the process from initial consultation to the finished area and aftercare the most rewarding part of the job.
Three Amazing Pentagon Playground Projects In Birmingham:
A Magnificent 30m x 15m MUGA For St Clare's Catholic Primary School, Handsworth
Working closely with St Clare's Catholic Primary School, located in Handsworth, we've created a dream Multi Use Games Area for the school and their children: replacing an old tarmac space where scraped knees and minor injuries were a regular occurrence.
Inspiring children to get active and further develop their love of sport, we installed an incredible 30m x 15m MUGA Pitch for both ball games and other sports, created out of our all-weather Multi Sport Surfacing. By including an excellent shock pad layer underneath the vibrant green space, children are protected from falls and injuries are minimised.
Alongside the fantastic surfacing, we also installed a fantastic selection of yellow inlaid sports lines and red and blue goal ends, creating a visual distinction between the teams when the children are playing and helping their understanding of goals and other associated rules.
This amazing sporting resource brings endless benefits to children's overall fitness and wellbeing as they participate in the a wide range of sporting activities, no matter what the weather may bring.
Not only are children able to participate in ball games all-year round, they are also able to develop their sporting skills, fundamental movement skills and cardiovascular fitness.
Read more about this fantastic sporting facility installed at St Clare's Catholic Primary School Here.
An Amazing Child-Led EYFS Playground Environment for Thornton Primary School, Ward End
The senior leadership team from Thornton Primary School contacted us as they felt their EYFS outdoor area lacked inspiration and wasn't inviting to the children due to the plain tarmac and lack of outdoor resources.
Since the space was previously a carpark, the area was a blank canvas, where our team could design and explore colourful, educational play options that would become a hub for imaginative play as the playground is brought to life.
Firstly, we decided that the plain tarmac surfacing wasn't sparking much creativity or promoting all-weather play, so we replaced it was a selection of different surfacing to create zones and add plenty of colours and textures.
Creating a cosy, storytelling area, we surfaced the space with our Artificial Grass Playground Surfacing and added a wonderful selection of Playground Seating and Playground Dens to inspire imaginative role play games while encouraging literacy outdoors.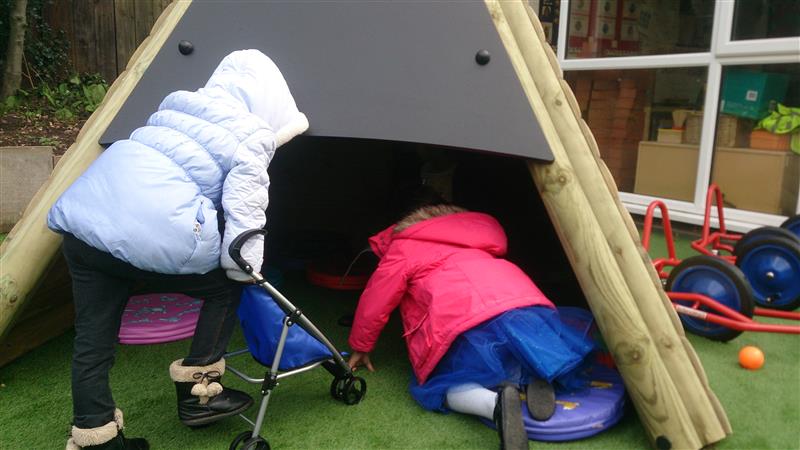 Alongside the imaginative zone, we surfaced the area with our wet pour playground surfacing, creating a creative Roadway Design surrounding the newly installed Trim Trail Equipment and fresh tan splashes underneath the new messy play area.
View more of this excellent outdoor learning and play environment by clicking Here.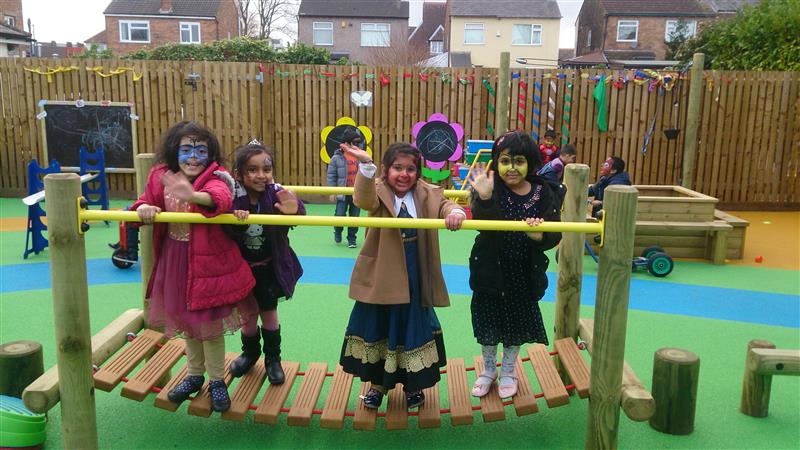 Inspiring Active and Imaginative Play Equipment For Wheelers Lane Primary School, Kings Heath
Working in partnership with Wheelers Lane Primary School, we designed and installed seven key zones across the school's grounds: targeting a specific area of learning, with a focus on continual development, from EYFS through to KS2.
Two of these specific area included inspiring both active and imaginative play, while developing the children's key physical skills. We worked with the schools teachers and children to design and install a magnificent Climbing Frame and a humongous, bespoke Playground Castle.
The Web Explorer climbing frame suited the schools children perfectly, with 6 challenging obstacles to tackle, many children can climb, swing and step through the unit at once while developing their lower body strength, core stability and fine motor skills.
While the favourite of the children is their well-crafted, high-level playground castle! Featuring Bubble Windows, Climbing Walls, Net Climbers, Ladder Climbs and two large decks, the children can transport themselves to the medieval ages as they battle it out to find out who is the true king/queen of the castle.
Find out more about our this wonderful playground development by reading the full case study Here.
If you're a primary school or nursery setting, based in Birmingham, looking to re-develop their outdoor learning environment, please feel free to Contact Us. We'd love to help transform your playground dream into a reality.