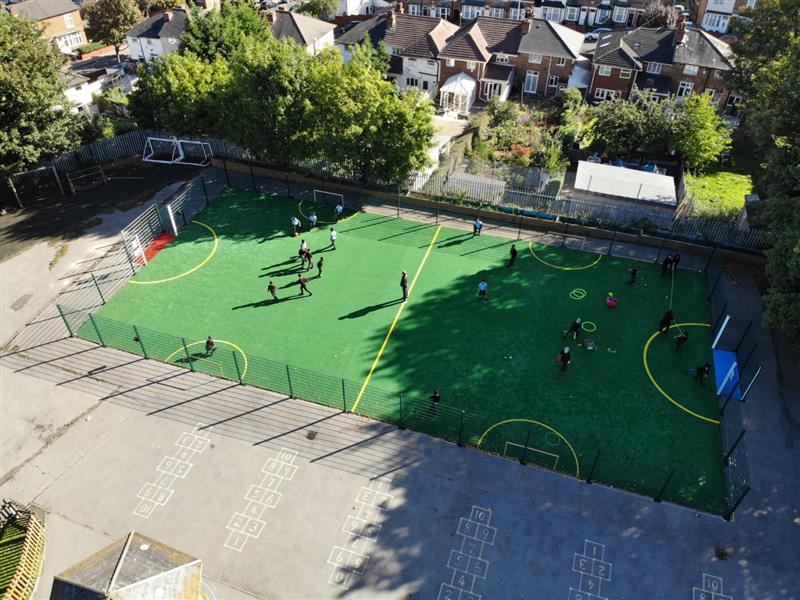 A Multi-Use Games Area for a variety of sports
Our Midlands Playground Consultant, Greg Rossiter, worked in partnership with St Clare's Catholic Primary School in Birmingham to create a dream Multi Use Games Area for the school and their children.
Before our development, the school had an old tarmac area for the children to play ball games but due to the hard surface, children would regularly injure themselves or leave the area with scraped knees.
The children needed a new dedicated space that would further develop their love for sport and inspire children to get active.
After surveying the tarmac area, we decided to install an incredible 30M x 15M Multi Use Games Area for ball games and other sports.
View our full range of Multi-Use Games Areas here
The new MUGA includes all-weather Multi Sport Surfacing to ensure children can enjoy sports and activities in all weathers. This excellent surface has a shock pad underlayer to protect children from falls and help minimise injuries.
Other features include yellow inlaid sports lines, white goal posts and red and blue goal end at opposite end. The red and blue goal ends create a clear visual distinction between the teams when the children are playing.
The pitch is enclosed from the rest of the playground with robust 2M high, green steel, twin mesh fencing, with an open side for entry and exit points
This is fundamentally a fenced area in which several different activities can take place. The surfacing has markings for a variety of sports, with football goal posts on opposite ends of the pitch.
The MUGA can be used for sports games, as part of PE lessons, football matches or accessed during playtime so children can refine their skills and compete with their peers.
Not only do Multi Use Games Areas bring endless benefits to children's overall fitness and wellbeing, but they also benefit the lives of the teachers as children approach school more positively which will, in turn, enhance their attitude within the classroom.
With a brighter outlook and healthier lifestyle, the children's results and assessments will also begin to improve
The teachers and pupils at St Clare's Catholic Primary School are overjoyed with their new Multi-Use Games Area and the children are already in training to become the next famous sports stars!
Did you know your Sports Premium can be used to fund a fantastic playground developments such as Multi Use Games Area… Take a look at more Sports Premium Ideas here
Are you interested in creating a new dedicated space for sport on your playground? Have you ever wondered about the cost of a Multi-Use Games Areas? With 20 years' experience in the industry, we're experts in this field and will advise you on the best solution for your school. To get in touch, simply complete our Online Form or call 01625 890 330 (Northern Office) or 0117 379 0899 (Southern Office).