Outdoor reading will bring literacy and stories to life for early years and Primary School children
We are firm believers that the outdoors holds a great wealth of opportunities for young people. It is well known that outdoor activities are a catalyst for learning and for encouraging cognitive, social and emotional development.
The outdoors is filled with natural inspiration. Pre School and EYFS children learn mostly through their senses, and with the different sights, sounds, smells and textures that the natural world has to offer, it is a wonderful resource for developing their perception and aesthetic awareness.
The outdoors, then, is the perfect environment for children to switch on to learning how to read and to experience the true pleasure and joy of getting immersed in a good book.
Ask any child and most will tell you that they love being outside. One of the best outdoor learning activities is reading books: stepping into the fresh air and losing yourself in a good story. Books are wonderful things.
They feed our imagination and allow us to create whole new worlds within our heads. Taking literature outside gives children the opportunity to explore it in a completely different environment, where the surroundings are incorporated into the experience, and their imaginations can be set free.
The outdoors offers the inspiring, engaging and multi sensory environment which is essential for teaching a child the foundations of their reading skills, from a first grasp of phonics right through to an in-depth understanding of literary meanings.
At school, children that are more easily distracted or that struggle to settle or to concentrate within the confines of the classroom will feel more at ease and better able to focus on the book, both the word formations within it and the underlying story, if they are allowed the opportunity to experience reading outside in the open.
This applies whether they are reading themselves or being read to, and is particularly true for EYFS children where there may be many different distracting and noisy activities going on within the classroom at any one time.
At Key Stage 1 and Key Stage 2 where classroom environments become more formally structured, children can feel refreshed by stepping outside into an outdoor environment and are better able to refocus and engage in improving their reading skills.
On the flip side, in some cases, it may be trickier to hold a child's attention if they are likely to be more interested in the distractions around them outside than the reading task in hand!
This will not be a problem, however, if the books are properly blended with the outdoor environment and a great outdoor reading area is available to them. If anything, this will help them learn how to and improve their ability to concentrate on a given task. And reading a book outside is a great way to extend the story into other outdoor activities.
There are many different ways in which you can take reading outside. Have a look around and you will notice that people are reading everywhere. Waiting for the bus, a paper in the park or a blockbuster on the beach, you can always make time for a good read!
However for really good structured outdoor reading for EYFS, Key Stage 1 and Key Stage 2 children, the best thing that you can do is to create an outstanding outdoor reading area in your outdoor learning environment, which you can use as a platform for all of your outdoor reading activities.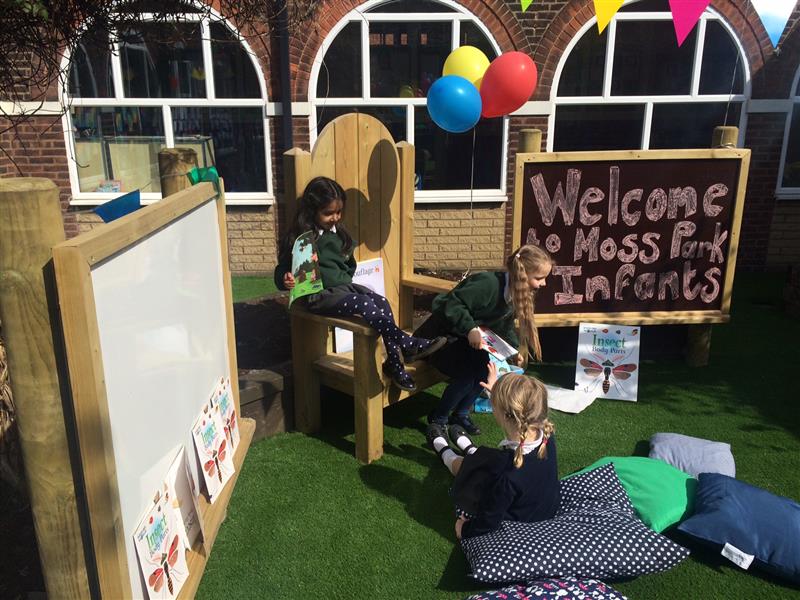 Creating an outstanding outdoor reading area
It is a wonderful thing to have an outdoor reading area that children actively seek out to spend time enjoying a book in. And it isn't hard to achieve!
Even on a tight budget, a picnic blanket on the grass with a few comfy cushions and a selection of good books can be used to create a cosy outdoor reading area!
Hanging colourful sheets or sails from trees or draped over branches creates a beautiful area for children to sit underneath and enjoy a story. This can be used to draw the eye to a natural focal point, such as fluttering leaves, a wide open sky or a scenic viewing area, to encourage children to relax and open up their imaginations.
Good outdoor reading spaces can be used as a "gather together" spot for reading aloud and for group reading sessions, or as a quieter space for individual and small group reading and learning.
You can make great use of your outdoor den, playhouse, treehouse or gazebo by turning it into a cosy and inspiring themed reading area. Fill it with blankets (especially if it's chilly outside) and scatter plenty of colourful cushions around.
Drape sheets of different materials, textures and colours over the top to change the light and to add to the atmosphere. A camouflage net and a few scattered twigs add to the feel of a woodland cottage where Goldilocks or The Gruffalo might be hiding.
Add some fruit and vegetables, small plant pots and wellington boots by the door and you might expect to see Mr McGregor go running by after Peter Rabbit! A shimmery blue satin sheet, yellow or striped cushions and buckets filled with shells or sand create a fabulous seaside reading spot! Comfort is key so your little ones can relax and get absorbed in a good book.
Wigwams are brilliant for more cosy and solitary, peaceful reading and you can dress them up in the same way. You can link your choice of books to match the theme of your reading area. It's a good idea to change the theme regularly to keep up the interest and to help you make the transition to different types and themes of literature.
Put together a large outdoor reading box to use in your outdoor reading area. Make sure it is waterproof in case the weather is unforgiving. That way you can keep it outside if you want to without having to heave it backwards and forwards every day!
Fill it with a selection of books and swap them out for new books as required. It helps to have a box that contains a mixture of fiction and non-fiction books that follow themes and that create a nice flow onto more outdoor learning, such as minibeasts, growing or lifecycles.
Children can be involved in selecting the books to match up with your chosen themes. Include some props in your reading box to create interest and add to the atmosphere, and to encourage further discussion after reading.
Torches and lanterns are fun when used with the right books, especially in the winter months.
When creating an EYFS Outdoor Reading Area, Puppets, soft toys, and natural and open-ended materials can be used in a variety of different ways linked to your chosen books will support book-based activities and help reinforce many pre-reading skills.
If you are considering updating your outside space to encourage outdoor reading, have a look at some of our products which are perfect enablers.
If you're looking for Outdoor Reading Area Ideas, we have a range of Projects for you view with engaging reading spaces that encourage children to sit comfortably and read outside.
Our Storytelling Circles, Den-Making Resources, Gazebos and Bespoke Tree Houses are ideal for creating fairytale-inspired outdoor reading areas.