We have a HUGE range of playground markings with designs for mathematics, geography, literacy, science, P.E. and many other topics across the curriculum. Our playground markings turn your playground surface into a resource for learning and cross-curricular activities.
To receive our Line Markings Brochure with our full range and price list included, please complete our Online Contact Form.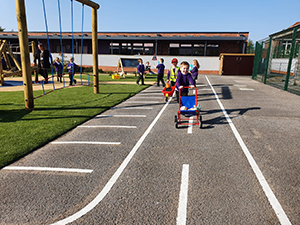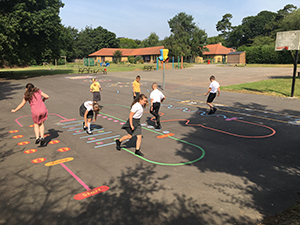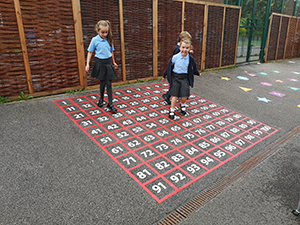 Transform your playground into a vibrant outdoor learning environment

Take a scroll through some examples of our playground markings

Design a playground children can develop their communication and language within

Provide a competitive aspect to your children's play times

Create an obstacle course without any equipment where children can develop key physical skills

We can create bespoke playground marking designs for your school

Transform your playground into a vibrant environment for learning through play

Create an Active Play environment with our Playground Markings

Design a playground children can develop their communication, language and mathematics skills in.

Transform your playground into a vibrant environment for physical development.

Create an exciting playground for children of all ages.

Create a playground perfect for cross-curricular play

Incorporate an exciting Daily Mile Track into your playground

Design a playground children can develop their communication and language within

Provide your children with more playtime activities with our thermoplastic playground markings

Transform your playground into an area for scientific learning

Create a vibrant early years play space for outdoor learning and play

Create an obstacle course without any equipment where children can develop key physical skills

Create a vibrant active play area on your school playground

Provide your EYFS children with a dedicated space to race their bikes and trikes on the playground
Playground Markings Offer Excitement and Learning Opportunities To Your Playground Surface
Turn your tarmac into a tantalising resource for learning, play and sports, with our colourful and creative Thermoplastic Playground Markings!
We have an incredible range of over 200 different playground marking designs for you to choose from. Made from high performance, impact-resistant thermoplastic, you can be sure of a top quality finish that will last for years.
Inject colour, entertainment, physical energy and educational pizzazz into your playground - our Thermoplastic Playground Markings will transform a dull space into something unique. Not only do they look great, but they're guaranteed to boost physical activity in the school playground - engaging, enthralling, exciting, and helping children to build all sorts of essential life skills through fun, friendship, fitness and frolics.
Promote teamwork, social skills and sound physical development through sports with our collection of thermoplastic Sports Markings.
From football and basketball courts to tennis and athletics, rounders and running tracks improving kinesthetics - we've themed fitness trails and fitness zones for moving muscles and growing bones - action zones and target spots for well coordinated hand-eye shots!
Improve literacy and numeracy with our collection of fun thermoplastic markings incorporating Numbers, Letters and Traditional Board Games.
We have dragons and snails, and snakes with winding tails, we have shapes and ladders for your young subtract-and-adders - we lay graphs and grids for jumping in the spaces, and marching caterpillars with friendly smiling faces!
They're all designed to boost EYFS, KS1 and KS2 spelling and mathematical capabilities, broadening their vocabulary and communication skills in a fun and engaging way that opens young minds to learning, and provides a refreshingly different approach when a change from the usual classroom environment is needed.
Feed their imaginations and encourage creativity and positive social interactions with our educational games-based thermoplastic markings. Maybe today it's footprints to follow - perhaps a game of hopscotch tomorrow! We have maps of the world and compasses for your adventurer-explorers, skeletons, rockets and solar systems for your brilliant young scientists, phonics and foreign language games for little linguists - to name just a few!
Our incredibly true-to-life thermoplastic Roadway markings offer children a unique opportunity to develop their understanding of the importance of road safety and general awareness, from the comfort of their school playground environment. We can create roadways and cycle tracks in any layout, incorporating complementary imagery such as zebra crossings, signs, familiar buildings and roundabouts.
Created for well-rounded learning experiences to engage and educate children of all ages and abilities - designed to support students in achieving a huge range of cross-curricular learning objectives across the Key Stages.
All of our Thermoplastic Playground Marking designs can be installed to fit your unique playground space. However big or small and whatever the layout - if it can be imagined, we always believe it can be achieved!