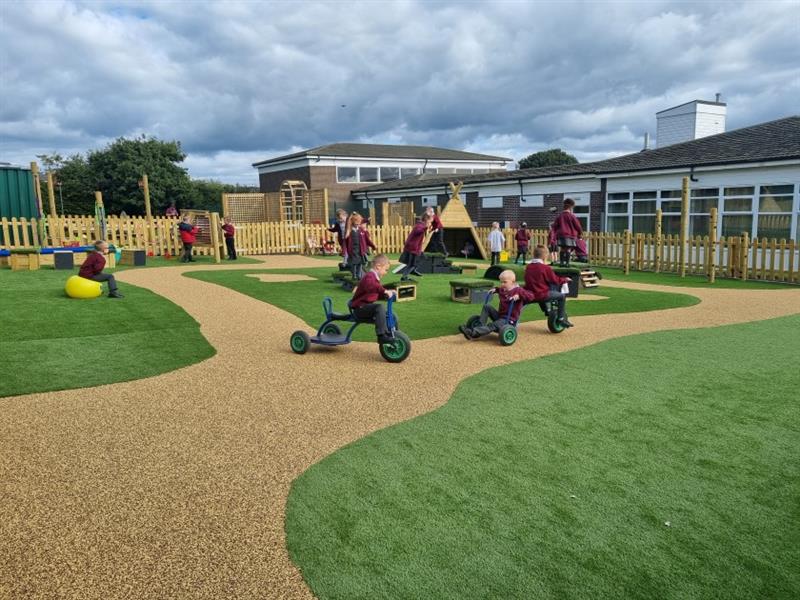 An Impressive Transformation where Young Learners can Thrive
Abbey Park Academy (part of the Northern Education Trust) situated in West Yorkshire are now the proud owners of an impressive space where pupils have developed a love of outdoor learning.

Previously, the outdoor space consisted of wet pour surfacing encroached with overgrown trees. Playground equipment relied on donations which practitioners had to move and set up daily. Our team of talented designers and installers could see huge potential for this EYFS development and together with school staff we created a playspace to be proud of.

Smooth Transitions

The area underneath the canopy is home to a host of useful storage solutions. A Self- Selecting Store promotes independence when choosing suitable equipment. A Welly Rack and Coat Rack ensures continuity and ease of access whilst helping to keep the area clean and organised.

Central to the new design is the combination of Deluxe Artificial Grass Playturf and a bespoke beige wetpour roadway. The finished result is stunning. Pupils are able to use a selection of vehicles on their smooth track and can access the outdoors in all weathers thanks to our soft, durable artificial grass.

Building Strength, Balance and Coordination

Abbey Park opted for an advanced version of our popular Get Set, Go! Blocks- The Mendips Set. Pupils have been busy running, jumping, climbing and leaping as they design their own courses. The 12 different-shaped blocks help pupils to learn to negotiate and take turns.

A set of five Den Making Posts have proved extremely useful for weaving and threading as pupils create bases for their imaginative play. Curiosity has been unleashed thanks to our Wigwam play den which acts as a creative, multipurpose base for group games and learning activities.
Passionate and Confident Performers

Budding musicians at Abbey Park have been listening, exploring, composing and improvising whilst working together at the Musical Triad. This intriguing, freestanding timber frame can be moved around the playspace and is the perfect partner to our Performance Stage with Den Posts.
A stage with seats for an audience makes children feel very special and boosts confidence when acting in role and experimenting with their voices. Of course, as with many of our products, our performance seats are multifunctional!
Drum Seats allow children to create their own rhythms when working on a group rap or performance poem.

Natural Bow Top Timber Fencing surrounds the perimeter of the playground with a gate leading to the next exciting zone…

A Beautiful Spot for Exploration within Nature

The next part of the playspace gives children the freedom to take part in messy, sensory play which involves heavy work, whole-body movements and heaps of fun!

Creation begins in the Mud Kitchen as marvellous mud is transferred from the Mud Box to the Rope and Pulley Materials Mover. Pupils discover how simple mechanisms work by engaging in hands-on, explorative play.
A set of Weighing Scales helps children to understand early mathematical concepts as they count out their scoops and compare quantities. Materials can be sorted and organised at the construction table ready for the next big build!

Abby Park has plans to create green-fingered pupils and the new additions of four planter benches, an arbour entrance and trellis screens will make a beautiful, serene space when in full bloom
.
This perfect, natural spot allows children to snuggle up in the Storytelling Chair with their chosen read or perhaps they can get creative by drawing their favourite character or scene onto the Giant Chalkboard.

Abbey Park Academy now has a functional, multi-purpose, inspiring outdoor space which provides a beautiful beginning to school life and learning.
If you would like to redevelop your outdoor Early Years Area just like Abbey Park Primary School, then don't hesitate to get in contact with one of our super friendly and helpful Outdoor Learning Consultants here!