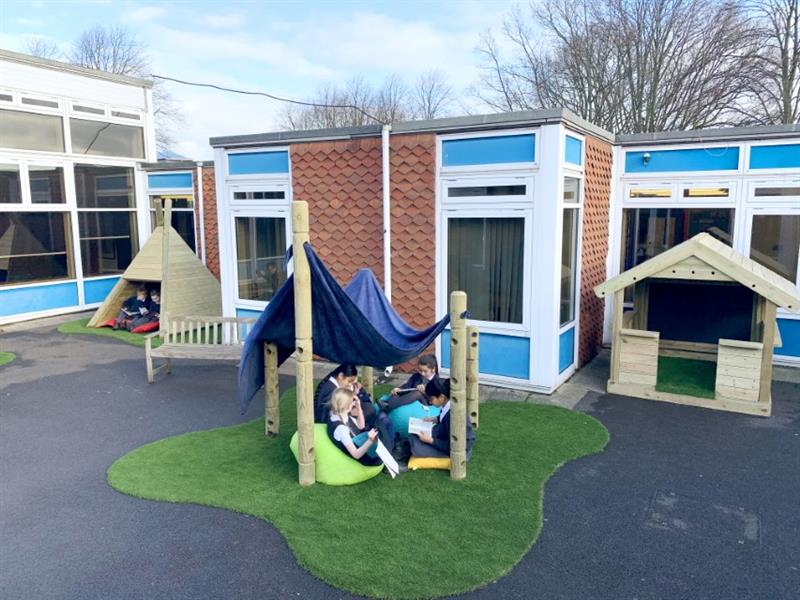 Nurturing A Love Of Reading Through The Installation Of School Playground Equipment
Abbey Road Primary School, located in Nottinghamshire, contacted us as they had exciting ideas in mind to improve and enhance their school playground.
The senior leadership team wanted to nurture the love of reading in their playground by creating calming literacy zones for children to find a cosy corner and sink their teeth into a good book! With this in mind, our playground consultant, Dan Young, designed a fantastic number of areas including dens, playground seating and storage.
The school absolutely loved the design and with final approval from the children themselves, we got to work on installing their fantastic new spaces.
Promoting Literacy In The Playground
Since the school wanted numerous areas for the children to read in, we formed three inspiring spaces for the children to read a good book in and see the characters come to life before their own eyes.
Our fantastic, non-conventional den, the Wigwam, provides children with a quiet area to nestle in. Crawling into a secretive den, children can take a good book, some comfy pillows and shelter away from the busy playground as they quietly read either individually or together.
The book worms have been bringing their stories and characters to life as they imagine a wolf dressed like a grandma taking a shortcut through their playground, hiding behind the triangular den out of sight.
Alongside the pre-built den, we have also created the perfect opportunity for the children to build their very own reading den! With a plan in mind, children work together to thread numerous materials through the Den Making Posts as they construct a space to read in.
By building the den themselves, their imaginations flourish as they watch the three little pigs building their houses, too. Children can build the den and furnish it however they like before using it as a quiet space.
Situated in the corner of the playground, one of our excellent Playhouses not only creates a comfortable area to read, it also encourages other aspects of play including mark making, role play and imaginative play games.
Comfortably sitting on the artificial grass base, children can quietly read or bring their books to life as they read out loud to one another and act out sections of the story, while using the chalkboard to support the story in play, drawing and writing correlated pictures and words.
Finally, one of our Storytelling Circle were a must have! Eager to climb up onto the giant seat, children love reading aloud to others listening around; they are practising good listening skill, turn taking and reading out loud.
Adult-led activities can also take place as the teachers at the school take story time outdoors to provide a more interesting setting along with allowing children's imaginations to run free as they breathe a breath of fresh air.
Of course, comfortable spaces include soft furnishings, so the school needed somewhere to store all of their snug pillows and various books therefore we included a wonderful Medium Self Selecting Store.
The children can quickly and easily open the doors of the store before picking out what they want to read and sit before returning them back to the store at the end of playtime.
If you'd like to improve your outdoor play and learning space through the addition of imaginative Playground Equipment, please Contact Us! Our playground consultants are educational experts who thrive off knowing they're improving the educational play experience for children across the country.