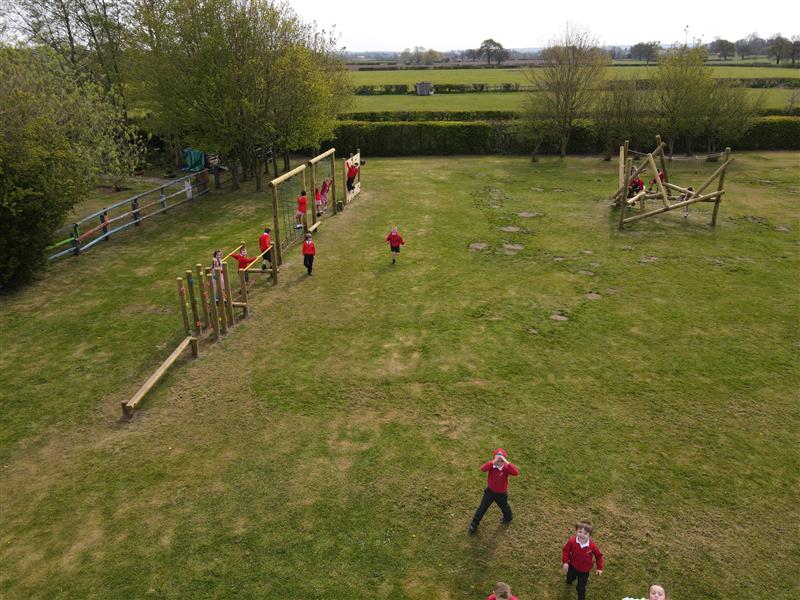 A Challenging Adventure Play Space for KS1 and KS2 Pupils
Headteacher, Emily Proffitt, contacted us as she was keen to develop a physically challenging area of the playground specifically for key stage 2 pupils.
After meeting with our experienced playground consultant, Tom Hollingworth, we arranged for the installation of a combination of three different pieces of equipment to completely transform the school playing field.
A Trail full of Challenge
Our Junior Trim Trail 2 is the perfect place to meet your friends and get ready for some action-packed fun.
The vertical trail provides a mix of nine different challenges to test even the most adventurous pupils.
Balance is required from the moment you make your way across the beam and get ready to grip the climbing poles.
Core stability is needed to cross the tightrope bridge and coordination is crucial when weaving through the net traverse. Swinging from the ropes develops hand strength and gross motor skills ensure safe movement between obstacles by stepping across the balance logs.
An exciting part of the course for the pupils at Cooper Perry is the climbing wall. Reaching, stretching and climbing improves children's flexibility and range of motion. A climbing wall offers endless options for imaginative play.
One day pupils could be scaling the side of a mountain looking for the entrance to the tunnel and the next trying to capture the princess from the tower.
Ready, Set, Climb!
Across from the trail stands our impressive Bowfell Climber.
The unusual, pyramid-shaped climbing frame builds children's climbing confidence as they venture upwards to reach the summit.
The large climber is the perfect place to work together as a group to overcome challenges. Positive relationships and communication skills will be built upon when working as a team.
There is no obvious access point to the climber which proves very exciting to young minds full of possibility.
Our high pressure treated 'play grade' timber creates a natural look which compliments the beautiful, leafy grounds of Copper Perry Primary.
The space underneath the climber can transform the equipment into something else entirely it could be a reading nook, a cave or even a spaceship!
Develop Core Stability with our Roll Over Bars
A set of two roll over bars, fitted at different heights, is proving very popular with the pupils of Cooper Parry. The children have been creatively exploring the equipment and repeating their movements as they set their own goals.
Hand and eye co-ordination is being developed as well as improvement in upper body skills and grip strength. It was lovely to see children playing together on this piece of equipment and praising each other, 'Wow, you are so flexible!'
We hope to have provided the children at Cooper Perry Primary with a playground space in which memories can be created and new experiences can be taken.
We certainly hope their outstanding new equipment helps the children to fulfil the school ABC motto:
"Aim high
Believe in yourself
Celebrate Success"
If you would like to extend the physical play opportunities at your school with magnificent Active Play Equipment, please feel free to Contact Us for a free, no-obligation quotation. We'd love to transform your playground dreams into a reality, too!
If you would like to view more examples of our playground projects in Staffordshire, visit our Staffordshire Playground Projects Page Here.