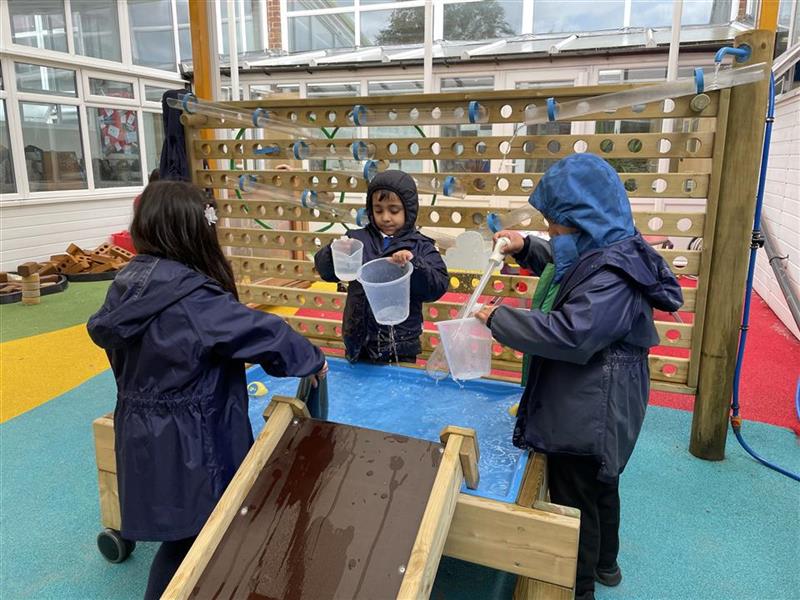 Ashton West End Primary School's Exceptional Early Years Play Environment
There are smiles all around at Ashton West End Primary School!
The foundation children have returned to school to find brand-new outdoor learning and play environment, featuring plenty of areas to help children exceed their early learning goals.
Our playground consultant, Meg Booth, was delighted to be given the opportunity to work with the new headteacher, Kim Pizuti, to give the previously tired and unstructured EYFS play space a complete revamp.
The new outdoor learning environment has seen numerous fantastic spaces come to life that targets all seven areas of learning, whilst proving children with fun-filled activities to immerse themselves in!
Literacy Learning and Storytelling
Keen to take the curriculum outdoors, we've provided the children with plenty of activities that encourage storytelling, outdoor performances and mark making.
In the corner of the playground, we installed one of our magical Storytelling Chairs, a selection of Artificial Grass Topped Seats and Perch Benches.
Independently reading out loud to one another, children can sit in the huge chair and sink their teeth into a good book as the rest of their friends sit around and practice their good listening skills.
Surfaced with Artificial Grass, there's plenty of room for a full class of children to sit comfortably during outdoor storytime!
In this area, we also installed one of our fantastic Moveable Paint Panels on Wheels to engage children in mark-making. The panel can be moved to any area of the playground and paint and whiteboard marks are easily washed off for the next day!
The teachers of Ashton West End have even attached images from their topic of learning to inspire the children's artistic outdoor paintings.
Finally, communication and language were big areas to target outdoors. With this in mind, we installed a bespoke Performance Stage complete with a Giant Chalkboard and Giant Whiteboard.
Little actors can get up on the stage and perform their favourite nursery rhymes or role play scenes from their favourite tv show to all their friends stood around watching.
This area is a big hit amongst the children!
It's also a fantastic space, not only for communication and language development, but for increasing self-esteem, encouraging creativity, and improving cooperation, too.
The Extraordinary Messy Play Area
Messy play spaces are a big must in any early years' playground, so we created two extraordinary messy play areas for the little learners of Ashton West End!
On the playground, we designed and installed a bespoke Sand Pit with Lid to create a sandy space that children can get into that includes a ledge to sit down on and relax.
The Sand Pit is big enough to be used by multiple children at once as they dig for buried treasure, build the tallest sandcastle ever or dig for precious materials in their very own quarry!
Complete with a set of our Weighing Scales, children can even create their own sandcastle instructions as they measure out the amount of sand and water needed to create the perfect building mixture.
On the other side of the playground, we installed one of our EYFS favourites… the Water Wall.
Manipulating and moving the water channels, the children can work together to create their own water routes as they try to get the water to run through both the cloud and the water wheel from the same route.
The children love pouring water down the water wall, using several different jugs, containers, and bottles as they explore which ones hold the most water!
To extend the water play space, we also provided the little learners with a Water Table and a set of our Messy Play Tables On Wheels.
Pouring, measuring, tipping, and spilling has truly enhanced the children's learning as they explore various mathematical and scientific concepts through play.
Adventure Play Space for Physical Development
Kim was very keen to provide the children with a space where they could burn off some excess energy, whilst improving their key physical skills.
In a separate area of the playground, we installed the Harter Fell with Platform and Slide, a set of Climbing Poles and a Climb Through Tunnel.
The Harter Fell Climber is a fantastic low-level climbing frame that encourages little ones to grip and grasp the ropes, balance on the beams, and scale the climbing holds to reach the platform.
As the whole frame features several crossing points and flexible routes, children can wherever their imaginations take them, whilst climbing as a high as they feel comfortable: improving climbing confidence and encouraging safe risk taking.
The slide at the end of the platform provides children with an exhilarating exit as they practice taking turns.
This introductory climbing challenge has created an energising adventure play space where upper and lower body strength, core stability, balance, fine motor skills and gross motor skills are targeted through play.
Moreover, we surfaced the entire space with our impact-absorbing Artificial Grass Surfacing.
This surface allows the children to use their active play space come rain or shine and enables children to jump, run, roll, and climb without the risk of serious injury!
Finally, on the tarmac playground, we installed a Thermoplastic Roadway with Numbered Parking Bays to create a dedicated area for scooters, bikes, and trikes. The children love racing their vehicles around the marked road!
Kim, the reception and nursery children, and the teachers are more than delighted with their brand-new outdoor learning environment.
Asking parents to ensure their children are equipped with hats, coats and wellies, the teachers of EYFS use their new play space every day for fun-filled playtimes and outdoor learning activities.
Is your EYFS playground looking a little bit run down? Contact Pentagon Play today to begin redesigning your early year's environment into an exceptional space for learning through play!