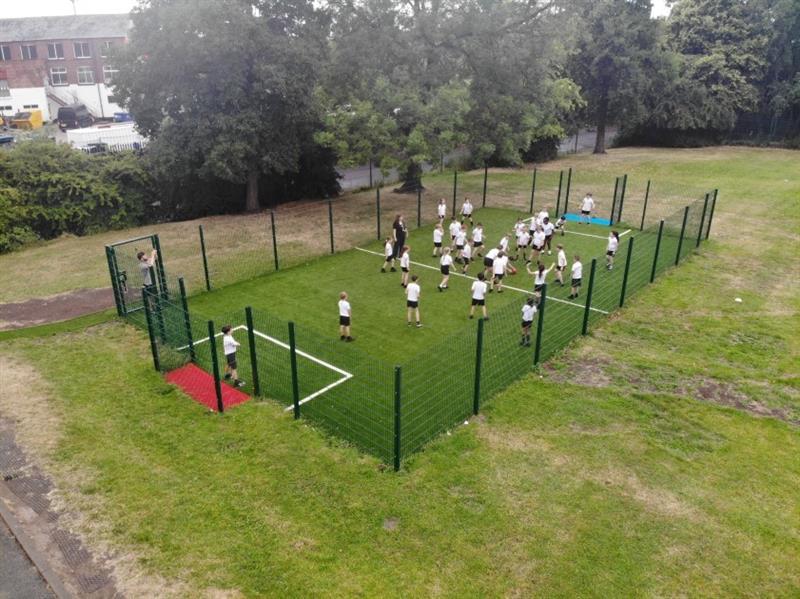 Audenshaw's Awesome MUGA
Looking to overcome the difficulties of the British weather, Audenshaw contacted Pentagon Play to install an All-Weather Pitch on their playing fields.
This would mean that the space can be used year-round, rather than at the will of the weather.
Using playing fields in the winter months can mean that the ground is tough, muddy or slippery, whereas MUGA surfacing makes the space much more accessible.
Outdoor Learning Consultant, Meg Ragdale, was happy to work alongside the school to make their wishes come true!
A Whole Transformation...
The school knew that with a big project like this, it may have to be completed in phases and were more than willing to have it done this way.
However, the school were delighted when Pentagon informed them that they could have it all completed in one go, giving the pupils access to the space earlier than they thought.
This means that pupils can explore the space this winter and build their sporty skills through football, hockey and rugby!
This is such an exciting space for pupils to enjoy!
A Term Time Installation…
Audenshaw were also very flexible with the time of install! They were very happy to have the MUGA installed in term time, which can be a concern for schools sometimes as it can limit the use of play spaces for the children during this time.
However, Audenshaw were very willing to allow our teams on site during school time and the children loved seeing the development take place daily.
During a term-time install, our installers are happy to work alongside you to ensure that there is as little disruption to your daily school life as possible, and are always willing to answer any questions your pupils may have about the development. This gives them a great opportunity to get an insight into STEAM.
What the pupils had to say…
"We get to play football somewhere other than the playground!"
"It's good because it's safer than playing on the concrete!"
"The best thing is all the sports you can play on it!"
The MUGA at Audenshaw Primary School has created a great space for pupils to develop their sports skills, during P.E lessons and breaktime.
The children are overjoyed with their brand new play space that makes it much safer for them to play a multitude of games throughout the entire year.
If you would like to create an all-weather sports space for your pupils, then Contact Us Today to arrange a free consultation with one of our Outdoor Learning Consultants.
Or, see more of our Sports Projects here!