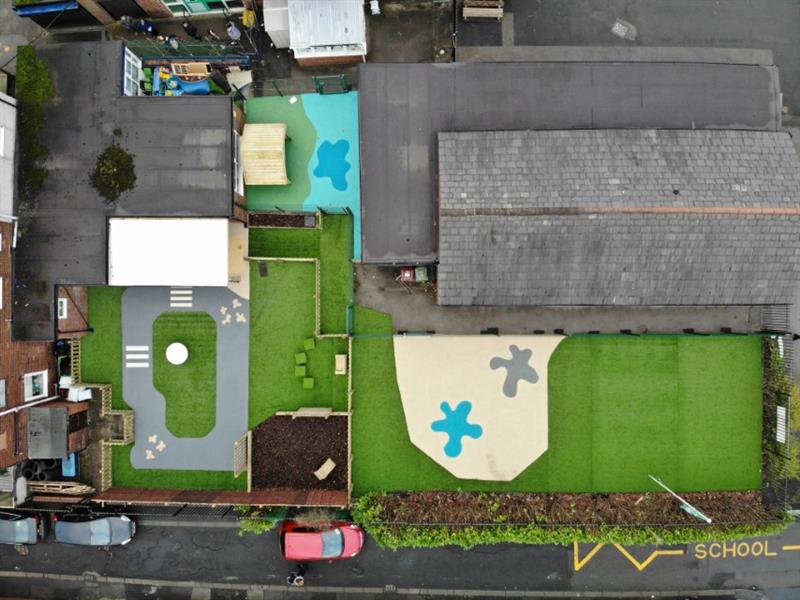 Amazing Nursery Playground Development For Babies and Preschoolers
Our Sales Director, Paul Bayliss, worked closely with the staff at Baby Bede Nursery to design a striking and inviting outdoor baby play area and similarly, a vibrant and exciting area for pre-school children to enjoy.
Our devoted operations team worked incredibly hard over the course of 3 weeks to produce an exceptional transformation of the outdoor play areas at Baby Bede Nursery.
Outdoor play space for tummy time and babies
Once we removed and disposed of the outdoor play apparatus, we then cut back the existing Wet Pour edges and laid down plush artificial grass surfacing.
This helped to create a bright look with the feel of natural grass, but with the added benefit of allowing nursery children to use the play area all-year-round.
We also added 40m² of bespoke Wet Pour design in light blue, imitating water, with a darker hue of blue as a splash in the centre to create a fun and exciting atmosphere for the children.
To support creative and imaginative play, an open-access, giant playhouse, constructed of fine-quality timber and a water-resistant roof was installed into the baby area.
Whether children create a make-believe dollhouse, a secret room, or even a mini shop, its inclusive quality allows children to play collaboratively and build social relationships with their peers.
At the back of the Playhouse, we incorporated a chalkboard into the design, so little ones can use it to practise their dexterity skills and grip when drawing with chalk.
To prioritise safety, we segregated the baby area with a new 'v' mesh security fencing in bottle green. The fresh outdoor play area can now be accessed via two new gates: one in steel and another made from high-quality and robust timber.
Playground space for preschoolers
To make the area accessible when using prams and pushchairs, we created ramps and used artificial grass for the surfacing to make them weather-proof. We further separated this area with 1.2m high, timber bow-top fencing with gate-access to multiple areas.
The ramp on one side leads to a dedicated region of the playground to encourage communication and language. This zone includes a large and strong, timber, story-telling chair for the practitioners to read children their favourite fairy-tales.
For children, there are 4 moveable grass-topped seats, so they can sit comfortably when listening to the practitioner or be positioned in a way to generate group conversation.
The artificial grass surface offers additional Playground Seating for children to sit comfortably on the floor during carpet-time, without the fear of muddy mess.
Adjacent to the story-telling and communication area, we created a Messy Play zone for children to stimulate their senses.
Once we installed our bespoke, sleeper-edge bark pit, we then isolated the messy play area from the remaining playground using two Weaving Panel Trellis screens; this way, children can be safe whilst also being visible for teachers to supervise them.
The second ramp provides access to a robust, freestanding, 5m x 3m, Timber Canopy that we installed to offer the pre-school area with additional space from the classroom and allow for sheltered outdoor learning.
For the Playground Surfacing beneath the canopy, we've created a custom-made wetpour design in a neutral beige colour to keep them calm and not overstimulated during outdoor lessons.
We created a roadway zone with markings for children on the outer-border of the artificial grass playground. It is perfect to familiarise children with road safety when using their bikes, trikes and scooters.
To completely section off the playground and keep the children safe from the main road, we used 10 metres of sturdy willow Playground Fencing.
We've thoroughly enjoyed creating safe and striking play areas, with a range of colour and exciting learning-oriented play equipment. The result exceeded Baby Bede's expectations. The children and staff are thrilled with their new play areas and we couldn't be happier.
We understand that each nursery has a budget to adhere to and may have their own individual specifications for their outdoor play areas. With our knowledge and experience in the field, we can transform your gardens into an inviting and exciting area all within your budget and in line with your specifications. Please Contact Us for more, in-depth advice.
You can view our amazing products range for Nursery on our website.