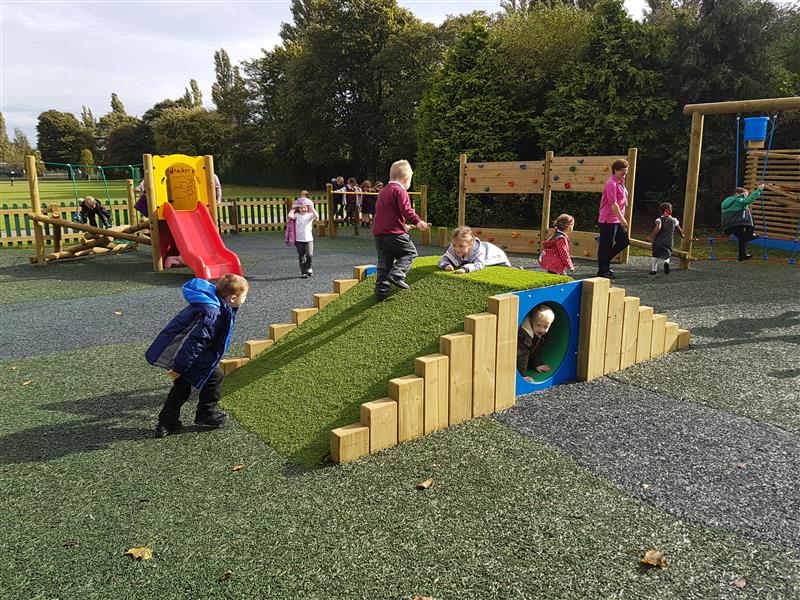 An EY Play Area brimming with opportunities for physical, investigative and messy play
Our playground consultant, Paul Bayliss, worked with Billingham South Community Primary School, to develop a new early years outdoor learning environment for their children.
The school's old EYFS area, had limited space for the children and lacked quality outdoor resources for both physical development and tactile styles of play.
To overcome these issues, we created and installed a new new outdoor EYFS playground on the school field. The new environment contains three zones to help promote physical development, sensory play and outdoor reading/storytelling.
The Physical Play Zone
We created an excellent Physical Play Zone to encourage the children to run, climb, crawl, jump and release their bundles of energy.
Our Infant Trim Trail 2 was added to the area to help develop children's upper and lower body strength, balance, grip, core stability and hand – eye coordination.
The trail includes the following challenges:
Twist Net
Mini Balance Beam
Single- Sided Timber Climbing Wall
Stepping Logs
Tightrope Bridge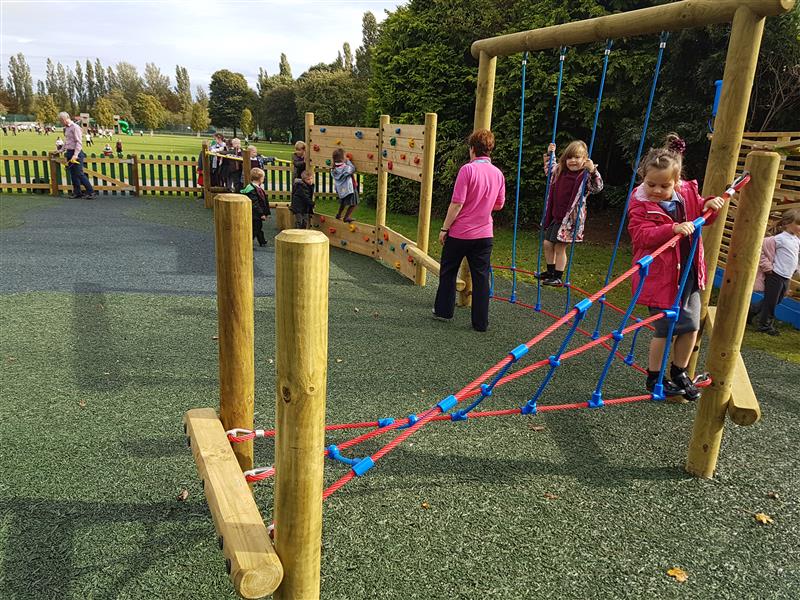 To offer a less prescriptive form of play, we installed our Kinder Scout Log Climber with Deck and Slide.
This climbing frame has no set on and off points, allowing children to enter and exit the challenge as they wish. Children are also free to scramble all over the frame before making their way down the slide.
Climbers like this not only improve physical development, but have a huge impact on team work, communication and language, as children help each other overcome each of the challenges.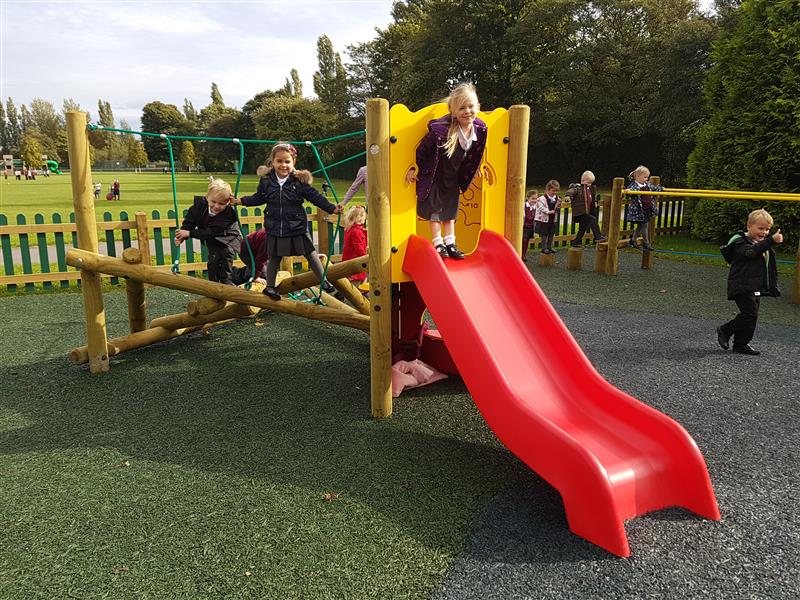 We then completed the physical area with our Climb Through Tunnel with Ramp Over. Children are free to climb, crawl and roll across the ramp while others scramble through the tunnel underneath.
This resource is perfect for developing your children's sense of adventure, strength, physical coordination and 'positional language' play.
To make the physical play zone a safe and imaginative place to play, we installed our Playbond Rubber Surfacing, mixing together both green and blue colours. These colours brighten up the area and create a theme of grass and water, further encouraging children's imaginative thinking.
You can view our fantastic range of trim trails and climbing frames here.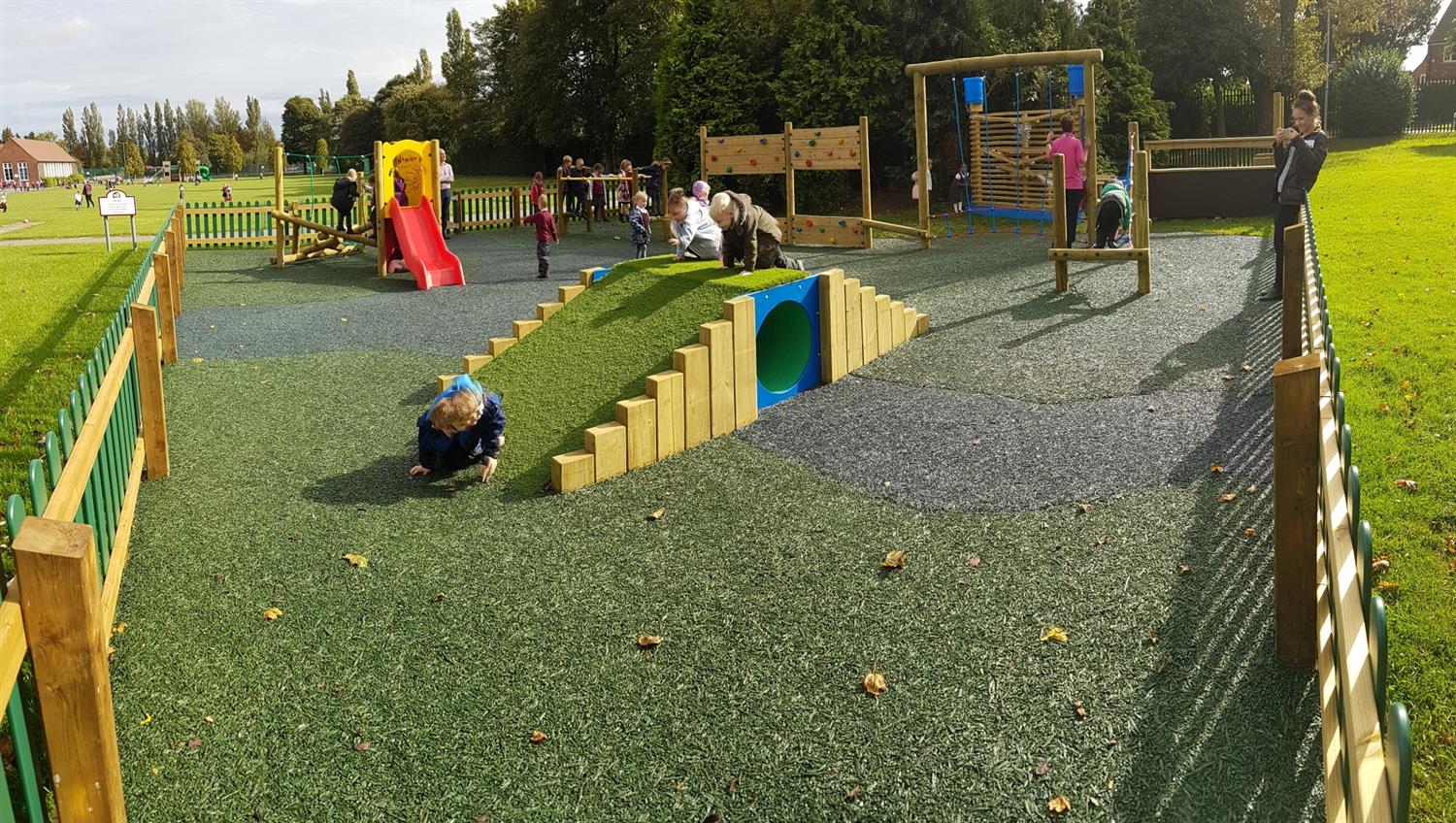 A Messy Play Zone For Investigative Play
We dedicated an entire zone to messy and sensory play, with play equipment that encourages children to investigate, explore communicate and manipulate different materials and textures.
In one side of the area, we installed our Mud Kitchen alongside our Rope and Pulley Materials Mover which we attached to a Dig Pit.
This encourages children to work together and create their own 'mud production line' – if the Mud Kitchen runs low on supply's, children can work together to transfer mud from the Dig Pit and back into their busy kitchen. This again targets children's teamwork and communication skills.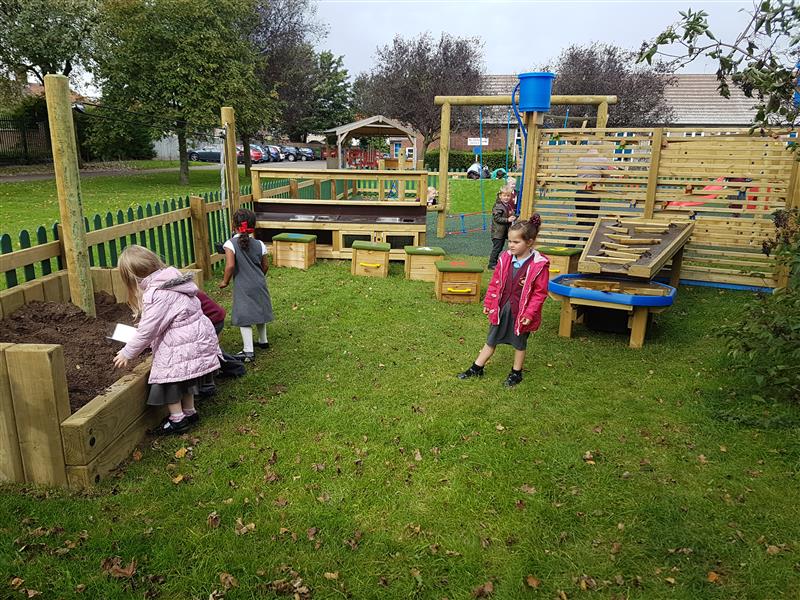 To add 'water play' to the area, we added our Water Wall attached to a Damming Station. This again encourages teamwork, as children work together to build dams and figure out different ways to stop the flow of water.
The Water Wall will become a hub for investigative play and scientific experiments, as children learn about water flow, gravity, source to mouth and many other engaging topics.
You can view all of our Investigative Playground Equipment Here.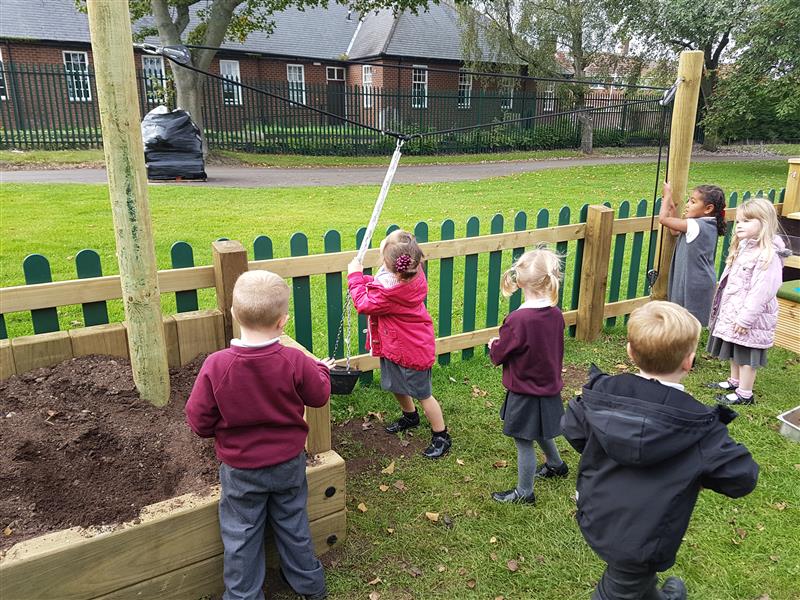 A Quiet Zzone For Storytelling, Reading and Reflection
Within the wooded area which is next to the new environment, we created a story telling zone. This provides the children with a quiet area for reading, socialising with friends, relaxation and story time. Teachers can even use this area for outdoor lessons.
We zoned the entire early years' environment away from the rest of the school using our robust HDPE coloured playground fencing. This fencing is long-lasting, requires low maintenance and the plastic pales are perfect for young children (splinter worries are now a thing of the past).
You can view our entire range of playground fencing here.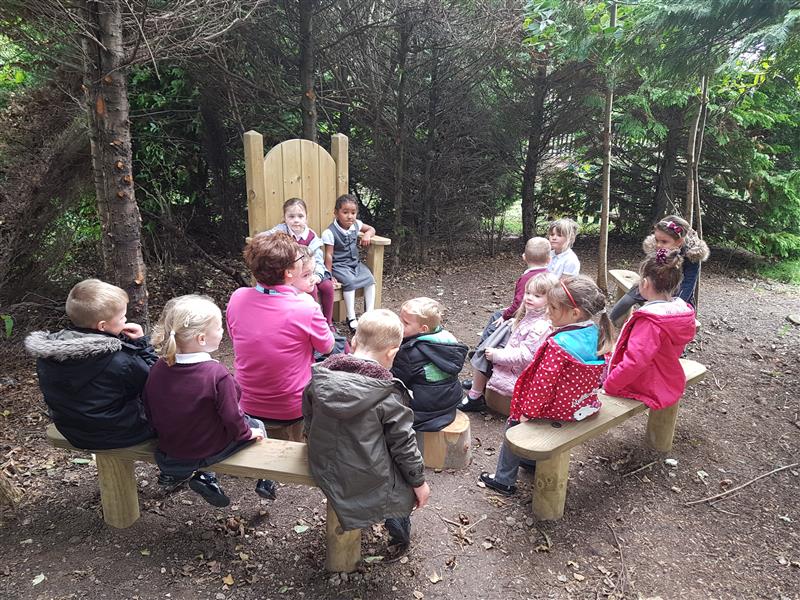 It was a pleasure to work with such a wonderful school on this fantastic early years project and we hope the children enjoy exploring their new and exciting outdoor learning environment.
Are you looking to improve your early years outdoor provision? Simply Contact Us and we will be in touch to book a free consultation. We'd also love to hear your views on this project, feel free to leave a comment below.