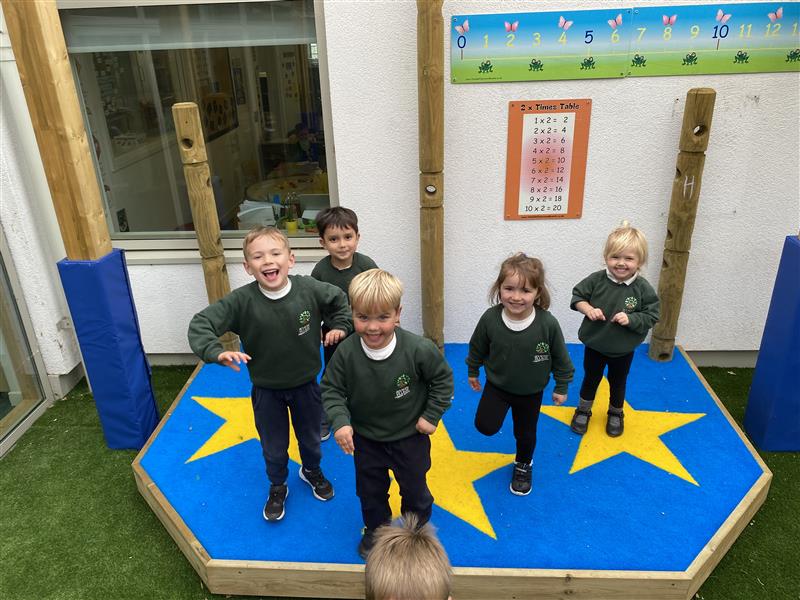 Forming Beautiful Beginnings for EYFS Pupils at Bolnore Village Primary School
Bolnore Village Primary School lies at the heart of the community in Haywards Heath, West Sussex. We were delighted to work with this vibrant, attractive school to improve their EYFS outdoor provision.
Head of Sales, Sam Flatman met with headteacher Tracy Taylor to discuss the vision for the new space. The EYFS outdoor area is situated underneath a raised walkway which meant there were obstacles and permanent posts to carefully consider when planning out this design. Sam used his in depth knowledge of the EYFS to create a flexible, multi-purpose design, allowing the team to make changes to the space throughout the school year and for many more years to come depending on the needs of a particular cohort.
Plenty of Provision for Physical Development
Physical development and improving gross motor skills was a top priority for Bolnore Village. Pupils could not wait to conquer the new Harter Fell triangular climber. Balancing skills and core stability have been strengthened as pupils work together to find their own routes through this open-ended frame.
Next to the climber is Bolnore's bespoke roadway. Children will enjoy navigating the track using a variety of different vehicles. To give the track a realistic feel thermoplastic markings have been added to introduce pupils to road safety. Children have learnt to stop at the zebra crossing, take note of the traffic lights and navigate the roundabout with care.
Our Artificial Grass Playturf has been used in several separate areas; directly underneath the climber and canopy and to create islands in the centre of the roadway. The new surfacing provides beautiful pops of colour, creating a warm and welcoming environment for young learners. Our ever-popular playturf is durable and self-draining allowing pupils to enjoy their new surfacing in all weathers.
On our return visit to Bolnore Village it was wonderful to see pupils making full use of their Get Set, Go Blocks – The Mendips Set. Learners were stepping, jumping, climbing and sliding whilst talking to each other about the layout of their course and making decisions about how they would tackle each block.
Supporting Speaking and Listening Skills
To create a secluded area of shelter we installed a new roof canopy which protects pupils from the elements without interrupting precious outdoor play. The introduction of the canopy and gated areas allows staff to partition different learning spaces. Practitioners can decide whether to close off certain spaces or have a large free flow environment, allowing great flexibility.
Teaching staff love the free flow nature of the space which allows them to observe children following their own interests in a range of play schemas.
The area underneath the canopy is home to a Performance Stage with Den Posts, giving children creative freedom to put on a show! The amazing Sensory Seating Circle creates a fantastic hub for developing communication and language skills. Pupils have already created small world scenes using their favourite characters and props.
STEAM Learning Opportunities
Learners have their tools at the ready to enter the STEAM learning zone!
New menus have been discussed at the Mud Kitchen with ingredients being measured in the Weighing Scales. The Rope and Pulley Materials Mover connects the whole area together as materials are transported from the Mud Box to the expectant chefs! Resilience and teamwork skills are enhanced as children explore scientific ideas and mechanisms.
In the water play zone pupils can control water flow by creating their own course of moveable channels. Pouring, scooping, measuring and lifting helps children to develop hand eye coordination and control. What is water play without sand? A set of three Sand Tables ensures that plenty of children can access this popular area of provision and the lids are very handy when tidying up, transforming equipment into usable tables.
A Playhouse and an Easel on Wheels provides pupils with spaces to express their imagination and creativity. A Playhouse is an ideal spot for children to interact with others and extend their vocabulary.
The addition of Self-Selecting Stores dotted around the space gives children independence when selecting appropriate resources and promotes responsibility.
Early Years teacher Gem Hespin has been astonished at how the children have initially used their new space. Gem states, "Our old area was simply not fit for purpose as soon as the children accessed the new space, we could see the impact it will have on their Physical and Communication and Language development."
Bolnore Village Primary are providing their pupils with the very best start to their primary education. We hope that many children will enjoy and explore the space for years to come creating a big impact on EYFS teaching and learning.
See more of our EYFS Projects and get inspiration for the development of your playground space today!
Or, Contact Our Team for expert advice and guidance!