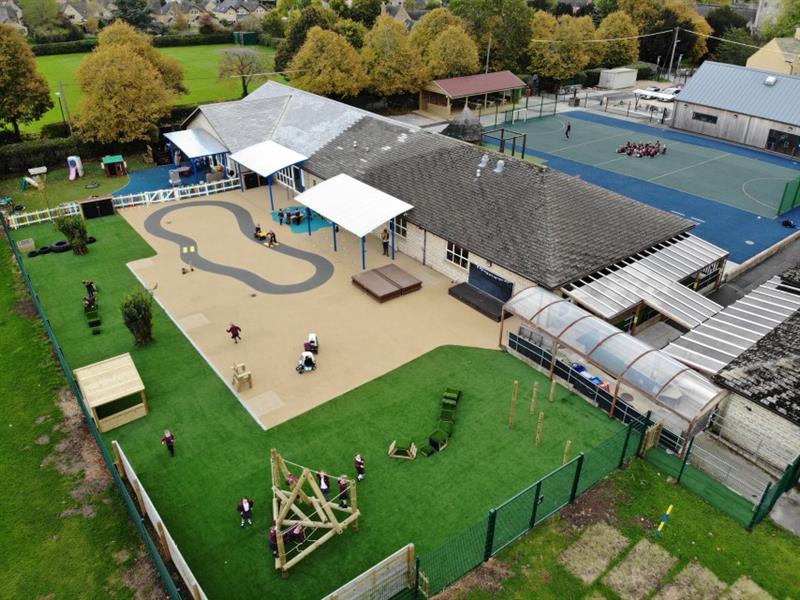 A Stunning New Playground Development To Inspire Outdoor Play And Learning
We've all had to adapt the way we do things in these difficult times - and this incredible new EYFS playground transformation, at Bourton on the Water Primary Academy in Gloucestershire, goes to show just what can be achieved with a little creative thinking and plenty of determination.
We always love visiting the schools we work with and meeting with staff to discuss their ideas - it's one of the best parts of the job for us, and it allows us to get a real feel for a school's environment, the way they like to do things and the possibilities for making best use of their outdoor space.
Of course, that's not always the best option for everyone at the moment - but it's still very much business as almost-usual here!
It was lovely for us to be able to catch up virtually with School Operations Manager Cheryl Agg, and the wonderful EYFS team at Bourton on the Water, to discuss plans and ideas for developing their outdoor space.
Following the meeting, our Deputy Head of Education and Sales, Becky Hazell, was able to design a dream scheme that would visually transform their EYFS area, and unlock all the fantastic learning potential that the available outdoor space had to offer their youngest pupils. It was a very exciting project to get started on!
Out with the Old…
Before the new installations could begin, we needed to address the surfacing and drainage issues that were causing access problems and adversely affecting use of the space throughout the year, particularly during the long winter months.
To do this, we completely cleared out and disposed of all the old surfacing and equipment that was no longer fit for purpose.
We laid new drains to feed into the existing storm drains, replaced the drain covers, and laid a stone sub-base to aid drainage and increase the strength and stability of the new playground surfaces to be installed across the area.
Playful Playground Surfacing
We used a gorgeous natural-looking combination of our Playturf Artificial Grass and Wetpour rubber safety surfacing to form a huge, all-weather playground space for the EYFS pupils at Bourton on the Water.
It is now being put to good use for free-flow learning activities and during break time, with plenty of space should it be needed in the future to accommodate growing numbers of children on the school site.
The Playturf Grass is hugely popular with the children due to its tactile nature, and it provides a brilliantly durable surface for all sorts of outdoor activities.
We used our 'messy play earth blend' of Wetpour, with colours that compliment the Cotswold stone buildings, whilst also being mottled to hide the inevitable messy play spillages that occur on a regular basis in all EYFS settings!
To this we added a fun, bright blue Wetpour 'splash' to clearly mark out the new water play zone, and Numbered 'Stepping Stones' for counting games.
We incorporated a large Wetpour 'real world' roadway, featuring zebra crossings and even Parking Bays for the children to role play with their wheeled vehicles.
For safety and security, we surrounded the new playground with our 2m high Green Mesh Fencing to run the perimeter, with a single self-closing access gate next to the building linking with the tarmac path.
Innovative Messy Play and STEAM Learning
Bourton on the Water Primary chose a great selection of some of our favourite, innovative outdoor learning pieces to support each of the key areas of learning as part of the Early Years curriculum.
There's a Water Wall with Water Play Package that encourages children to explore and investigate, plotting and building their own courses for the water to flow, and enjoying all the sensory and therapeutic learning benefits of water play.
A Mini Mud Kitchen with a Mud Box will keep young chefs hands-on and busy, cooking up some marvellously messy treats for their friends!
Age-appropriate Active, Physical Development...
We installed some age-appropriate active, physical play equipment, that would specifically target upper body and grip strength development, as well as balance and coordination:
The selection of equipment is progressive, varied, flexible and open-ended - it can be accessed by all of the children as and when they're ready, and in any way they choose to play, climb and build their confidence.
A Social Space to Suit Learning Themes and Topics
A Giant Playhouse with Walls, Chalkboard and Benches sets the scene for some wonderfully interactive role play activities. The children can enjoy practicing their writing skills on the chalkboard and personalising the space to suit learning themes and topics.
There's a fairytale Freestanding Storytelling Chair for taking reading time outdoors - it's a lovely spot for the children to improve their literacy and build their confidence reading aloud.
With a number of Self-Selecting Stores across the playground, the children have ready and easy access to all of their play equipment and learning resources, making it easy for them to learn how to keep everything tidy, and helping to promote independent and child-led play.
A Fabulous Bespoke Outdoor Classroom
We designed a beautiful bespoke Gable-End Outdoor Classroom especially for Bourton on the Water Primary. It's a timber-cladded structure, with a decked base that provides a large outdoor sheltered space for lessons and break time activities to take place.
Internally there are two fully clad sides to screen the classroom area for the children while they are learning. There's an access ramp at one end to make it a fully-inclusive space.
Inside the Outdoor Classroom we included a small store so that the staff and children can leave resources outside for quick and easy access at all times.
There's a fitted Giant Whiteboard for teaching, and a number of moveable Picnic Tables with Whiteboard Tops which are perfect for outdoor learning activities. They're easily wipeable and can be well used for break times and enjoying packed lunches outdoors too.
The Outdoor Classroom in conjunction with the new playground has created invaluable additional learning space for pupils at Bourton on the Water Primary.
It's made learning out in the fresh air on a regular basis, with all the benefits that brings, a realistic, easy, practical, and certainly a very enjoyable option.
Are you thinking about new playground and outdoor learning options? We can help! You can find out more about our work with schools and nurseries, and view our full range of outdoor learning, play and sports products Here. Please do Contact Us to arrange a free, no-obligation consultation.
Alternatively, you can view all of the stunning playground projects we've completed in the Gloucestershire area on our dedicated Gloucestershire Playground Projects Page.