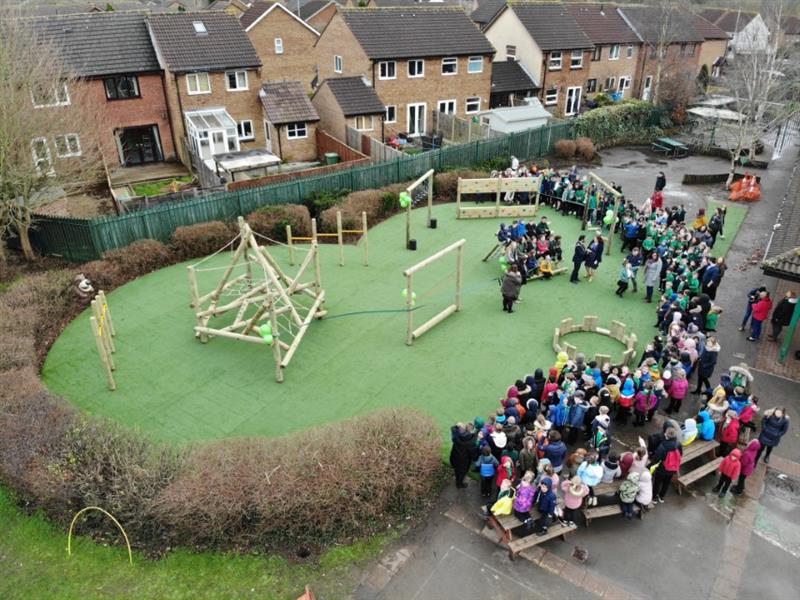 A Playground Design Full of Life and Adventure
Bowsland Green Primary School located in the Bradley Stoke area of Bristol, contacted Pentagon regarding an active play project designed for their KS2 children. The school wanted their playground to have the "WOW FACTOR while providing an area that challenging and tested the children to develop their physical skills further.
Becky Hazell, who is one of our leading Outdoor Learning Consultants, worked alongside the school and children to design their dream outdoor space.
Once the realistic playground design had been presented to the children at the school, they were ecstatic and couldn't wait for the installation to begin.
The Mayor, Tom Aditya, officially opened the area and cut the ribbon, allowing the children to have a first go on their excellent new playground equipment.
Who will conquer one our largest mountain climbers??
The focal point of this magnificent playground design is our huge Tryfan Climber which is one of our largest climbing frames.
Our Tryfan Climber has flexible routes and multiple crossing points providing children with an open ended physical challenge. Children can climb, traverse, balance, swing and even build dens underneath the climber.
While overcoming this exciting challenge, the children can move through the logs as they reach the highest point before taking a leap of faith back to the ground! Those who may not be a very confident climber can slowly move their way up the frame overtime as they improve their confidence, before reaching the highest point.
Looking for something bigger than our Tryfan Climber?? Check out our humongous Crinkle Crags Climber.
Swing, jump, balance, traverse and take safe risks...
We installed an amazing selection of climbing challenges around the climber to provide further physical challenges with varies level of difficulty.
The children of Bowsland Green Primary can swing through a forest on the Trapeze Swing before balancing over the rapids on the Rocking Log Traverse... great practice before conquering the mountain in the middle.
The children will have plenty of fun making up their own games, further boosting communication and teamwork.
While overcoming the many challenges within this energising area, the children are developing their climbing confidence, upper and lower body strength, core stability, balance and gross motor skills, while further improving their social skills, communication and language through play!
Of course the children needed a space where they could relax away from active play with an area this exciting, so, we installed a wonderful Small Seating Circle to provide children with the perfect area for relaxation and resting.
While they recover their energy, the children can sit comfortably on this fantastic playground seating resource and socialise with one another before jumping straight back into running, climbing and jumping through the various obstacles featured within the area.
Promote safe risk taking and build confidence
To promote safe risk taking and reduce the risk of injury, we surfaced the area with our market leading Artificial Grass Surfacing.
Our artificial grass includes a shockpad underlayer to protects children should they slip, trip or fall while taking on new challenges on different scales of difficulty.
Children will also enjoy using the green space to relax and socialise with friends.
We are delighted with the development at Bowland Green and the children have a fabulous play area during the school day and for golden time, after hot chocolate with the headteacher!
If you'd like to further improve your playground to increase the number of physical play opportunities your children have, please feel free to Contact Us. We'd love to help transform your outdoor play and learning environment and help transform playtimes for the better. To give you added inspiration, you can view our large range of active play products here or take a tour of more examples of our active play projects here.