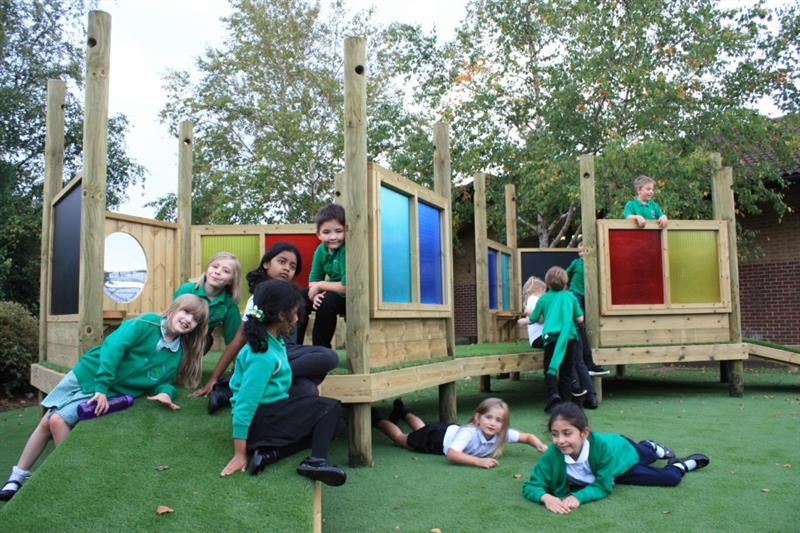 Presenting KS1 and KS2 With More Imaginative Play Inspiration Outdoors
After recently working with our team to create spectacular adventure playground, Bowsland Green Primary School got back in touch with a new vision for imaginative play in their outdoor area.
Once again, Becky Hazell, who is one of our leading outdoor learning consultants, worked alongside the school and their children to add a new dimension to their outdoor space.
Let the adventures begin…
After Becky presented various product recommendations and ideas to the children and staff, they felt a Twin Imagination Station would take playtimes to the next level and create a fun and open-ended imaginative play space.
Transformed through children's input and interactions with one another, the non-prescriptive Twin Imagination Station sparks creativity, whilst providing an inviting space for the children to play. It truly inspires imaginative play games and encourages child-led play.
As the station is raised slightly off of the ground, it creates new dimensions for play and generates excitement as young feet excitedly bounce and hop up the ramp onto the platform and across the bridge between each section.
Den making posts, mark making panels, bubble windows and sensory panels enable the children to decorate the area in the theme of their imaginative game or role play topic. Moreover, the colourful space develops the children's teamwork skills, communication and language, understanding of the world, social skills, PSED and early literacy skills.
Young imaginations can flourish and thrive children transport themselves to fantasy worlds: from astronauts in the space station to pirates sailing the seven seas - anything is possible!
Both the KS1 and KS2 children have been thrilled with their new creative play space! Whether it's used as part of imaginative play games or a social area where they can relax and talk from active games, the children can't wait to get outdoors and make great use of their new piece of equipment!
Read more about the energising adventure playground we designed and installed for Bowsland Green Primary School.
Are you looking to create an inspiring space for imaginative play? View our huge range of Imaginative and Creative Play products and create your own wish list.
We have developed new ways to conduct playground consultations safely in these difficult times. Complete our Online Form to begin your journey with Pentagon Play. One of our expert consultants will be in touch to arrange a free consultation.
If you would like to view more examples of our playground projects in South Gloucestershire, visit our South Gloucestershire page.