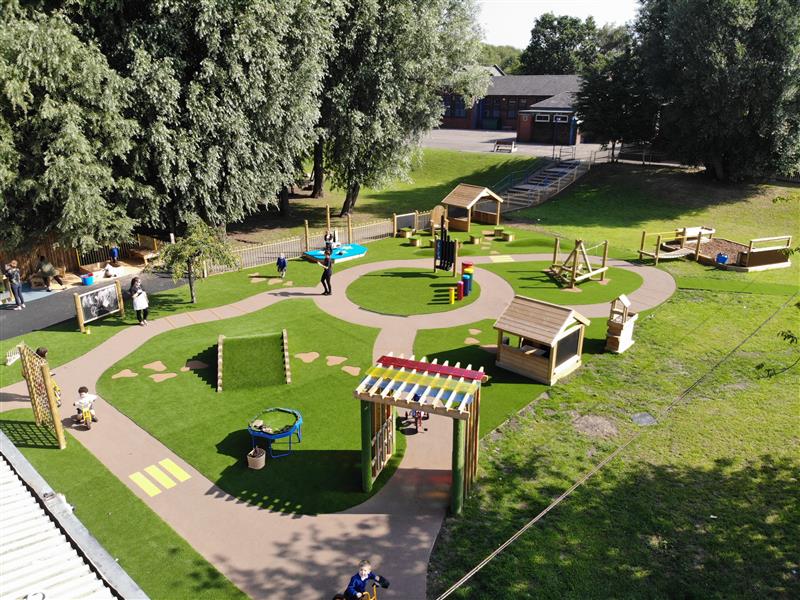 A Breathtaking EYFS Playground That Promotes Cross-Curricular Activities
A brand new Nursery Area at Briscoe Lane Academy, part of the Wise Owl Trust, - and a mega project for Meg Booth - our super talented Playground Consultant, who worked with the Manchester primary school to help them achieve their dream of an incredible outdoor play and learning space, spanning all areas of the curriculum for their Early Years pupils.
Together with the school's Principal, Claire Hall, the Teaching and Learning Lead, Debbie Frater, and the Early Years Assistant Principal, Simon Bramble, Meg worked to create a playground design that would support active, imaginative and investigative play.
As a scientist and a sportsperson herself, Meg has some brilliant ideas for designing STEAM learning areas for schools and for finding a great balance of age-appropriate physical challenges.
Her understanding of a perfect playground symbiosis - how everything comes together to create a cohesive, balanced play and learning environment - is what makes all the difference. Although as far as the children are concerned, her playgrounds simply translate as pure good fun!
With a final design in place, the first thing we had to do at Briscoe Lane was to dismantle and clear out all the old play equipment and surfacing and prepare the ground ready for the new installation.
It's a lovely big outdoor space, so we had plenty of scope to create some really exciting areas to encompass all different types of play and learning activities.
With that in mind, we created a bespoke, all-weather playground surfacing design to add depth and colour, instantly breaking up the space into clearly defined zones.
We used a sandy coloured Wet Pour to form pathways all throughout the area: a broadly central circular pathway with a series of pathways branching off it, leading children to new adventures.
The chidren absolutely love riding around the pathways on their bikes. We've even included speed bumps for contrasting sensory feedback and some crossing points for real-life games.
We set our all-weather Playturf Artificial Grass throughout the zones and between the pathways, with fun Wet Pour "puddles" splashed around the area. This surfacing is all self-draining and maintenance free, meaning that the children can enjoy their outdoor space every day all throughout the year, no matter what the weather brings.
Each of the surfaces bring texture to the space and they are brilliant for helping to prevent injury from falls as they don't get slippy and they're soft to the touch.
Water and Sand Play Equipment
We created a fabulous STEAM learning zone with a selection of our unique Sand and Water Play Products:
A Floor Level Sand Pit for digging, sculpting, measuring and discovering texture and sand properties. It's a great spot for social interactions and the children love playing together here.
A Giant Paint Panel on Posts - ideal for budding artists to create and experiment with paint and make as much mess as they like as it's easy to clean up!
An amazing Water Wall Play Package, which includes a series of water channels that the children can engineer themselves, with a wall-mounted rain cloud and a water wheel for fabulous scientific exploration.
There's a Water Table for all sorts of water-based experiments and with our Grass-Topped Steps, everyone can climb to the top of the Wall and set the fun flowing.
We edged the area with our Trellis Fencing to create an attractive natural screen. This area is at the edge of the playground under the natural shade of the trees, so it's a lovely, relaxing and sensory space for the children to play and discover.
The Sand Pit and Water Table can both be covered to keep them clean when they're not in use.
Sensory and Messy Play
Our beautiful Sensory Arbour takes centre stage for sensory play at Briscoe Lane. With musical chimes, and colours, light and texture to explore through multi-coloured polycarbonate layers teamed with artificial grass, it offers both audio and visual stimulation which is accessible to everyone.
A clever Weaving Trellis Panel allows the children to use coloured ribbons and bands to thread and weave through the squares - creating different patterns and enjoying the sensory feedback from the stretch. It's therapeutic play intertwined with problem solving and fine motor practice.
We included a colourful set of African Drums and a Batonka Panel on Posts to add to the music-making opportunities in this amazing outdoor space. The children love creating their own rhythms and making up their own tunes.
Because the Outdoor Musical Instruments are tuned to produce different notes, they offer a fantastic facility for exploring musical concepts, pace and sound and even learning new maths and language skills through counting and spoken word.
We created a super, raised, Bark-Filled Pit with Sleeper Edges for a no-holds-barred messy play space. We installed a Mud Kitchen and a Construction Table onto the pit for the children to spread out and make their mud pies and marvellous medicines.
The entire pit is set up on the field area and is accessed by a kinetic Clatter Bridge, making the journey there tremendous fun in itself!
A place of discovery for developing the brain and improving memory skills, the sensory and messy play resources at Briscoe Lane are also wonderfully therapeutic for improving positive behaviour and calming anxious children.
Den Making Areas
Den building is a great physical activity and it really gets the children thinking and moving. It has as much to do with problem solving, working out how to make their structure sound, as well as creativity and imaginative thinking.
It's a great way to get children communicating with each other too, figuring out how to work as a team to achieve their goals and develop positive social interactions.
Briscoe Lane now have a number of options for some brilliant den-making activities in their playground. We installed two Playhouses, each with Walls and Chalkboard, which the children can dress to suit their chosen theme or learning topic.
The den-making holes along the front allow for threading, weaving and hanging materials. The Chalkboard offers immediate mark-making opportunities - they could use it as a shop sign, a restaurant menu, a hospital notice board or a base for leaving each other secret messages - the possibilities are endless!
A beautiful wooden Wigwam makes a cosy hideaway for outdoor reading, or a playground "camping" experience. We included a set of our fabulous open-ended Den Making Posts for further creative opportunities as the holes and grooves allow children to hang sails and blankets to create a shelter, loop ribbons, string up a display line or even create a giant "cat's cradle" to climb through.
Not to be outdone, we have even installed a den for minibeasts visiting the playground at Briscoe Lane! Our unique Bug Hotel with Individual Pods is an amazing educational resource for encouraging wildlife into the school grounds. The children can fill the pods with their choice of natural materials, leaves, twigs, cones etc, to create a bug oasis.
There's even a roof garden for planting seasonal flowers and scented herbs to attract them - it's ideal for up-close biology lessons, investigations and demonstrations as well as adding a beautiful splash of natural colour and texture to the playground.
Storytelling and Performance
Our Performance Stage with Den Posts lends itself to some fabulous outdoor performances. There's something about being in the fresh air that helps children to feel more confident, taking away some of the constraints of the classroom to help them express themselves more freely.
This certainly seems to be the case at Briscoe Lane - they've added a well-stocked dressing-up rail for putting on a show and for role play and PSED games, too.
We installed one of our popular Storytelling Chairs, along with a set of Moveable Artificial Grass-Topped Seats, to create a beautiful, comfortable outdoor reading area.
It's ideal for group discussions and outdoor lessons, helping to develop the children's language, vocabulary and reading confidence. It's a lovely environment to host show and tell sessions and other special occasions too.
A Giant Chalkboard provides an immediately accessible resource for written words, demonstrations, spelling and mark-making practice for a holistic approach to outdoor language and literacy.
Physical Activity Zones
Any playground worth its salt needs a good climbing frame for physical development! Our Pinnacle Hill Climber is an exemplary entry-level climbing frame for EYFS children. Built from smooth wooden poles and reinforced ropes, it's set at a low level, with flexible entry and exit points for gently building their climbing confidence.
The children at Briscoe Lane absolutely love their climber and it's really helping them to build their upper and lower body strength and develop core stability and good balance as they play.
We enhanced the physical activity provision at Briscoe Lane with our exciting and intriguing Climb Through Tunnel Hill. It features a textured artificial grass up and over ramp to navigate, and a secret tunnel to investigate!
The children love learning how to climb up and roly poly down and they have been acting out their favourite story of the Billy Goats Gruff with a "real" troll hiding in the tunnel!
The new playground at Briscoe Lane Academy is brimming with adventure. It's a beautiful, bright space, with energetic areas for physical play, and calmer sensory areas for investigation.
If you are considering a redevelopment of your school's outdoor play and learning environment, or if you would just like to make some improvements or adjustments, we can help you. Please do not hesitate to Contact Us Here to find out more about our products and services.
We offer a free, expert, no-obligation playground consultation service, and you can view our full range of outstanding outdoor learning, play and sports products for schools and nurseries now.