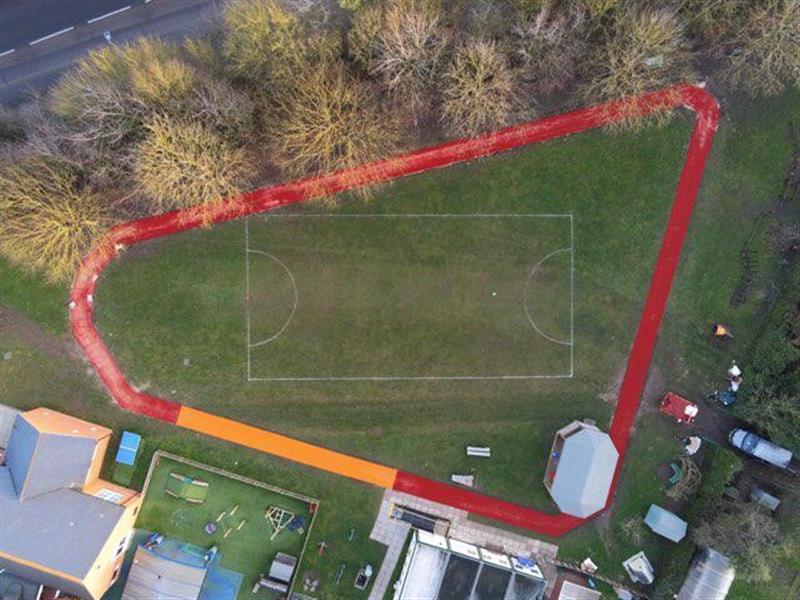 A Vibrant All-Weather Daily Mile Track
Browick Primary School contacted us as they found their children could not participate in the Daily Mile initiative during and after poor weather conditions. This was due to their school field becoming muddy, slippery and hazardous as the rain flooded the grass, creating an unusable waterlogged area.
Our playground consultant, Marion Rolph, worked closely with the school in Norfolk to enable their children to partake in the Daily Mile throughout all seasons.
As the children couldn't participate every day, they were not reaping the full benefits of this healthy initiative. The school decided they wanted an All-Weather Daily Mile Track to enable exercise to take place every day without the elements halting them in their tracks or muddy shoes making the caretaker weep.
To meet the school's needs, we installed a vibrant Sports Carpet in orange and red: the school's trademark colours. This energising, long-lasting track encompasses the school's field and runs along the edge of the existing football pitch markings and outdoor classroom, ensuring other activities are not disrupted by the children participating in their mile a day.
Our sports carpet playground surfacing is a high quality, long-lasting and free-draining surface, meaning that the poor weather won't stop children's participation in an all-inclusive activity like the Daily Mile.
As there is a considerable amount of base works that are installed before the sports carpet is secured over the top, this means that water can penetrate through easily.
Base works of grit sand, compacted stone and textile membrane allow rainwater to filter into the earth, preventing flooding and water pooling on the surface once it has become too saturated as natural grass would.
The school's children are benefiting from this inspiring track as they are able to take part in this initiative to promote exercise each day. The Daily Mile is a simple but very effective way of encouraging children to participate in more physical exercise such as walking, jogging and running up to a mile for 15 mins every day they attend school.
More than 3,600 schools in around 30 countries around the world are participating the Daily Mile; research has found children who are completing the daily mile are significantly healthier than those who don't.
By involving young children in daily exercise, they learn and begin to understand the benefits of physical activity in terms of physical development and the importance of exercise on their overall health and wellbeing: teaching them what is needed to live a healthy lifestyle.
Theory lessons and healthy lunch boxes can only take healthy lifestyle teaching so far, they need to be physically involved and moving to reap the benefits of what a healthy lifestyle entails.
The impact of the Daily Mile on the school's children has been transformational. They have noticed improvements not only in the children's fitness but also their concentration levels, attainment, mood, behaviour and general health and wellbeing. After completing a mile, children are much more focused and ready to learn.
We have installed a track that can be used for an extensive amount of activities and age groups - not only the Daily Mile. Schools use the track for PE warm ups, EYFS welly walks when the poor weather hits, investigative science walks and sports day activities that won't be affected by the weather.
If you'd like to ensure your children can participate in The Daily Mile all year round, please feel free to Contact Us for a free no-obligation quotation or view our full range of inspiring Daily Mile Tracks. We ensure the process is simple and easy for you from consultation through to aftercare, we're with you all the way.