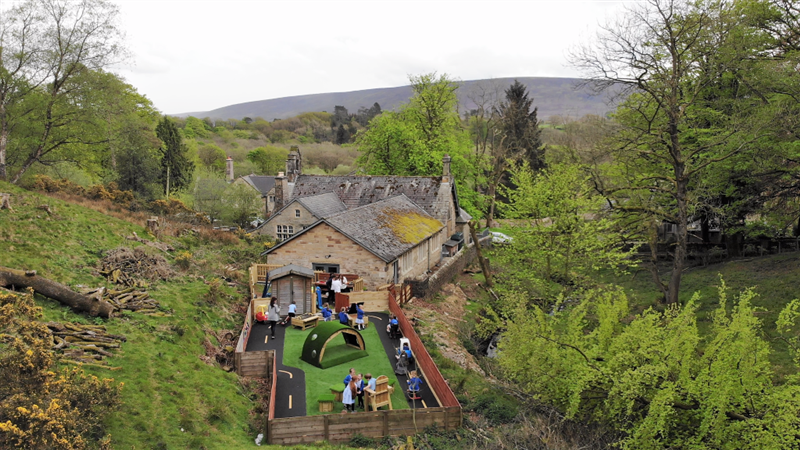 Explore an energetic EYFS playground environment
We worked closely with a small village primary school situated in an area of outstanding natural beauty – the forest of Bowland, Lancashire. The school had an old tarmac space that was uneven and would often become slippery in wet weather conditions.
With drainage issues, the area was often out of use and unsuitable for bikes and trikes. The school wanted to create an outdoor environment brimming with opportunities for child-led play and a space where children could ride their bikes year round.
We worked closely with the school to turn their old and tired space into an energetic outdoor learning environment.
The school now have a fantastic play space with a dedicated roadway area for bikes, trikes and scooters which can be access in all weathers. While being important for physical and gross motor skill development, our roadway includes a zebra crossing to develop children's understanding of road safety.
We created an excellent all-weather play space in the middle of the roadway using our artificial grass surfacing. We used this area for other fun play opportunities targeting other areas of the curriculum.
One of the new additions includes our Hill Den which provides children with shade and den making opportunities.
The children love crawling underneath the den, sitting and socialising while resting away from then high energy activities outside. Our small den develops children's language, communication and social skills.
Our Hill Den includes den making holes, encouraging children to thread and weave materials while building their den space. The wonderful bubble windows enhance imaginative play further as they believe they are in a smaller hobbit house, staring out to their idyllic surroundings.
For literacy and language, we installed a fantastic Story Telling Circle, featuring moveable Artificial Grass Topped Seats and a Freestanding Storytelling Chair.
Children's imaginations run free as they sit and listen to stories being told, eagerly waiting their turn to sit in the huge chair and read to others – advancing their self confidence, communication, language and literacy skills.
Finally, to contribute towards sensory development and fine motor skills, we installed a Water Table and Sand Table. The children love removing the lids, with the permission of the teachers, before diving into the sand and water, digging for treasure or measuring and pouring the water as they play: progressing their early math skills.
The teachers at the school adore their new environment and even mentioned it in their school newsletter:
"We are very pleased with the work done by Pentagon Play"
If you are looking to redevelop your EYFS playground, feel free to Contact Us. for free expert advice. We are happy to work with schools and nurseries all over the country whether situated in a rural area or a busy city or town centre. Alternatively, view our full range of playground equipment here.