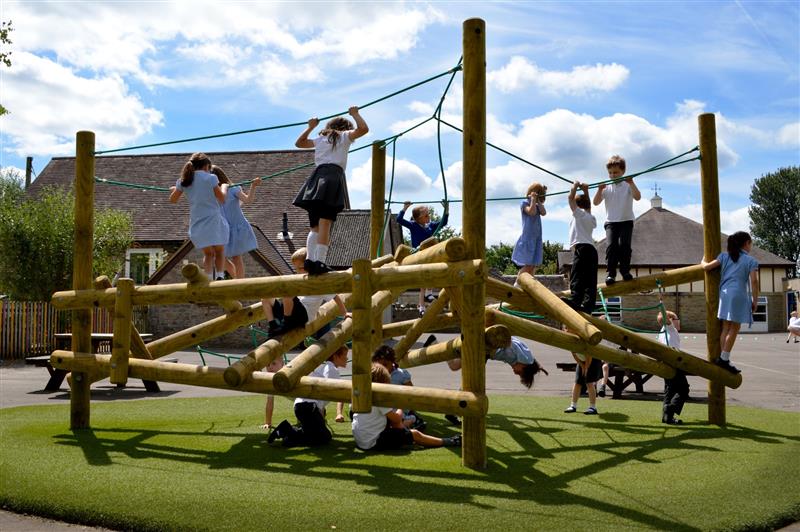 A Mighty Challenge for the Children of Charfield to Tackle!
Charfield Primary School have a wonderfully sized playground with plenty of space for play, outdoor learning, P.E. and other sporting activities. We met with the Headteacher, Dafydd Lawday, to discuss possible improvements that would not hinder or interfere too much with the huge amount of space that the teachers and children enjoy taking advantage of.
Our Outdoor Learning Consultant James Collis Pritchard, decided to transform only one of the corners of the playground and turn it into an Active Play Zone. This would ensure that the children and teachers still had plenty of space on their playground for other activities as well as a new engaging zone for play and physical development.
We decided to install our HUGE Skiddaw Climber (one of our largest climbing frames) because it provides a number of exciting challenges and can accommodate large groups of children at any one time.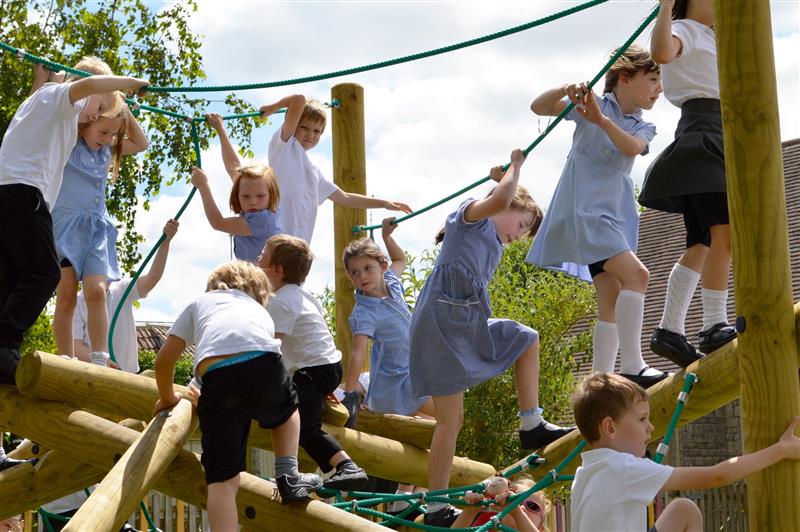 Their confidence will grow as they climb higher and their balance and core stability skills will develop naturally. Also, from climbing and weaving through the log beams, children's agility and upper/lower body strength will gradually improve.
---
---
The Climber will also spark children's imaginations as they create open ended games and activities together. With plenty of space for den-making and other fun activities, the children have plenty of options for fun and imaginative play..."There's only one way to the top of the mountain, can we make it to the top?"
It can also act as a secluded zone for children to relax in and meet friends during their playtimes. Sitting underneath the Skiddaw will have fantastic relaxing effects on the children, as they feel away from the playground environment and a part of their own secret den!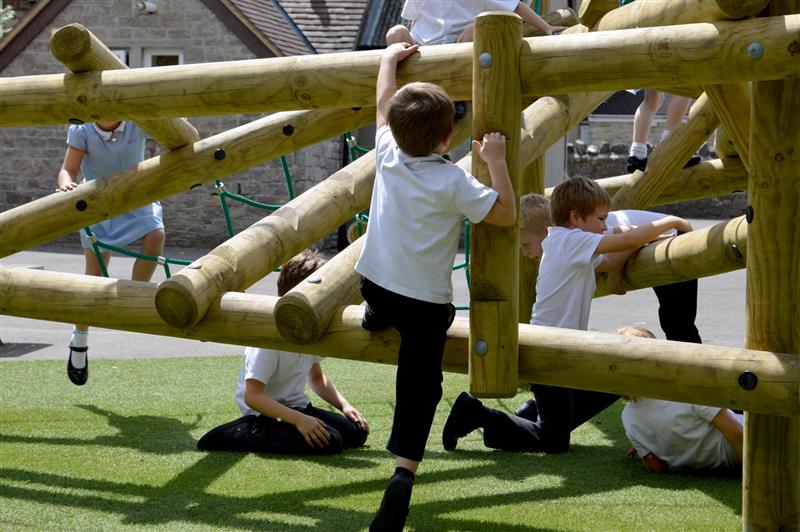 Underneath the climber, we re-surfaced the area with our delightful and natural looking, artificial grass Playturf. This helped zone the area away from the rest of the playground whilst creating a safe and fun environment for safe risk taking, den making, crawling, rolling and even for relaxing on.
If you like the look of our Skiddaw Climber or are any of our other Climbing Equipment, Contact Us Online or call us on 01625 890 330 (North Office) or 0117 379 0899 (South Office) where we will be more than happy to discuss how we can help develop your outdoor environment.
---
You may also find the following interesting:
---