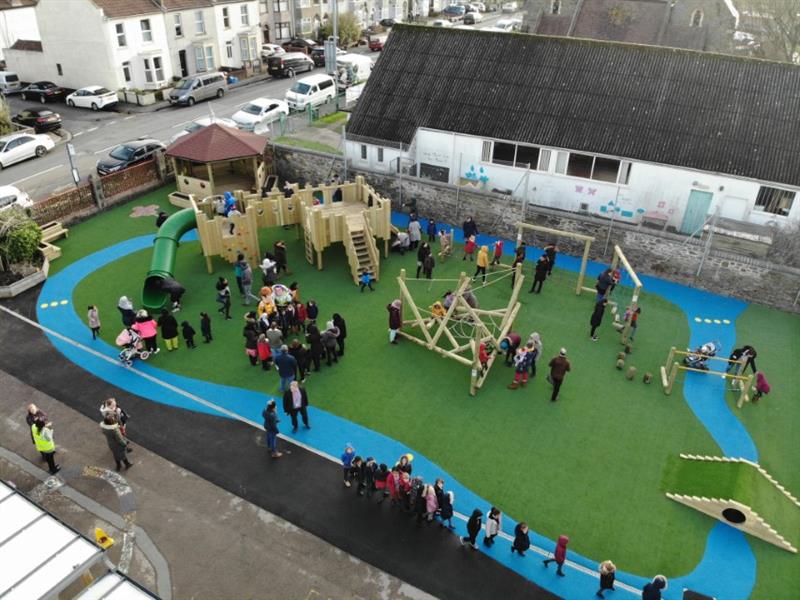 A Breathtaking Playground Design For Chester Park Infant School
The new playground design at Chester Park Infant School in Bristol is the stuff of dreams for any young child in EYFS or KS1 - especially when you have a visit from none other than Toy Story's Woody and Buzz Lightyear at your grand opening!
Our talented Deputy Head of Education, Becky Hazell, worked closely with the Headteacher of the Infant School in the Fishponds are, Mike McNama, to bring this fantastic project to life.
When Becky and Mike met, they discussed and identified a set of priorities that the school wanted to achieve, to create the best possible outdoor play and learning environment for their pupils. These priorities were to offer an outdoor space that:
encourages physical development, where children have the opportunity to experience increased physical activity as they grow, and to develop upper body and grip strength as well as lower body strength and cardio exercise
promotes imaginative and creative play
is a sociable space that can cater for whole school use at break and lunch times
is beautifully eye-catching with real natural-looking visual appeal for the children - themed like a park to compliment the school's name "Chester Park"
is split up into different play zones to allow children to identify and self-select the type of play they would like to engage in each day
is an open-ended space that can be ever-changing for learning and play
offers plenty of seating and sensory-discovery opportunities for the children.
We were delighted to be able to achieve each and every one of these priorities with a careful selection of playground surfacing and equipment, paying close attention to design, use and layout.
It was wonderful to see school families enjoying and making the most of their new "park" at the grand opening - the children loved running around and exploring with their special guests!
Adventure and Imagination Play Zone
This largest of the zones at Chester Park is defined by a blue rolling river that runs the whole way around the space. Laid with our porous, free-draining and impact-absorbing Wetpour Safety Surfacing, it adds colour into the area whilst still keeping within the natural theme.
The children can enjoy incorporating into their imaginative play - when they wish to move between each play zone they will have to cross over the rolling river to get to the other side. On days when they're feeling active and adventurous, this might involve using the Tightrope Bridge or Climb Through Tunnel Hill!
Aside from the rolling river, the new playground surfacing is predominantly made from our Artificial Grass, which, thanks to its beautiful, natural appearance, really lifts the aesthetics of the playground. It is hard wearing, tactile and grippy in nature which makes it perfect for use in all weathers by large numbers of children.
The visual separation created by the two contrasting surfaces not only adds interest to the space, but it helps to clearly define a boundary between the different play zones.
This will assist teachers in grouping the type of play and behaviour expected in different parts of the playground, with the creative and sensory areas promoting calmer, interpersonal play and the adventurous and imaginative area providing a great place to allow the children to let off steam and be active.
Climbing resources with the WOW factor
In the centre of this zone, we installed three of our super climbing resources that really bring the "wow" factor to fun physical, imaginative play at Chester Park. We chose the following combination of equipment to focus on holistic physical development, encouraging good balance and coordination alongside building up their core, upper body and grip strength:
The magnificent Langley Play Castle, which has no less than seven flexible access points which vary in their level of challenge. There are easy-access stairs for children who are less-confident or in the earlier stages of their physical development, and a climbing wall and scramble net for your most able children. The tube-slide and fireman's pole are fast and fun ways to exit and experience the exhilaration of kinetic energy!
Our Bowfell Climber - a large, pyramid-shaped, open-ended playframe, which as well as promoting physical development, is great for nurturing valuable skills in problem solving and managing risk. The variation in rope and beam heights allows the children to choose how far they want to climb, gradually building their confidence as they go. There's plenty of space for everyone to have a go and play together, so it's a wonderfully inclusive, sociable climber too!
One of our classic Trim Trails - featuring a combination of net, rope and log traverses and stepping stones - which allows for the children to play in smaller groups and in a more linear fashion. This is perfect for children who can become overwhelmed playing amongst larger crowds, allowing them the space to move forward at their own pace.
Calm, Creative and Sensory Play Zones
With louder, busier play grouped together on the adventurous and imaginative island of green space in the middle of the playground, we were able to create separate, calmer spaces on the periphery for imaginative and creative play.
A cosy Hobbit House nestled at the back of the playground is an enchanting sheltered space for role play and social activities. The playful porthole windows enable supervision and they're a magical way for children to peep out and interact with their friends.
We included a large area of free space in front of the Hobbit House for staff and children at Chester Park to use creatively. They have enjoyed bringing out different activity boxes containing books and small world toys for the children to explore, as part of their calmer and more creative play and social development.
We used our moveable artificial grass-topped seats to create a sensory, sheltered seating zone as another calmer play space for your children to enjoy being social and imaginative with their peers.
In the far corner of the playground we installed a superb bespoke Sensory Gazebo, which includes a giant chalkboard, cladded sides and porthole windows as well as internal bench seating for up to 30 children.
This fabulous feature has provided Chester Park with a great additional teaching and learning space for outdoor learning, as well as a much-needed shelter for the children during moments of heavy rain or on hot summer days.
To create a sensory experience within this zone, we have included a variety of Natural Planters which the children are looking forward to filling with an array of different sensory plants, and of course, nurturing them for themselves and discovering some of the wonders of science and nature in their very own playground!
Are you thinking about redeveloping your playground? At Pentagon Play, we have been creating incredible playgrounds for schools and nurseries for over 20 years. You can view our full range of products on our website. Please don't hesitate to Contact Us to arrange a free consultation with one of our education experts.