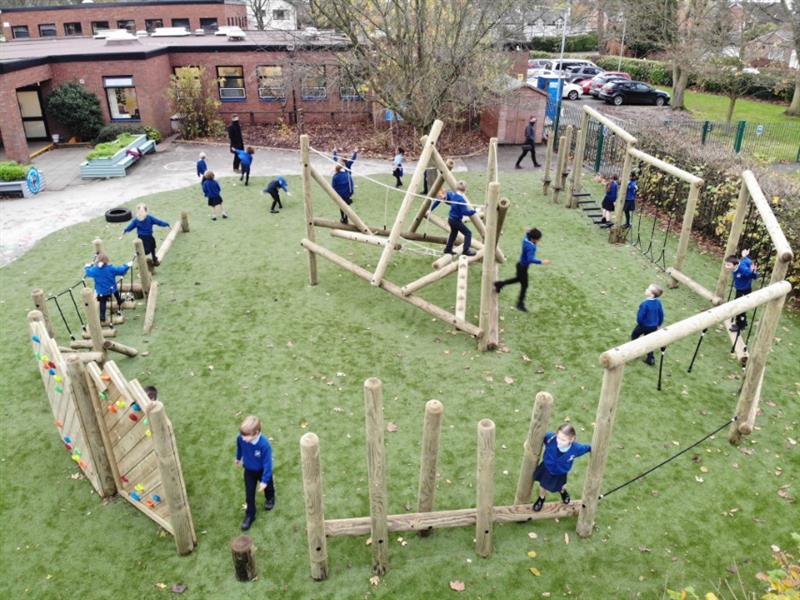 A Forest Trim Trail For The Brave, Bold and Very Lucky KS1 and KS2 Children
How lucky the children at Christleton Primary School in the Cheshire area!
Not only do they have a super new Bowfell Climber to keep them busy outdoors, but they are the first ever school to have one of our brand new Forest Trim Trails installed in their playground!
Our outdoor learning consultant, Ian Wood, was thrilled to have the opportunity to work with Headteacher Oliver Mitchell on this adventurous new project for his school.
Mr Mitchell wanted to provide something special that would encourage all of his pupils to have a go, get involved and get active outdoors during PE lessons and break times.
A challenge for the brave and bold to conquer and something captivating that even the most timid and unsure would find irresistible to explore - what better way to improve their physical development and build their climbing confidence?
A Surface Fit for All Weather Adventures
Before we could begin to build a super new climbing space for Christleton, we removed all of the old playground equipment and surfacing in the area that was no longer suitable for use.
Preparing the ground with stone baseworks to create a free-draining, impact-absorbing, all-weather environment - one that would allow the children to comfortably use their new space all year round - was an essential part of the project.
It would create the perfect, even surface to install the new equipment and surround it with our beautifully soft and super hard-wearing Playturf Artificial Grass.
Once we had the ground prepared, we were ready to go with the fun stuff!
A Forest Trail for The Adventurous, Brave and Cautious
Inspired by popular treetop adventures, our Forest Trail range is a new take on traditional Trim Trails.
It's specifically designed to target core and upper-body physical development, while continuing to support lower-body physical development in primary-age children - and it's spine-tinglingly exciting, too!
Delivering all the action, thrills and spills of a treetop adventure, but in a safe and easy-access format for schools to use daily, a new Forest Trail was the perfect choice for Christleton Primary's playground. The children couldn't wait to explore everything it has to offer and it was great to see them in action!
The Forest Trail range features 45 individual challenge pieces for schools to choose from, so we were able to build a unique climbing trail tailored to suit Christleton Primary's specific needs.
They chose the following log, rope and platform challenge pieces, varying in height and level of difficulty, to support pupils of differing abilities:
Edging Poles
Log Bridge Crossing
Step Rope Traverse
Link Balance Beam
Wobbly Log Traverse
Link Balance Beam
Drop Rope Tightrope Crossing
Log Balance Weaver
Wobbly Log Bridge
Step Logs
Mountain Climbing Wall
Incline Balance Beam
We installed the Forest Trail to follow a gentle curve that leads the children around their new Bowfell Climber - a non-prescriptive play frame that they can climb around in any way they choose, deciding their own route and being creative in the way that they use it. It doubles up as a great den-building resource!
Delivering and Satisfying a Wide Range of Physical Education Learning Outcomes
The combination of challenges that these new installations present will allow the teaching staff at Christleton to deliver and satisfy a broad range of learning outcomes for physical education.
They're all about helping the children to build their confidence, both physically and mentally, through tackling problems, assessing and managing risk, improving their physical strength, balance, motor skills and overall fitness, developing their resilience and of course having lots of fun as they play!
The KS2 groups have been using the new equipment to do circuits in PE and putting tremendous effort into it!
The EYFS and KS1 children have been having a super time exploring, climbing and being wonderfully creative during playtimes - it's an absolute joy for us to see them enjoying their new space so much, and we are sure they will have many marvellous adventures here together over the years.
Would you like to talk to us about improving your school or nursery outdoor play and learning space? You can find out more about our new Forest Trail range or view our full range of products.
Please do Contact Us Here for more information, or to arrange a free, no-obligation playground consultation.
With so many playground projects completed throughout the UK, view our dedicated Cheshire page to explore all of the fantastic transformations completed in Cheshire.