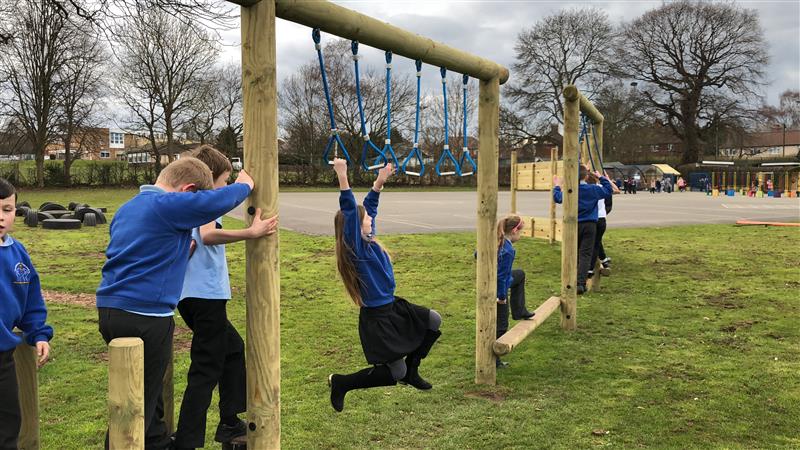 One of our largest Trim Trail installations
Pupils at Churchfield CE Primary School in Staffordshire have been enjoying an incredible, giant snake of a Trim Trail in their school grounds, along with a brand new Hobbit House, Play Den and Storytelling Area.
Our playground consultant, Greg Rossiter, worked closely with the school to create these fabulous new activity areas which will keep the children busy for years to come!
Our 50m Trim Trail
We developed a humongous, 50m Trim Trail, occupying the path of Churchfield's old trail.
The new design was to offer many more (and much newer) challenges for developing upper and lower body strength and cardiovascular fitness, in a fun and engaging trail with an exciting layout.
The new installation sees a brand new Trim Trail set in a curvy snake shape along the school field, past the big old tree, leading from one edge of the playground to another. It's a real adventure challenge.
It requires all different parts of the body to work together, developing gross and fine motor skills, working vestibular and proprioceptive systems, and offering a cardiovascular workout and a lot of interactive fun in the process!
Churchfield's super sized new Trim Trail comprises the following active elements:
1 Inclined Balance Beam
6 Climbing Poles
3 Large Stepping Logs
1 Net Traverse
1 Inclined Balance Beam
1 Parallel Rope Traverse
1 Inclined Balance Beam
1 Swinging Log Traverse
1 Log Weaver
1 Linked Beam
1 Tightrope Bridge
1 Walk and Stretch
1 Trapeze Swing Traverse with Step Up Logs
1 Inclined Balance Beam
1 Rope Swing Traverse
1 Inclined Balance Beam
1 Single-Sided Timber Climbing Wall with Additional Bay
It's fair to say that together we have achieved our aim! All the year groups at Churchfields, from nursery level upwards, love exploring different parts of the Trim Trail. They have been using it for after school clubs too.
An imaginative Hobbit Playhouse
The other development was the Early Years Area. The centrepiece for this area is the beautifully designed "Burrow" Hobbit Play House.
It's a fantastically fun, magical and eye-catching piece which has children hooked on first sight. It has a curved shape with an artificial grass outer layer, a small round door that you have to crouch down to enter, and little bubble windows to peer out of.
This creative design allows children to make-believe that they really are playing in a mystical land full of hobbits, goblins, white rabbits or whichever other mystical creatures might enter their imaginations and join in their games!
Once the Burrow had been installed, Churchfield's Reception teacher said:
"It's fair to say Reception are VERY happy with the new hobbit house! We've been inside this morning to have a sneaky peak and the children have already listed different ways they want the house to be used. I've got a feeling we will be very busy!"
Completed with a beautiful giant wooden Story-Telling Chair for reading aloud, small movable wooden seats topped with artificial grass for children to sit and listen, and textured artificial grass surfacing, the new Early Years Outdoor Area at Churchfield really has a literary vibe.
There's plenty to fuel their imaginations for story-telling, role play and language development.
An additional wooden Giant Playhouse with Chalkboard on the internal walls for mark making and exploring colour, and a set of Timber Weighing Scales, complete the area.
They bring a great balance of messy and investigative play into the school day, so the area as a whole supports the Characteristics of Effective Learning.
Churchfield's Principal commented on social media:
"I have been really impressed this week with the professional conduct and determination shown by Pentagon Play. The Early Years Area is looking fabulous and I can't wait to explore the Hobbit House."
Recently, staff and pupils at the school enjoyed using the new outdoor play spaces for an Easter Egg hunt, following clues and solving problems to move around the areas and find the hidden eggs!
We are sure that Churchfield pupils will enjoy lots of different activities through the years, and build many fond memories of time spent in their school playground.
If you are interested in our Hobbit Play House or Den Making Equipment, or any of our Trim Trail Combinations, please do not hesitate to get in touch by completing our Online Form. Alternatively, you can call 01625 890 330 (North Office) or 0117 379 0899 (South Office).