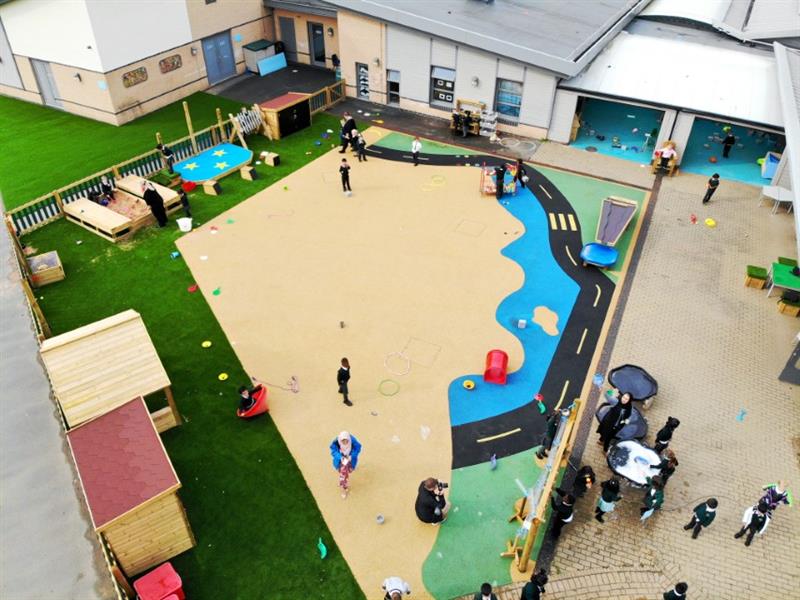 A Stunning EYFS Playground For Chilld-Led Learning and Play
Language and Communication were the key focus for this incredible new Early Years Outdoor Development project at Claycots School in Slough.
Our company director, Sam Flatman, worked closely with the Berkshire school to help them fulfill this exciting new project - one that would see a wholescale redevelopment of both their nursery and reception outdoor play and learning areas.
Before we began the installation, we cleared all of the old playground equipment and surfacing. We excavated and levelled the grassy bank areas to create more usable spaces and used wooden sleepers to act as retainers around the grass and fence areas.
Playground zones for early writing and mark making
We achieved a focus on communication and language in this area, in part, through a selection of resources that will provide opportunities for early writing and mark making.
Our interactive whiteboard, chalkboard and paint panels on wheels offer plenty of scope for creativity and can be moved around the playground to suit the way staff want to use them from day to day.
Fun and exciting role play spaces
We created role play spaces, story time spaces and lots of space for acting out real-life and fictional scenarios.
Our unique Lookout Cabin is a hugely popular feature at Claycots - a beautiful raised den space featuring a variety of textures, playful porthole windows and a gentle staircase with a handrail for easy access. It's a centrepiece feature where the children can really use their imaginations as they play.
A walk and talk seating circle under the trees provides a colourful and creative space for the children to move around, chatting and making new friends and somewhere comfortable to sit together for a conversation or a story.
Messy play is an essential element of learning
Messy play is an essential element of learning for very young children. At Claycots, they now have some fabulous sensory and messy play features in their new Nursery playground.
A huge sliding sand pit with roof to provide shelter from the elements is accompanied by a self-selecting store for children to choose their own digging tools.
There's a mud box for investigative play and fine motor tables on wheels for laying out different activities - this can be used with sand, mud, water and all sorts of other resources for material manipulation, exploration and discovery.
Energetic zones for physical development
We created a high-energy, age-appropriate, active play and physical development feature with our Harter Fell Climber. It features a platform for play and den-making at different heights and a fun Fireman's Pole for a quick exit!
A set of Get Set, Go! Blocks for building obstacle courses and a climb through tunnel hill encourage gross motor development and help to improve the children's balance and coordination.
Play will continue in all weathers...
We surfaced most of the area with our wonderful Playturf Artificial Grass, so that the children can enjoy the space all throughout the year - whatever the weather! In the centre, we created a special feature roadway with our colourful wetpour surfacing - a favourite spot for the children to race around on their trikes!
We used our attractive playground fencing with gated access to section this area off from the Reception playground to create a dedicated space for the preschoolers to play, observe, learn, and become happily prepared for school.
Enabling Cross-Curricular Play Activities Outdoors For Reception
As with the Nursery phase of the development, the new playground for Reception pupils is designed to support and place emphasis on developing the children's communication, language and literacy at Claycots.
We included a range of equipment, including interactive panels as featured in the Nursery area, that would provide excellent opportunities for cross curricular play.
Expressive arts and design will come to life
A Mini Performance Stage with Den Posts allows the children to take centre stage in their playground - singing and dancing, finding and projecting their voices and developing their confidence orally.
A musical set of Drum Seats and tuned Freestanding Chimes support their expression and creativity, while a set of Small Moveable Artificial Grass-Topped Seats provide a comfortable spot for an observant audience!
There's a welcoming giant playhouse for further role play and themed activities. It's an inclusive space with room for groups to play together, featuring threading holes for dressing and a large chalkboard for mark making and enhancing reading and writing.
STEAM learning outdoors
STEAM learning is a significant theme in this new playground and the children now have some outstanding resources to experiment and discover with:
A Water Wall with Water Play Package accompanied by a damming station with mini tuff spot table has created a huge interactive water play zone for the children. They love engineering the channels to direct water flow and they're discovering the impact they can have as individuals as they develop their ideas in this ever-changing environment
A mini mud kitchen with storage for utensils
A manually operated rope and pulley materials mover with clear casing for the children to watch the mechanisms at work
A set of weighing scales for discovering metrics
A mud box
A large covered sand box that the children can climb into to play
We included plenty of storage with self-selecting stores designed to encourage self-selection and child-led learning through play. These stores are set up to support all the nearby resources which benefit from additional loose play items.
We sited most of the equipment along the new perimeter of the Reception space on playturf as the school wanted to have a lovely big open area in the middle that would be a flexible resource in itself for self-selected loose play items or as a space to run around and exercise.
We laid out a bespoke Wet Pour Surfacing Design with an engaging "land and sea" theme, with a roadway running through it, right across the centre of the playground. The set-up has made the space much easier to supervise, as it's easy for staff to see where everyone is all of the time!
Out on the large grassy space we created a new physical development zone that benefits from an up and over log and net climber, a net traverse, a clatter bridge and a set of rubber stepping logs.
Together, they provide a flexible climbing course for the children to move around - they love burning off excess energy here and they're having a lot of fun as they exercise and build their strength!
Are you looking at improving your EYFS outdoor area? View our huge range of playground equipment for EYFS and create your wish list.
We have developed new ways to conduct playground consultations safely in these difficult times. Complete our Online Form to begin your journey with Pentagon Play. One of our consultants will be in touch to arrange a free consultation.
If you would like to view more examples of our playground projects in Berkshire, visit our Berkshire page.