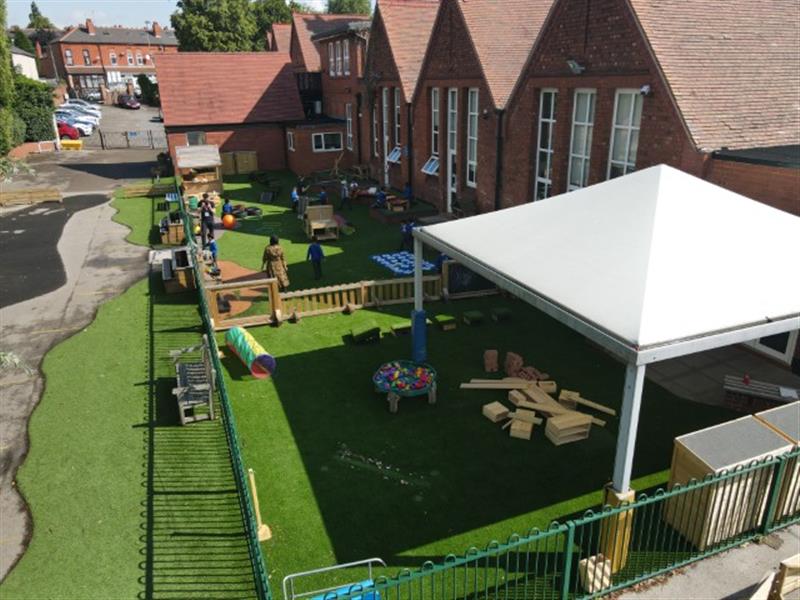 Reigniting Cross-Curricular Play with a Stunning EYFS Playground Development
Determined to extend their indoor classroom into the great outdoors, the Birmingham-based school contacted us to help redesign, rebuild and resurface their outdoor space.
The aim of Conway Primary's exciting development was to create an area that would target every area of the early years curriculum, with a big focus on literacy, communication and language, gross and fine motor skills.
Our playground consultant, Greg Rossiter, was eager to get started on designing this incredible learning through play space.
Out With The Old and In With The New
The previous play space had become quite tired with worn-down surfacing and slippery tarmac. The area couldn't always be used during poorer weather and it didn't inspire children's imaginations and creativity.
We began by removing all of the old surfacing and equipment that was no longer fit for purpose to create a blank canvas. Once all of the old equipment had gone, we resurfaced the whole area with a mixture of our Artificial Grass and Wet Pour Splashes.
This instantly made the area look much more vibrant and useable!
The beauty of this selection of surfacing is that it creates a fabulous all-weather play area where water freely drains through the surface to ensure little feet can run, walk and play outdoors come rain or shine.
Moreover, the Wetpour splashes enables teachers to create zoned spaces for different types of play with the splashes clearly marking where the zone begins and ends. Conway have used these areas to zone off their muddy play area and planting space!
Movable Physical Development Opportunities
As improving the physical play opportunities in the outdoor area was very important to the school, we included our innovative Get Set, Go! Blocks – The Mendips Set in this playground design!
These exciting movable blocks encourage children to jump, step and balance from one to another as they take on their very own obstacle course. They're fabulous resources for improving gross motor skills, lower body strength, coordination and climbing confidence.
Moreover, the blocks increase sharing, turn taking and cooperation amongst the children as they grip the hand holds and move the blocks around together to create their own courses!
Exciting Themed Play Space
Reception children at Conway Primary School have been on a Safari adventure in the Giant Playhouse with Walls, Chalkboard and Benches!
As the topic of learning for the term was themed around big cats, Africa and the dessert , the school transformed the playhouse into a safari lodge, featuring bush jackets, tiger onesies, binoculars and clipboards.
The children have loved looking for big cats in the playground and drawing what they have found on the clipboards or giant chalkboard.
The playhouse has created an extraordinary themed role play space for the teachers to integrate the children's learning into their play and inspire all sorts of creative play games!
Nursery Play Area
As the reception children share their outdoor space with the nursery class, we introduced a set of our Interactive Fencing, including a Chalkboard Panel, two Fence Panels and a Paint Panel.
This unique fencing solution allows the teachers to move, clip and lock the panels into place to separate the outdoor areas, whilst providing plenty of opportunities for mark making and improving fine motor skills.
Moreover, when both groups are out playing together, it provides a fabulous space for little ones to interact with one another through the fence as they draw, scribble and write on their own sides!
The previously tired play area has truly been transformed into a magnificent outdoor space where reception and nursery children can immerse themselves into learning through play, whilst improving in each of the seven areas of learning.
Have you got areas in your playground that could be revived? Contact Us Here to begin your journey with Pentagon Play.
Alternatively, view all of the stunning playground designs we've installed in the Birmingham area on our Birmingham Playground Projects Page Here.