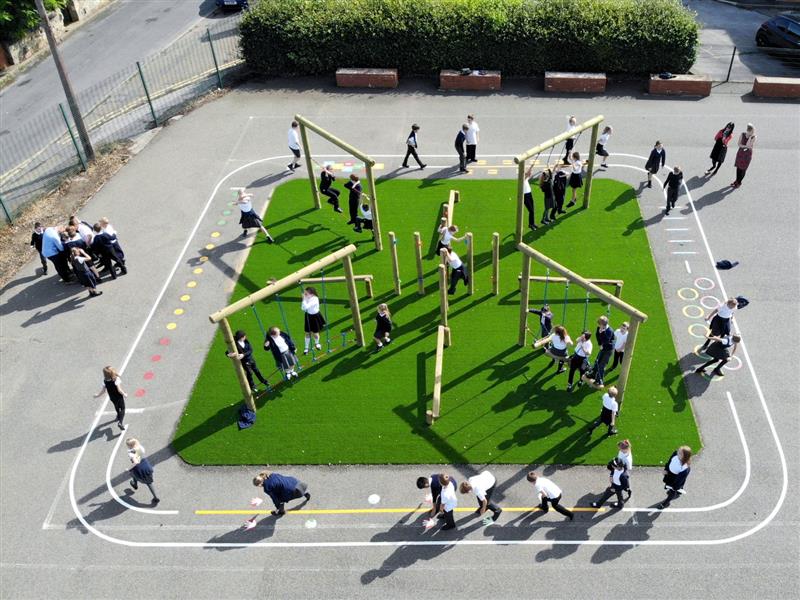 An Energising Active Play Area For KS1 and KS2 Children
Edenthorpe Hall Primary Academy wanted to extend the physical play opportunities for their KS1 and KS2 children.
Our playground consultant, Dan Young, worked closely with the Doncaster school to design and install the perfect active play area, which would meet all of their needs and target each aspect of their children's physical development.
Energising Active Play Area
As the school wanted the children be healthy, active and entertained during playtimes and lunchtimes, Dan designed a wonderful, active play area, which contained eight exciting Trim Trail Resources.
Coupled together with vibrant playground markings and artificial grass, the equipment ensured each and every child had an exciting activity they could participate in.
Edenthorpe Hall Primary Academy also wanted their new active play area to target each and every area of physical development, so Dan worked hard to ensure that the equipment did just that!
From muscular endurance and strength, core strength and stability, upper and lower body strength, co-ordination to the skills needed in handwriting such as fine and gross motor skills, the area truly enhances children's physical skills.
The equipment has been installed on the school's tarmac playground in such a way that it encourages free flow play as the KS1 and KS2 children explore the active space and conquer the challenges together: improving their communication and language skills at the same time.
Not only has it truly benefited the children's overall fitness, it is also being used as a focal point for imaginative play by the children. Their creative games are enhanced as they view the area as a huge forest challenge, working their way across rivers, tree branches or any other imaginary worlds they transport themselves into.
Over 60 children can use the energising active play area at once. As it is completely open-ended, gone are the days where the children were wondering what to do during playtime and lunch time!
We loved the design so much, that we named it our Adventure Fitness Package and are now offering it to other schools across the country!
If you'd like to enhance your school playground with Active Play Equipment or our amazing Adventure Fitness Package, please Contact Us. We'd love to help!