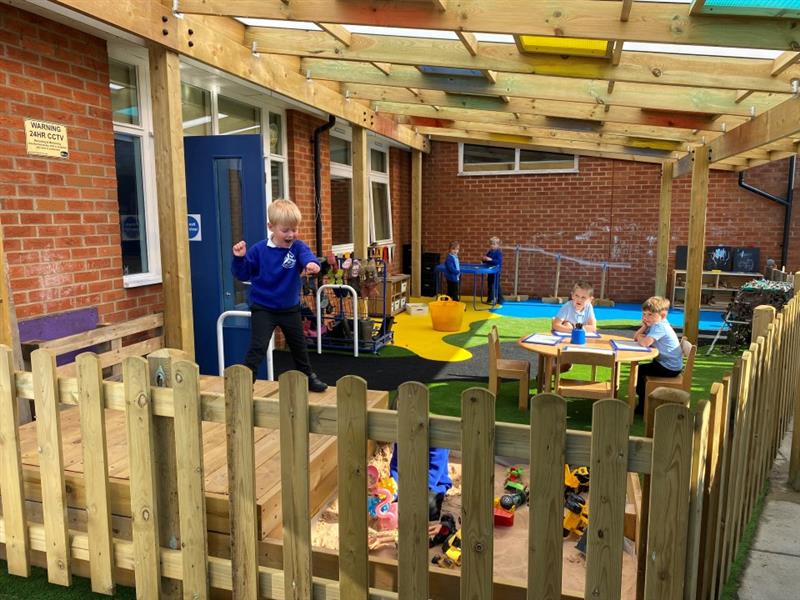 A bright and engaging space for Little Snoring Primary!
The early years pupils at Little Snoring primary school in Norfolk are delighted with the exciting transformation of their outdoor space.
Pentagon's experienced playground consultant Marion Rolph knew exactly how to turn a small space into an EYFS outdoor area of infinite possibilities.
A vibrant canopy to frame the space
The first task for the Pentagon team was to safely remove the existing canopy in preparation for Pentagon's bespoke, colourful structure.
The new Timber Canopy attaches directly to the classroom, allowing children to move freely between their indoor and outdoor spaces.
The addition of vibrant, polycarbonate roof tiles see children marveling at the weather whilst staying safe and dry.
Underneath the canopy pupils now have a mixture of super soft surfacing designs.
Little Snoring school chose Artificial Grass Playturf and Saferturf splodges of blue and yellow, from a wide range of colours.
The overall effect creates an inviting space for active and imaginative play. A black saferturf pathway guides you through the space and offers plenty of scope for role play activities.
Our playturf could not be easier to install as it can be fitted directly over existing tarmac surfacing. Children are free to sit, run and roll across the floor without getting muddy, dirty or wet thanks to free drainage.
Plenty of space to pour and splash!
Pupils now have an area to gather for some sensory water play!
Pentagon's sturdy Water Table allows children to develop accuracy in scooping and pouring.
Learners gain an understanding of capacity whilst developing hand/eye coordination through this messy play activity.
There is plenty of space in their new outdoor area for children to gather together, and work as part of a group.
Children can create their own underwater world using figures, boats and pots. There is scope to improve language skills as pupils describe and explain their actions.
Once play is finished in the morning, the lid easily slots back on to the table ensuring resources are ready for the afternoon session. An expanding drain socket plug allows for easy drainage at the end of each day!
A great addition to Little Snoring's outdoor play space are a set of three Water Channel Stands. The stands allow groups of children to explore the properties of water and observe how objects behave when sent down the chutes.
Developing early concepts through sand play
Little Snoring school selected our popular Sliding Sand Pit which has proved to be a big hit with pupils. Children can enjoy creating patterns in the sand which improves fine motor skills needed when learning to write.
Repeating patterns can be made with different objects in the sand which helps to develop early reasoning skills. Our impressive, dual purpose sand pit doubles as a platform when the lid is locked in place allowing performers to take centre stage!
To help zone the new space we installed wooden Bow-Top Fencing around the perimeter which creates a natural, aesthetically appealing feel. When we visited Little Snoring school, the children looked comfortable in their new area.
Some were independently practising their writing at the table, creating a small world at the Tuff Spot Tray or working together to explore sand wheels.
Marion and the team created a lively, vibrant space, allowing even more opportunities for learning outside of the classroom.
Headteacher, Callum Richards, was overjoyed with the difference in the space and the impact it has made on learning.
"Our new outdoor area had enabled us to create an exciting and engaging learning environment that flows between indoors and outdoors. The children love being outside and it has been wonderful to see their enjoyment in using our new space."
If you would like to transform your EYFS area, Contact Us Today for a free consultation!