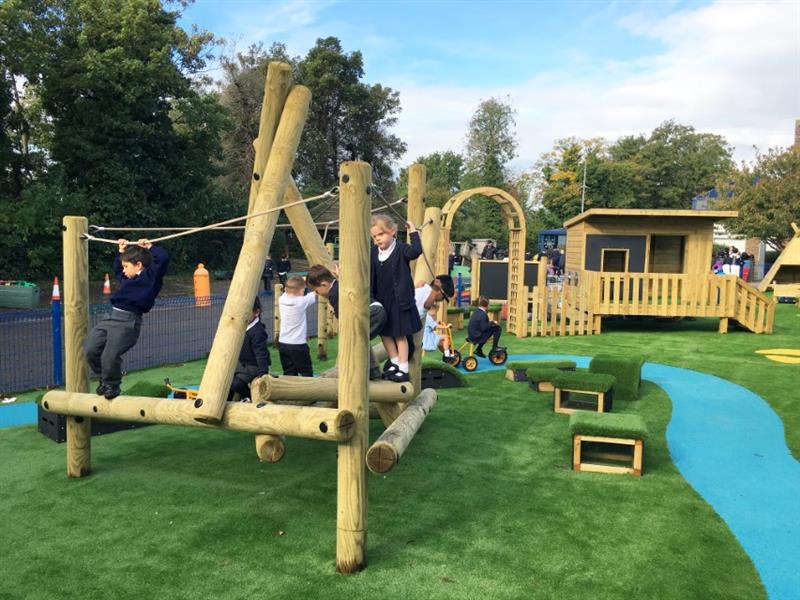 An Inspiring EYFS Playground Environment for Learning Through Play
From a concrete corridor that lacked in colour to a spectacular practical outdoor learning environment made just for the littlest learners of the school!
Chris Speller, the headteacher of the Havering based school, was determined to create a curriculum focused play space where his reception and nursery pupils could thrive.
Our education enthusiast playground consultant, Luke Banner, was delighted to work alongside Chris to transform this important outdoor area.
"Children just love being out there. Staff love the potential they have to plan activities to be done out there. Parents, current and prospective, just say 'Wow' when they see it and comment on what a huge difference it has made. Parents see the school as improving because of the quality of our outdoor provision." – Chris Speller
Swing, Climb and Balance Through Innovative Active Resources
We began by creating a space where early physical skills could be improved as the little learners' step, balance, jump, swing and climb – getting all those little muscles working as they burn off some excess energy too.
In this area, we surfaced the space with a mixture of Artificial Grass Playground Surfacing and Wetpour to create an intriguing active area.
A blue Wetpour river provides space for imaginations to run wild, adventurers to explore along the water and little race car drivers to fly around the track on their scooters and trikes!
In the middle of the racetrack, we installed two fabulous introductory challenges.
Our Harter Fell Climber enables little adventures to find their feet as they balance around the beams and grip and grasp the rope, before building up enough confidence to take a leap of faith from the highest point.
Whilst our Get Set, Go! Blocks can be picked up and moved around to create a new St Edward's ninja warrior course every single day!
Bringing open-ended, active play value, the wide range of challenges improve climbing confidence, lower body strength, co-ordination and gross motor skills outdoors.
Fairy Tales and Mystical Monsters Come to Life
Literacy can come to life thanks to our Communication and Language Zone. Made up of a beautifully crafted storytelling chair, cushioned artificial grass topped seats and giant mark making panels, it really is an inspiring space for literacy and storytelling.
Mythical monsters and fairy tale characters can come to life as children sit in the tall chair and read aloud to one another or scribble and draw on the panels as they listen to the story.
Self-confidence, spoken language, turn taking and comprehension skills are continually improving as children immerse themselves in the story being told.
Taking the story to the next level, children can play the role of the character and hide in the Look Out Cabin, like the three little pigs, placed conveniently next to the storytelling zone.
First Class Messy Play Essentials
A first-class, early years play environment wouldn't be complete without messy play essentials!
Our innovative Water Wall and Damming Play Environment enables children to explore scientific concepts such as gravity and properties of materials, whilst destroying and building dams.
The water wall channels can be moved as the children manipulate the route the water takes down the wall into the water table or the damming station!
Climbing into the huge Sand Box or standing around the sand table, the children can scoop, sieve, build and mould magnificent sand structures as they improve their fine muscle control, hand-eye co-ordination and take turns.
Where will the children's imaginations transport them to today? Will they spend a day on the beach or open their very own sand quarry?
How was Your Experience Working with Pentagon Play?
Once the installation was complete, Chris had some lovely feedback for our team:
"Our overall experience was outstanding, from start to finish. Pentagon may not have been the cheapest of options, but what we got in terms of quality of product and the service was second to none. The staff - Luke our Consultant, Sean our building team leader and the installation team - have been fantastic ambassadors for the company. I would recommend Pentagon, without a doubt. We have, got our next project with them starting next week."
Would you like your littlest learners to have a stunning outdoor play and learning environment? Explore our full range of EYFS School Playground Equipment Here and Contact Us Here to begin your journey with Pentagon Play.
You can also see all of the spectacular playground projects complete in Havering on our dedicated Havering Playground Projects Page Here.