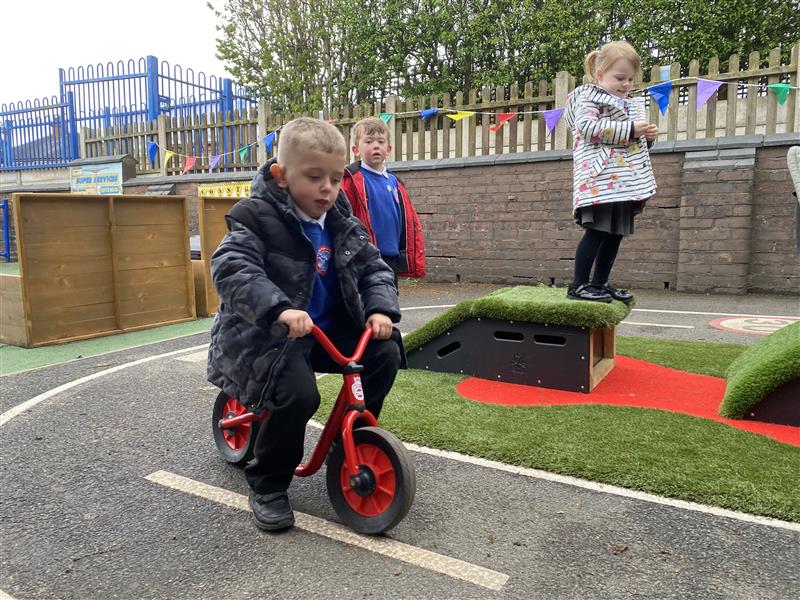 A Captivating Outdoor Learning and Play Space for Early Years Children
A blank tarmac canvas has become a fascinating environment for the early years children at The Reginald Mitchell Primary School, Stoke on Trent.
Our playground consultant, Dan Young, was delighted to work alongside the passionate school to design an outdoor learning environment that would enhance their littlest learners educational play experience!
The breath-taking playground design provides Reginald Mitchells Reception children with the best start to school life, with many zones to encompass all seven areas of learning.
Real World Roadway
The big feature in this new playground design is the extraordinary, life like playground roadway!
Jumping onto their balance bikes and scooters, little racers can take to the roadway and fly around the track as they burn off some excess energy and improve their lower body strength and cardiovascular fitness.
Featuring white lines in the middle and zebra crossings, the thermoplastic playground marking roadway is a fantastic way to introduce road awareness and road safety to young learners.
They can practice stop, look and listen and other important concepts in a safe environment!
Moreover, we included numbered parking bays at the edge of the roadway to promote number recognition and independence as the children park their scooters and bikes once they have finished playing with them!
Moveable Obstacle Course and Imaginative Play
In the centre island of the roadway, we surfaced the space with our contrasting Artificial Grass Surfacing and a red and blue Saferturf Splash. The splashes are perfect for keeping loose play resources in one place and inspiring imaginative play games!
To further promote active play, we included our innovative Get Set, Go! Blocks – The Pennie Set! This marvellous moveable obstacle course is a fantastic introductory challenge.
Children can jump, hop and step from block to block and move the blocks to create new obstacle courses every day!
It's a wonderful resource for active play and developing little one's key physical skills and climbing confidence.
Treasure Hunting and Fine Motor Development
Ahoy Me'hearties! The mini pirates of reception can jump into a world of sand, sea and pirates underneath their exsisiting canopy!
A Small Covered Sand Box full of creative loose play resources truly promotes that inner creative sparkle as the children transport themselevs to new, interesting imaginary worlds.
Digging, scooping, pouring and maniupulating the sand is an excellent way to improve all those important fine motor skills and provide a sensory experience through play!
What shiny treasure will the little pirates find today? Who can build the biggest sand castle on the beach?
Outdoor Phonics and Letter Recognition
Moving away from the active play area, we transformed the black tarmac into a wonderful resource for letter recognition and creative play.
A Shape and Letter Thermoplastic Playground Marking enables children to jump between the letters, whilst reading out the letters on the ground.
The children love the vibrant colours on the ground!
Water Play and Scientific Learning
Of course, no early years playground is complete without a water play space!
Our Water Wall with Water Play Package has created a magical messy play area for the children to experiment with water and make as much mess as they like.
Manipulating the water chutes, the children have to work together to run the water down the wall. This is a fantastic way to improve team working skills and cooperation skills.
The Water Table is a firm favourite of the little ones as they pour, drain and spill the water into different loose play resources – learning more about volume as they go.
Around this zone, we outlined it with a bright blue thermoplastic line to zone the area. This ensures children know when the zone begins and ends.
The school are more than happy with their extraordinary outdoor play and learning environment and have commented on how much of a difference it has made to the children's learning!
Are you looking at improving your EYFS outdoor area? View our huge range of playground equipment for EYFS here and create your wish list.
We have developed new ways to conduct playground consultations safely in these difficult times. Contact Us Here to begin your journey with Pentagon Play.
If you would like to view more examples of our playground projects in Staffordshire, visit our Staffordshire page here.