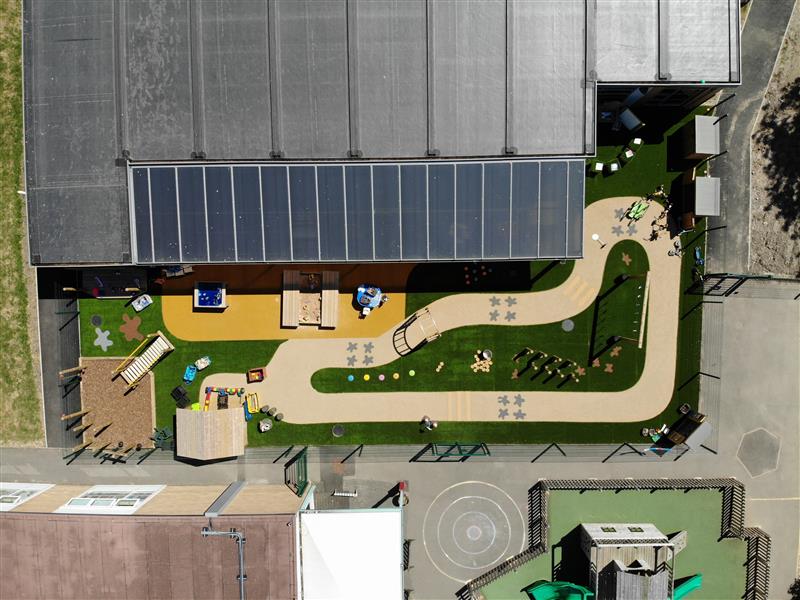 EYFS Playground Equipment That Promotes Cross-Curricular Activities
What a transformation at Fernvale Primary School! Pentagon's Playground Consultant, Greg Rossiter, worked closely with the Thurnby Primary School's Governor and Deputy Head Teacher, Rebecca Johnson, to create this epic new outdoor learning and play area brimming with EYFS playground equipment that really is the stuff of dreams.
The project involved a wholescale redevelopment of the entire playground area adjacent to the school building.
Pentagon Play's team were involved from the start, removing and disposing of all the old equipment and surfacing with minimal disruption to the school, and preparing the area ready for the new playground to be installed.
Amazing Playground Surfacing Design
Safety Surfacing is a big feature of this project - it's amazing just what can be done with the ground itself!
Attention to detail has turned the ground into a bold and exciting resource that inspires creative and physical play on many different levels.
A combination of Wet Pour, Saferturf and Playturf Artificial Grass in different colours creates boundaries and pathways and adds texture and new dimensions.
Because of the way it is made and installed, all of our surfacing at Fernvale absorbs impact and helps to provide protection from falls, reducing risk of injury.
And because it is free draining, it ensures that the playground can now be used all year round regardless of the weather - it won't become muddy or waterlogged.
Our full range of Playground Surfacing can be viewed on our website!
Understanding Of The World
The most striking surfacing effect at Fernvale is the new Road Way. A winding track in a continuous loop around the playground, featuring speedbumps, stepping stones, a pedestrian crossing and a roundabout, really puts the children's movement skills to the test!
They love racing round the track on bikes and trikes and are really improving their balance, coordination and motor skills.
Staff had added to the zone with props such as traffic cones for an authentic journey experience - it's brilliant for role play and for helping children to learn about road safety and prepare for real world experiences.
A lovely wooden Arbour Archway for children to travel under also provides a natural landmark for children to measure distances.
Physical Development Zone
On the Artificial Grass area is a fabulous Physical Play Zone, comprising our Low Level Trapeze Swing Traverse with Step Up Logs, and a Log Walk and Stretch.
The children have been growing in strength and bravery as they take on the challenge and attempt to make their way across both of these pieces of active play equipment.
They are brilliant resources for schools promoting a Growth Mindset - as we heard one teacher call out with a smile to a child who didn't make it across - "Next Time!" (and after a few "next times", and with perseverance, she did!)
Messy Play Equipment
The new Sand and Water Play area at Fernvale is a huge hit with the children.
This type of messy play is well suited to the inquisitive, imaginative and explorative nature of young children, so it's no surprise that it's one of the most popular and effective teaching resources throughout the Early Years and Key Stage 1.
Children at Fernvale have been using lots of different resources and containers to pour, scoop, mould and dig in their Covered Sand Box.
They have been making "pots of tea" and experimenting with measurements, and concepts such as floating and sinking, wet and dry at their Water Table. They have been enjoying role play too, caring for toy dolls and animals and discussing how water is needed for survival.
The decision to place these two resources alongside each other, along with a Tuff Spot Table for explorative learning, was strategic.
Children can mix the materials and delve further into sensory play and experimentation, covering many different areas of learning. All together installed onto porous and free-draining surfacing means that the area is easy to maintain.
Construction and Den Building
At the far end of the playground is a Construction and Den Building Zone providing fuel for the imagination.
A daring Clatter Bridge leads into a large play bark area edged with wooden sleepers.
Inside this textured space stands a set of Outdoor Free Standing Scales and our signature Rope and Pulley Materials Mover. It's a brilliant space for scientific learning and exploring concepts such as gravity, force and motion amongst other.
Children really have to fine tune their team-building skills as they work together to move materials around the construction zone.
Complementing this area are four tall wooden Den Posts, which children can use with blankets, sheets, ropes, tarpaulin, cardboard, anything they like to get creative, build their own dens and try and test their own theories and predictions as to what will work best and why.
Once built, their dens can be decorated as the children chose and used for fun and adventurous imaginative play.
The children at Fernvale have really taken to the Giant Playhouse with Walls and Chalkboard, which sits next to this creative area.
Last time we saw them they had turned it into a sheltered bus using blocks and crates! The chalkboard is ideal for writing up a timetable and putting mathematical skills to the test as they work out how long the journey will take between stops.
"Where are we going next?" asked their teacher. "To the park!" they replied.
Take a look at our full range of Imaginative and Creative Playground Equipment!
Communication, Language and Expressive Arts
Tucked around the corner in a quieter sheltered space is one of our absolute favourite, magical Story Telling Chairs, with six Small Moveable Artificial Grass-Topped Seats.
The seats are lovely because the children can run their hands through the textured grass as they listen to their favourite stories - it's really helpful for fidgeters and children who struggle to sit still.
Next to the Storytelling Chair and facing the audience is a Giant Chalkboard on Posts and a Giant Whiteboard on Posts - perfect for building up writing and language skills and exploring stories, working to a greater depth in literacy.
We created a bespoke Expressive Arts Area for Fernvale, with a Performance Stage featuring a decked base, chalkboards and four Scenery Posts.
Encouraging children to express themselves through music and drama is so important for building self-esteem and helping them to discover and become the people that they are. And it's really good fun too!
There was lots of giggling as we watched the children dress up as rock stars and perform for their friends, and it made us smile too!
We edged the entire development with our Mesh Perimeter Fencing in a natural green colour, with a wide pedestrian gate for access.
This keeps the children (and the facilities) safe and secure in a non-intrusive way, without obstructing their view of the rest of the school and the beautiful trees and field beyond.
We loved working with Fernvale Primary School and helping a project such as this come into being. If you are considering improving your school playground and if you would like us to come and visit your school for a free consultation, please do not hesitate to Contact Us. We would love to hear from you.
You can view our full range of EYFS Playground Equipment now!