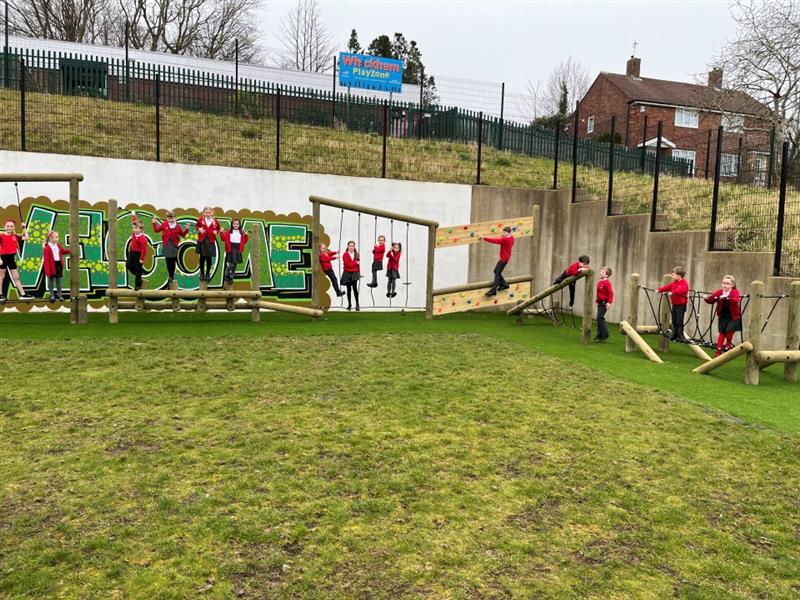 Forest Trail Fun for Front Street School!
Looking for a multi-aspect development for their pupils, Front Street School contacted Pentagon Play with an interest in our range of Forest Trails and Outdoor Classrooms.
Following an in-depth consultation with our Internal Learning Advisors regarding their requirements and wishes for the play space, our Outdoor Learning Consultant, Greg Gavin, arranged a visit to the school to meet with the team in person.
It is this time and attention that means that Front Street School got an installation that was perfectly suited to them and their needs.
A True Tollymore Adventure…
Looking for the ideal trim trail to suit your pupils' play needs can be difficult. Anticipating which aspects your pupils will be drawn to the most can be a challenge, but Front Street navigated this confidently.
They selected our Tollymore Forest Trim Trail, complete with seven different components and named after the Forest Park in Northern Ireland, ideal for a wide age range!
Pupils can begin the trail on one of two components; they can learn to balance along the challenging balance beams or navigate their way across the climbing wall and build their upper arm strength! So much choice!
Pupils will then be able to make their way across the stepping log traverse- one of our most challenging features- using the ropes above to pull themselves across.
This fantastic forest trail also features a stepping stone traverse and a horizontal log bridge crossing which have great opportunities for play and development!
Trim trails are a great addition to any school, offering pupils an environment where they can incorporate their play into healthy physical development and develop their agility and balance.
They are also incredibly long-lasting additions to any playground, meaning these structures will benefit many classes of children over the years.
Just a Simple Addition…
As we mentioned before, suiting all of your pupils' play wishes can be challenging and that's why, as an addition to the Tollymore, our Forest Rope Bridge.
Bridges are an excellent addition to any primary play area, as they have so many benefits that may not be seen initially.
Bridges are great for encouraging creativity in the form of storytelling, see The Three Billy Goats Gruff!
They are also great for sensory development. Pupils will learn which areas of the bridge make different sounds as they cross and the different textures of the rope versus the timber will be a sensory experience for them.
Bridges are great for physical development too as pupils practice crossing different terrains in the playground!
A Hexagonal Learning Haven…
However, Front Street didn't just have one wish for this project! They also wanted to expand their learning areas with the addition of a new 5m Hexagonal Gazebo to their playground.
Offering additional learning space can be hugely beneficial to pupils as they have a quiet learning environment to retreat to away from the classroom- this can be great for their concentration levels.
Outdoor Classrooms are also great for Art Lessons in particular. Pupils can surround themselves with the beauty of nature and channel this into their artwork, engaging their creative side as they do!
Front Street has even added a whiteboard to its structure meaning it is the perfect place for summertime lessons when the weather warms up a bit!
There are so many benefits to adding structures such as Gazebos to your facilities and we invite you to explore them on our site now!
It was such a pleasure working closely with Front Street School on this project and we hope we get the opportunity to work with them again one day!
If you would like to see more Active Play Trails like the Tollymore Forest Trail, then browse them now!
We can also offer you your very own design consultation with one of our Internal Learning Advisors if you Contact Us Today!
We look forward to hearing from you!